November 26, 2018
How to Handle the "Other Agent" Objections
POWERFACT:  You can't build yourself up by tearing others down.
Great agents use strategy and skill to set themselves apart from their competition. One question we get a lot on our Monday Coaching Calls is, "How do I respond to a seller who says the other agent has more listings or more experience?" That's a great question. My first reaction is to always remind agents not to bad mouth other agents. You can't build the tallest building in town by knocking the others down. What you can do is know enough about your competition to identify their strengths and weaknesses so that you know what skills and strengths that you possess that will counter them.
In the case of those who are just getting started or restarted in the business, I like to teach you all to use analogies when responding. You can speak from the heart about having so much passion because you are newer — that you'll work harder, and with more commitment than your colleagues because you have big goals to reach.
You can remind sellers that bigger doesn't always mean better.  Look at Blockbuster. They were undoubtedly the biggest in their field in video rentals. What happened? They failed to change with the times, got lazy, lost their edge, and were toppled by newcomers to that space. Blackberry is another example. They were once considered the best in class in phone technology — but they got complacent, failed to change, and lost their stronghold on the market as well.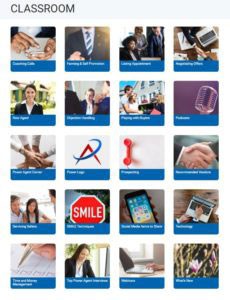 So often agents get tied up in waiting until they've hit some big goal to feel good about themselves or their ability. I'm here to tell you that this is a tremendous industry — and anyone with the right commitment and passion can learn the skills they need to do great things. Don't wait. Start where you are, with what you have, and move forward.
We're here to help you with that. If you're just starting out — we have special tools just for you. Contact my team at info@thepowerprogram.com to learn more. There's no limit to what you can do or who you can be in this business. We've got you covered.
Power Agents® — if you're a new agent – check out the tab in the Classroom that's filled with New Agent Tools. We will be adding new tools here on a regular basis to help you. For our more experienced Power Agents–check out the Classroom today!  We'll have December's tools up soon in the What's New tab as well!
I absolutely loved speaking to one of our newer members last week, who, having just gotten started recently, downloaded all the dialogues in the Prospecting tab, as well as the eGuide 12 Best Ways to Get Listing Leads in the Next 30 Days. He's already taken three listings.
Don't forget to join us for this week's webinar!
November 29th at noon Eastern for HOW TO GET AN OFFER ACCEPTED IN 24 HOURS! 
In This Jam-Packed Intensive 1-Hour Training You Will Learn:
How to properly prepare the buyers to write a strong offer that will increase their chances of getting it accepted
How to quickly handle the counter-offer so it gets accepted within the first 24 hours
How to guarantee getting a listing from the buyer when they have a house to sell
How to present the offer directly to the seller even if you are not the listing agent
The 8 Step Negotiating Process which will give you a sense of control when presenting the offer
The #1 Secret Technique that most agents don't know about, that is sure to get your offer accepted when competing with other offers
How to handle seller's objections like "Will you cut your commission to get the deal done?"
REGISTER HERE FOR THE WEBINAR.
Not yet a Power Agent®? Did you know that for less than a dollar a day, you can have access to hundreds of marketing, prospecting, and objection handling tools – live weekly coaching, podcasts, webinars, and more?  Start your Power Agent® free trial and have total access to every tool we have including letters, dialogues, training tips, webinars on demand, eBooks, and marketing tools.
If you're ready to have everything you need to handle whatever the market tosses your way — get started today! 
Need help? Contact our team today at (800) 395-3905!