July 23, 2018
How to STOP Using Scripts (and START Taking More Listings)
POWERFACT:  When an agent is completely focused on remember the next part of their SCRIPT — they are NOT focused on the potential sellers, their needs, or what they are saying and feeling. That disconnect? Causes agents to LOSE listings.
by Listing Inventory Expert Darryl Davis
Listen, I know there are a lot of good coaches out there that teach agents to use scripts, and I get it. I just know from both experience, and from training thousands and thousands of agents — that scripts tend to get in the way. They take you out of the present and focused on all the wrong things. PLUS — they really only work when BOTH SIDES know their parts! AND — too often they are someone ELSE'S words — and not at all like your own. That comes across as unnatural and even uncomfortable. 
What DOES work is using stories, metaphors, and analogies. Why? Because we all have them. Stories that we can relate to – that help us be relate-able. There's a psychology behind it. Using these tools allows us to not just speak with words – but speak to and from the heart.
When explaining tools such as MLS, use metaphors. Objection handling? Analogies and metaphors.
I'll share an example:  Ever have a FSBO say, "Bring me a buyer and I'll pay you a commission"? (Who hasn't?) Here's how I would handle that:  "Mr. Hunna Hunna, suppose you had a daughter and she was getting married and you were shopping for a wedding cake. You then went around to all the cake-bakers in town and said, 'Bake me your best, most beautiful cake and I will choose to pay for the one I like best among all the bakers.' How many bakery chefs do you think would put in the time, effort, and expense to bake a cake with zero commitment from you?  Probably not too many-right?  That's a little like we are talking about here. There aren't too many agents will put in the time, effort, and expense to market your property. Can you see that?"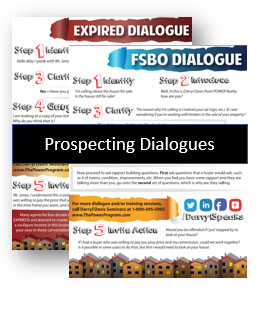 Now there are two instances where I believe having a script is effective, and that is when prospecting for FSBOs and EXPIREDS. You can find those dialogues in the Prospecting tab in your Classroom.
Watch the video below.
Now, I want to tell you something from the heart. There is every indication that will see changes in our markets — so the time to get insanely serious about building your LISTING INVENTORY. It's critical if you want to ensure that your business can withstand whatever market changes we face. 
That means having the RIGHT marketing tools, objection handlers, prospecting tools, and coaching. That's where I know we can help. I host our coaching calls EVERY MONDAY at Noon Eastern time, and take agent questions and concerns live during our hour together. Click here to get the credentials to join us for the next call.
If you're not CURRENTLY a Power Agent, now's the time to try us for free for the next 30 days. You'll have all the tools, training, and coaching you need to handle objections and list like a pro. Your free trial gives you total access to every tool we have including letters, dialogues, training tips, webinars on demand, eBooks, and marketing tools.
Now is NOT the time to reinvent the wheel. It's the time to get laser-focused so that in 90 days, you're in the position to handle whatever the market throws your way.
Ready? Set? Go!
Need help? Contact our team today at (800) 395-3905!