Become a Power Agent in Real Estate &
Receive a FREE Copy of Darryl's
Library of Stories, Metaphors and Analogies.
Most agents think that there are hundreds of different objections presented by a prospect or client. We will show you that there are really only 14 objections to prepare yourself for.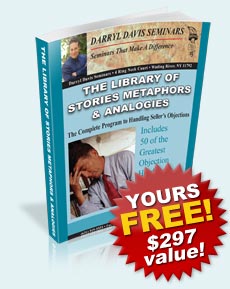 Included with this 4-Part Audio Learning System are:
Over 50 Metaphors and Analogies you can
easily use in any tough seller situation

Over 3 hours of Darryl teaching the concepts
and techniques on how to be a master at
handling objections

A 60+ page workbook

A Digital CD of all the visuals to use
when telling your metaphors and analogies
In addition, as a Power Agent, you'll receive
the following Member's Only Benefits:
1-hour LIVE group coaching call with Darryl Davis each and every month

Power Agent Inner Circle Digital Magazine loaded with up-to-date slides to use with buyers and sellers

Sample marketing material & tactics from other top producing agents

Monthly audio CD of top agent interviews mailed to you each month

Transcripts of top agent interviews in the digital magazine

Access to a library of past recordings, interviews, and digital magazine for the last 12 months

Winning scripts and dialogues based on what is happening in today's market
Only $27/month
*Cancel anytime after the third month.

Want to Learn More About the Power Program? Click Here!

WARNING: This offer is limited to the first 100 97 people to sign up!
These agents face the same market conditions, the same type of clients and challenges that you do. Yet each one has been able to use The POWER Program to dramatically increase their income, along with the quality of their lives. Read what they have to say about The POWER Program because their success stories can be yours!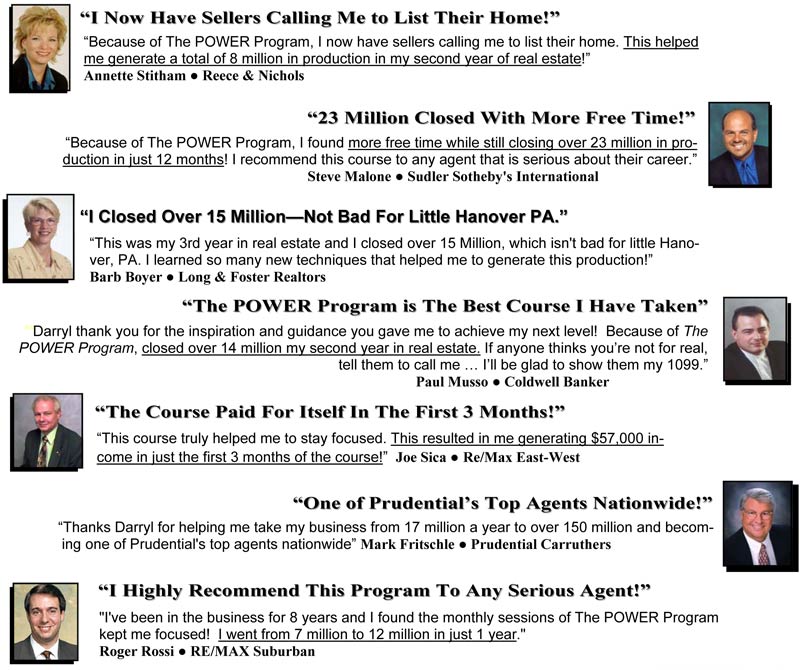 Only $27/month