1. Call Them Regularly
Your past and current clients are the lifeblood of your business – they will be the driving force behind your repeat and referral business. So, express your gratitude for them by picking up the phone and seeing how they are doing once in a while. It will not only remind them you are around but show that you care by remembering key details about their lives.
Worried about remembering all those details and when to call a client? Use a real estate CRM like the Power Builder®  to help you do both. With the Power Builder's rich Contact Profile, you'll have lots of information at your fingertips, and you can even enter notes after each call, so you remember what you talked about last. You can also set up Keep in Touch Call Reminders with the Power Builder Contact. Choose the frequency you would like to call an individual or group of clients, and you'll automatically be reminded when it is time for you to reach out.
2. Remember Birthdays and Move-In Anniversaries
Remembering key dates in a client's life really shows you care and are grateful for their business. It demonstrates that they aren't just another number to you – but truly people that you have built a relationship with. The two key dates as a real estate agent are birthdays and move-in anniversaries. Everyone enjoys being acknowledged on their birthday! Move-in anniversaries could even be forgotten by the client, so your remembering really shows how willing you are to go the extra mile.
We LOVE our friends at AM Cards for putting together campaigns for both of these must-remember events for our POWER AGENTS! Head to the classroom's PRINT PORTAL to get your first three cards for FREE and NO set up fee! They have a remarkable way for you to set your cards to go out automatically each year!  You'll be expressing your gratitude regularly without missing a beat.
3. Rock some SMILE Stops!
We call the art of stopping by a past client's house "SMILE Stops" – not just drop-bys because service and smiling are such a big part of our culture at The Power Program. They are so effective that our members use them all year around to make an impactful interaction with their clients. It's the perfect way to ensure that you are memorable and top of mind with your clients! Here are a few ideas for you!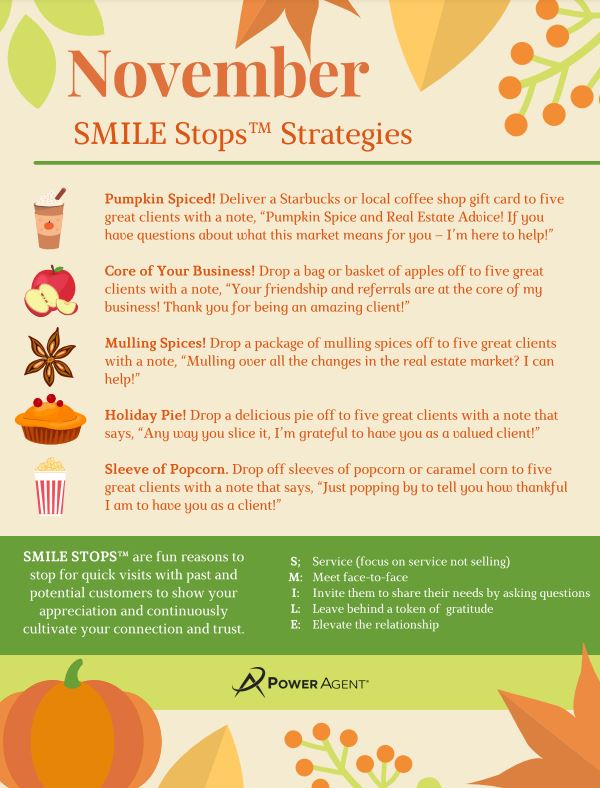 POWER AGENTS, you'll find LOTS of SMILE stop ideas in your Classroom here.
4. Help Them in Other Areas
A surefire way to show your gratitude toward a client is to help them in an area that you aren't getting paid for. This means referring them to a great plumber, electrician, interior decorator, or even caterer when the need arises. Doing so shows that you care about them getting the best no matter what the need is, and that you are happy to help them out because they are valuable and important to you.
Make this an incredibly easy thing to do by utilizing the Power Builder's Business Directory. Enter in anyone you know who runs a business or provides a service your clients could possibly need. You'll be able to quickly pull up their information when your client mentions needing a great house painter on one of those regular phone calls you'll be making!
Summary
Show your gratitude to your clients with these small acts. They'll appreciate the gestures and, in turn, be more likely to come back or refer someone else to you in the future.