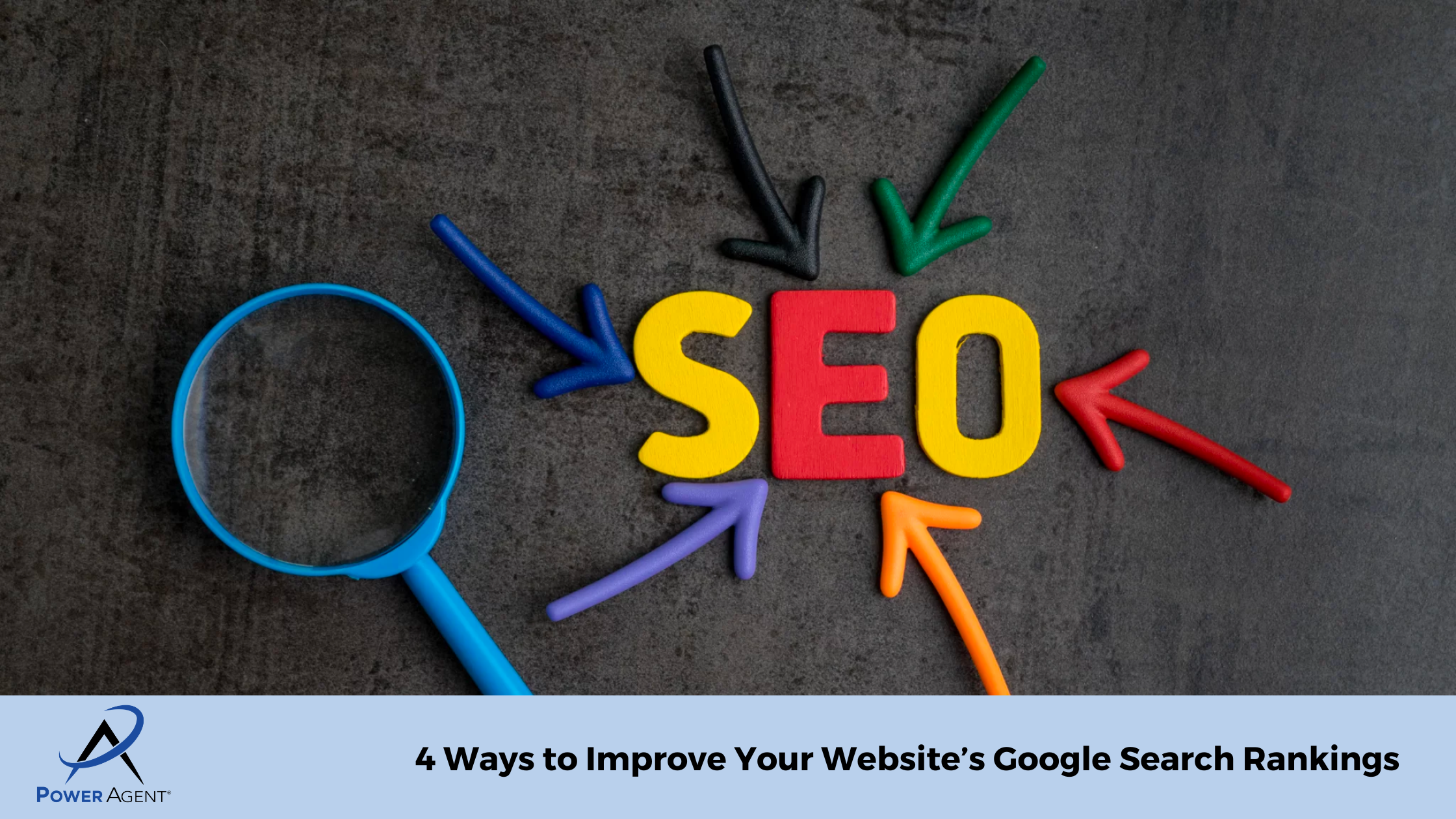 November 30, 2020
4 Ways to Improve Your Website's Google Search Rankings
Powerfact:  Make your digital footprint and site work for you!
by Guest Blogger by Paulina Pestryakov
You've spent the time building a successful real estate business, but now you want people to actually be able to find out about it! And we all know the power of Google – the company that is not just a noun but a verb. You want people to be able to Google you, and to have your website show up at the top of the list. So how do you make that happen?
4 Ways to Improve Your Website's Google Search Rankings
1. Build an SEO-Friendly Website
This is truly the first and most important step. You need to make sure your website itself is search engine optimized from the get-go. You can hire a pro to make sure all of your pages are built for search, or you can use Power Builder free agent website that is SEO-friendly! With our free agent websites, you can choose keywords, create meta descriptions, and customize the content as much as you want. We highly recommend utilizing our "Communities" tab to share information about and your listings in the neighborhoods you serve. This will help you show up higher in the searches that you really want – the ones in your area! You can also add on IDX to your Power Builder website which will improve the SEO greatly. With optimized title, meta and keyword tags in property details pages, SEO-optimized property detail URLs, and social media integration and backlinks you'll see a huge improvement in your search rankings with very little extra work on your part.
2. Ensure Your Website is Mobile-Friendly
It's not a myth – Google ranks mobile-friendly websites higher than those that are not. So make sure when you are building your website that you request that it is responsive – meaning it will look beautiful on any size device without having to pinch and zoom. Want to simplify it further? All of  Power Builder website templates are 100% mobile-friendly without you having to do a thing.
3. Publish Relevant Content
Google sends "crawlers" out to websites to check their content and will bump up in rankings those pages that are regularly publishing content that is also relevant. The simplest way to do this? Blog posts! You can write your own and publish them on your website, being sure to include a few keywords that are relevant to your business. But if you're not a writer, you can also take advantage of the bi-weekly blog posts our CRM Partner IXACT Contact provides to all users of our free agent websites. Ensuring you are posting fresh content regularly is critical to improving your Google Search Ranking.
4. Share Your Content
Once you've got great content publishing regularly to your blog, make sure you are sharing it! Share your latest blog posts to all of your social media accounts, and anywhere else you are able to. The more places Google finds linking back to your website, the higher your Search Rankings will go. Plus, if you share on social media other people can too, increasing the number of times Google is going to find your links. On top of all that, you establish yourself as active and knowledgeable in all things real estate, which will drive more traffic to your website and improve those rankings again.
You do great work – make sure the world knows about it! Implement these simple tips to get your website showing up higher in Google's Search Ranking, and see an increase in traffic and leads in turn. It doesn't have to take much effort or be intimidating – just make sure you are using the right tools such as the Power Builder CRM.
---
Get the Darryl Davis Newsletter!
Power Agents, you'll find lots of tools to be more proactive, productive, mindful, and courageous in our Time and Money Management tab in the Classroom. Tools like Living Your Power Agent Prospecting Chart that helps you stay focused and makes prospecting a little more fun!
Not yet a Power Agent®? Click here to learn more about how you can access hundreds of marketing, prospecting, and objection handling tools – live weekly coaching, podcasts, webinars, and more!
Need help? Contact our team today at (800) 395-3905!