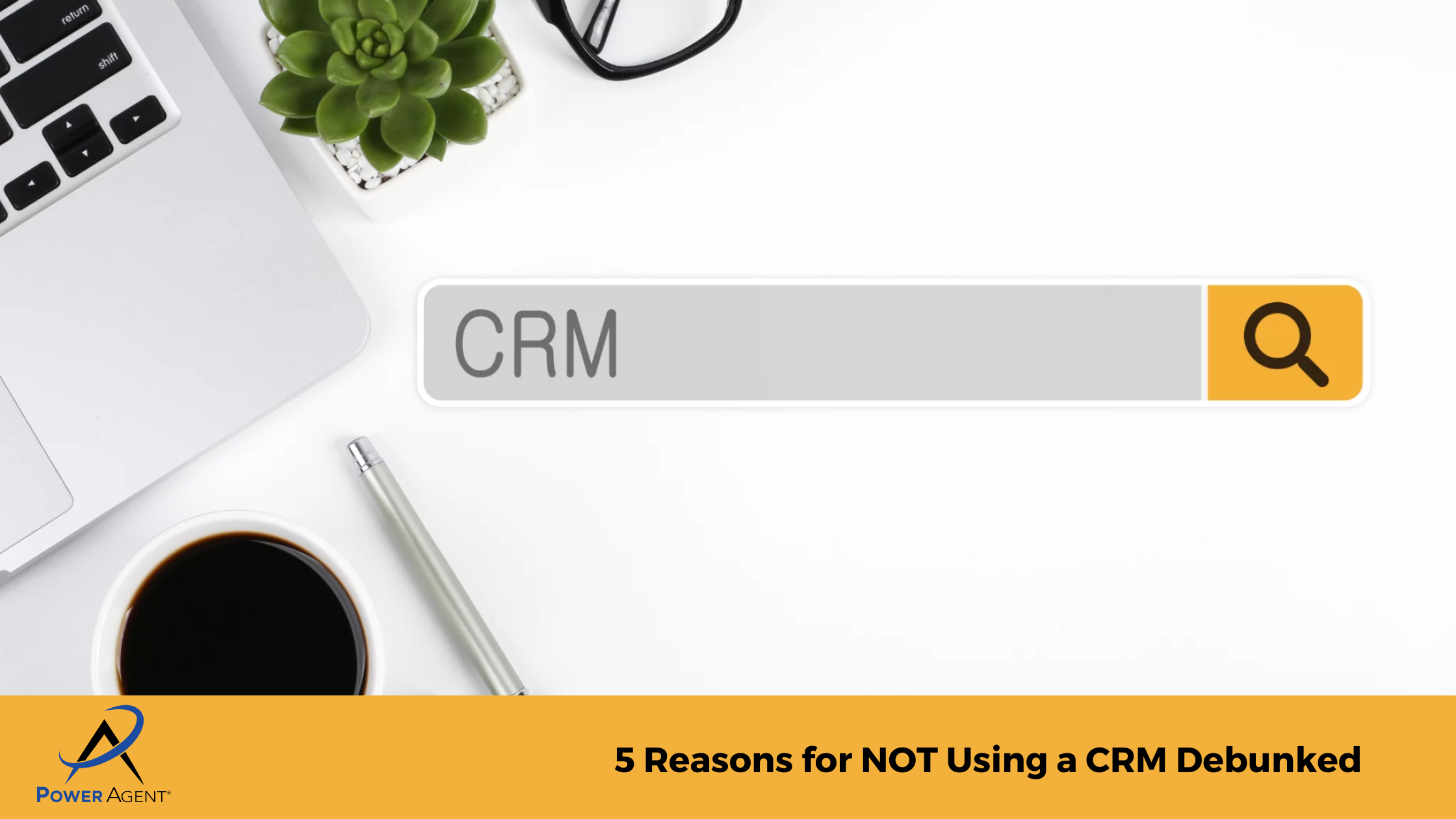 January 24, 2021
5 Reasons for NOT Using a CRM Debunked
Powerfact:   To succeed and compete effectively in the age of change — a CRM is a must-have tool.
by Guest Blogger Paulina Pestryakov
As a real estate agent, you are frequently juggling multiple priorities at once. This can often lead to things falling through the cracks though, with disorganized contacts, no keep in touch activities, and a generally slowing business. This is where a Real Estate CRM can really be a lifesaver, but often excuses get in the way.
Here are the Five Most Common Excuses for Not Getting a Real Estate CRM
1. Too Hard to Set Up
This is an extremely common excuse. As a real estate agent, you are extremely busy, and taking the time to sit down and get your CRM set up doesn't feel like a priority. This initial effort pays off in a big way for going forward though, saving you time and generating more business. And with Power Builder CRM, getting started is even easier thanks to our Concierge Setup Service. Once you register, a member of our amazing Support team uploads all your contacts and works with you to get everything set up the way you want it. Simple and quick!
2. Too Difficult to Use
A common fear is that once you spend all the time getting set up on a CRM, you then can't figure out how to actually use it. This is a legitimate concern, and one that happens all too often with CRMs. That's why our Power Builder partners pride themselves on making our system extremely easy to use. Not only is the software itself user-friendly and uncomplicated, but we have multiple resources to help you out. From an initial walkthrough of the system with a Customer Success Manager, to a huge library of tutorial videos, to our Support team is here for you. You won't be wasting any time trying to figure out complicated features only to discover you won't really use them.
3. All My Contacts are on My Phone
In the age of smartphones, storing contacts on them is extremely commonplace and useful. However, getting those contacts off of a phone and into a CRM database can seem like a far more daunting task. With the Power Builder CRM, it isn't. We enable you to sync your contacts in Google, Outlook, or Apple directly to your database – and we even set up for you! On top of that, IXACT Contact has a full-featured mobile app, so you can utilize your CRM wherever you are. We make your contacts being on your phone a reason to get a CRM instead of an excuse not to!
4. Too Expensive
You are running a business, and every little cost adds up quickly. Can you really afford to add in a Real Estate CRM? Well, with Power Builder you can. We offer a FREE 30-day trial to our Power Agent members. This CRM easily pays for itself and then some with the time you save, leads you generate, and referral and repeat business you build. And if you are a rookie agent in the early stages of building a business, we even have a very special offer for you!
5. Too Many Services Already
You are already struggling to keep your website provider and email marketing software straight, adding in one more service is just too much. We get that. But adding in Power Builder will actually consolidate all of those things into one! You can build your free agent website with us, deliver all of your email marketing, and manage your contacts all in one system. Fewer logins to remember, bills to remember to pay, and products to learn how to use. Therefore, you get everything you need, but simplified.
Time to put your excuses to the side. Your business can only benefit from the implementation of a CRM and it will actually make your life easier.
Get started. Don't worry, we are here for you every step of the way. Power Agents®, if you don't have a real estate CRM at the moment, you can start your FREE 30-day trial of The Power Builder CRM! The best part of it all? You can take advantage of all of the above benefits, for a full 30-days! Give it a shot!
---
Get the Darryl Davis Newsletter!
Power Agents, you'll find lots of tools to be more proactive, productive, mindful, and courageous in our Time and Money Management tab in the Classroom. Tools like Living Your Power Agent Prospecting Chart that helps you stay focused and makes prospecting a little more fun!
Not yet a Power Agent®? Click here to learn more about how you can access hundreds of marketing, prospecting, and objection handling tools – live weekly coaching, podcasts, webinars, and more!
Need help? Contact our team today at (800) 395-3905!