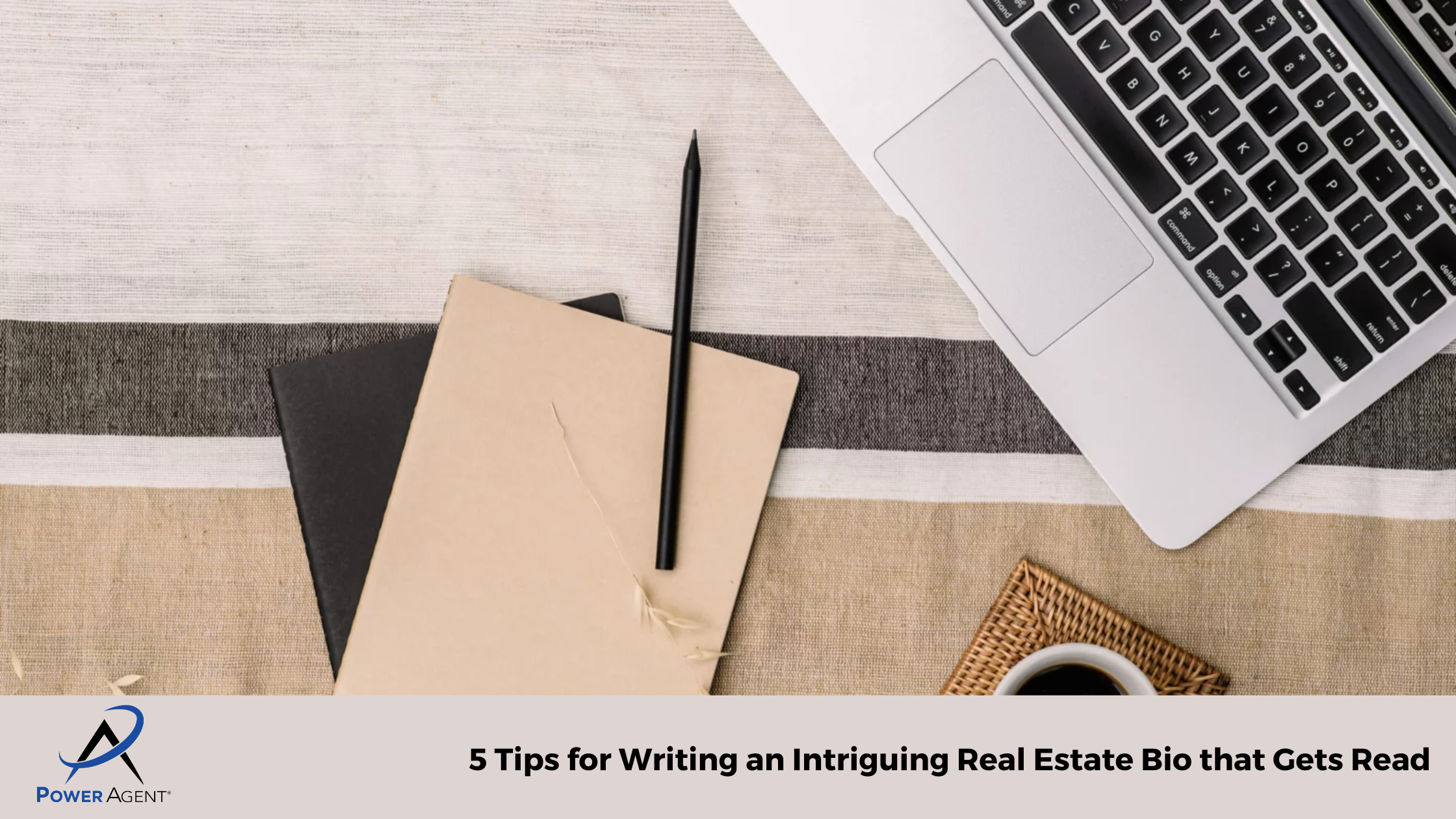 July 22, 2021
5 Tips for Writing an Intriguing Real Estate Bio that Gets Read
There has never been a more important time to carefully craft how you show up in the world in terms of brand, image, and bio.
We recently had the pleasure of having Christy Murdock join us for a Power Agent® exclusive masterclass webinar. Christy is a real estate content writer, instructor, and coach with more than 20 years classroom experience. She creates content for real estate agents, brokers, and is featured in some of the top real estate publications in the country.
Christy is also a faculty member of Florida REALTORS® and is the creator of Crafting the Property Description: The Step-by-Step Formula for Reluctant Real Estate Writers. She joined our webinar to share tips for creating a real estate bio that will actually get read.
We asked Christy to join us for this hot topic because it is more important than ever to make sure that your digital footprint in the world is clear, defined, and has the right elements to set you apart from your competition! 
From social media, to your website, to referral directory profiles – what do YOU want the world to know about you? 
Here are five top tips from Christy's real estate bio masterclass! 
One: Focus on What Makes You Unique
Who are you? What makes you special? What separates you from all of the other licensed real estate agents that are out there? Try and put some thought into the things that you do that no one else does.
Maybe you specialize in a niche market or you have some unique past experience. Or, perhaps you have a distinct skill set that allows you to understand and navigate different situations. Find your unique strengths and highlight them to set you apart.
Two: Choose the Right Length
Balancing your bio between being too short and too long can be a tedious process. But how do you know what's too long or too short? You don't have to write a novel about who you are. There are a ton of authentic, compelling, and interesting bios out there that are only a couple of paragraphs long.
The great thing about finding the right length is that you don't have to stick to a single bio. Depending on where you're going to put it, you could use the same foundation and create two or three versions.  A more detailed bio could go on your website or as part of a presentation. You could use a shorter bio for social media or other introductions.
Three: Find Your Voice
It's one thing to figure out what it is you're going to say. It's a whole other thing to figure out how you're going to say it. This is YOUR narrative, how do you want to spin it?
The challenge for many is whether to use first, second, or third person. Each tone of voice can work, but it depends on your audience.
Third person can often feel like a more formal piece of writing or more serious. Whereas, first person is much more casual and warm. If you're stuck, you can always write a bio using both tones. That way, you can choose which one goes where or allow clients to see the difference.
Use different elements to help contribute to the tone of voice you end up using. Things like testimonials, personal narrative, real estate jargon and humor can all help.
Four: Video vs Written
Sometimes you might not be able to get your words down effectively enough to tell your story in the way that you want. So, you could consider creating a video instead. You can then put it directly on your website or across your social media channels.
Instead of having to figure out how to articulate your words, you can speak directly into the video the same way you would normally. Doing your bio this way can help you to keep a conversational tone or make sure that the points you are making are coming across in the right way.  You can also then have the video transcribed so that you have both a video and written version to work with! 
Five:  Consider Alternative Formatting
Just writing your bio into a document and sending it off to do its thing isn't the only way to go. There isn't a requirement to limit yourself to a few paragraphs in essay format. You can get creative in the ways that you write your bio to create more interest.
Write a few sections that include bullet points, lists, or other graphic design elements. Or, mix in a combination of bullets and lists with your paragraphs of content. You can add different things to help make your bio more interesting and highlight what makes you unique.
Key Takeaways
There's no perfect recipe for creating an intriguing real estate bio that gets read. It's all about you and who you are, and what might work for someone else might not work for you. Put some thought into what separates you from other licensed real estate agents.
Think about the things that make you unique or past experiences that have prepared you for the challenges that different real estate markets can bring. 
Following the five tips that Christy outlined in her presentation is an excellent place to start. You will be able to develop an engaging bio to help you stand out from the rest of the competition.
We wanted to thank Christy for taking the time out of her busy schedule to provide Power Agents® with extremely valuable information that can help them gain a competitive edge!
To learn more about Christy's coaching, please visit her site at Writing Real Estate: Content Marketing for Real Estate Professionals. Be sure to check out her blog – it's amazing.
Power Agents® can head over to the Webinars on Demand tab in your classroom to watch the full hour of Christy's magic on demand and get some of her inside secrets for real estate writing success. 
You'll also find her previous webinar on writing quality real estate listing descriptions!
You'll also want to put your new skills to good work by filling in your Power Agent® Directory profile here. You'll love the referral magic that is happening within your network! 
Take it from Power Agent Carol Brown, "I would like to thank power agent Regina McCann for finding me in the directory and sending me a referral! I could not dream of a better scenario! Her buyer called , we emailed back and forth with homes she might like, she came to town to look, made an offer that day! We had to use an escalation clause and we won! The seller's agent was easy to work with , the seller couldn't be nicer and it's a cash transaction!!! Of course the buyer is just delightful, I feel I will know her for some time."
---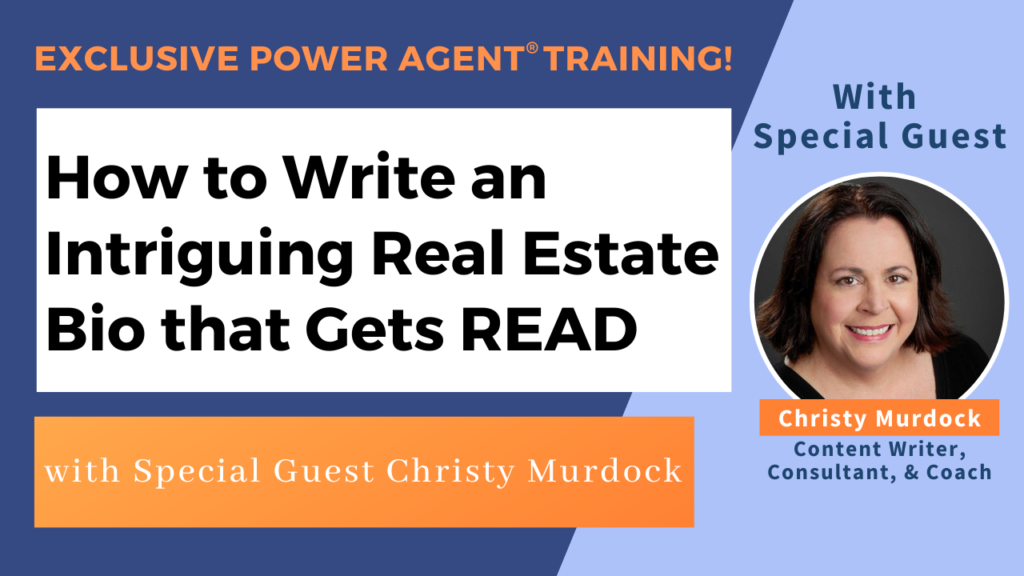 Get the latest real estate training tips delivered to your inbox!
Not yet a Power Agent®? Click here to learn more about how you can access powerful masterclasses with industry experts, weekly coaching, ready-to-use marketing tools, and an entire library of training to help you build the skills you need to take your goals and business to the next level!
Need help? Contact our team today at (800) 395-3905!