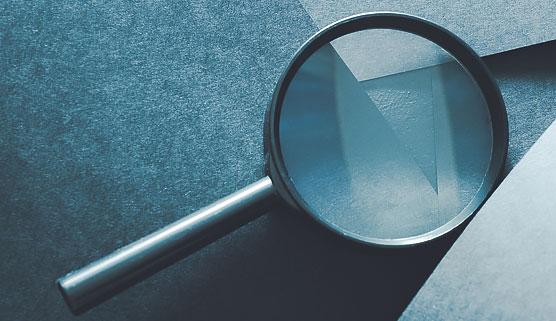 October 14, 2019
Agent Comparison
Big thanks to our Power Agent Marty Sorrentino who kindly stepped up to the plate for last week's coaching call. In the whole world there are maybe five people I would trust to deliver my coaching and training to our members, and Marty is one of them. A 38-year (and counting) veteran in the real estate industry, Marty's experience, character, and consistent pay it forward integrity make him a superstar in our book.
One of the questions that persistently pops up on our coaching calls that Marty got to field was, "How do I better compete with other agents in my market?" From the "I already have an agent" to "I have a friend in the business"  to "I think my cousin's sister's daughter sells real estate" — how do you set yourself apart? I loved his responses.
If you missed the call, you can listen below:
One tool that Marty uses that created quite the spark of interest was his Agent Comparison Chart. He was kind enough to share his version with us, which you can see here – and gave us his blessing to recreate for our Power Agents!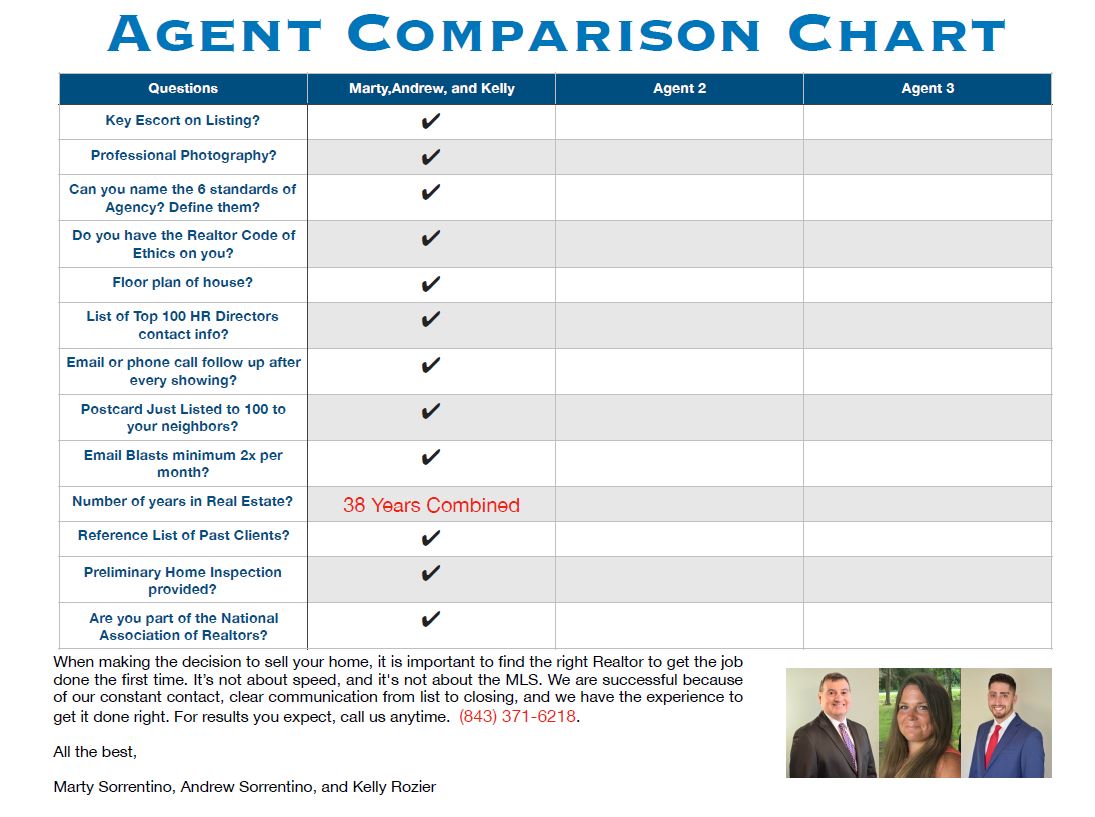 When he works with Sellers who want to interview other agents before making the decision, he gives them this chart so they can see where his team shines.
Two things that he specifically points out in this chart are the Standards of Agency, and the Code of Ethics — saying that rarely are competing agents as well versed as his team is in being able to recite these important differentiators.
Agents, you can find and download the code of ethics here. 
The standards of agency I wanted to touch on for a moment because it's important in communicating your value that you truly can convey your commitment to your fiduciary responsibility to a seller. 
"A real estate broker who becomes an agent of a seller or buyer, either intentionally through the execution of a written agreement, or unintentionally by a course of conduct, will be deemed to be a fiduciary. Fiduciary duties are the highest duties known to the law. Classic examples of fiduciaries are trustees, executors, and guardians. As a fiduciary, a real estate broker will be held under the law to owe certain specific duties to his principal, in addition to any duties or obligations set forth in a listing agreement or other contract of employment. These specific fiduciary duties include:
Obedience ▪ Loyalty ▪ Disclosure ▪ Confidentiality ▪ Accounting ▪ Reasonable care and diligence 
A handy acronym to remember these is OLDCAR – and I would recommend any agent follow Marty's lead and learn them!  You can find a copy of these standards here.
We've recreated this tool in PowerPoint so that you can change the questions to best suit you and your strengths and experience, as well as add your contact information.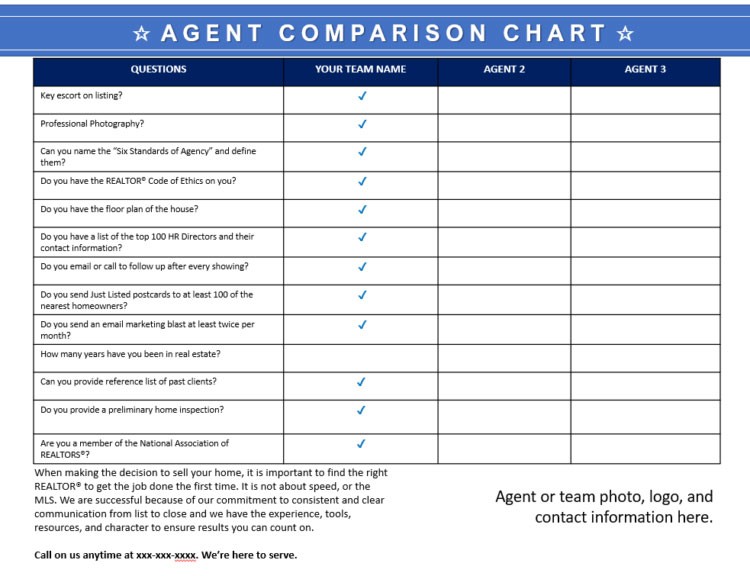 Power Agents, you'll find an entire resource section dedicated to the kind of listing tools like this one that will both help you land the listings — and best service the sellers in your community all in the Listing Appointment tab in your classroom! From pricing it right to communicating value to everything else you need — you'll find it here at your fingertips!
Not yet a Power Agent®? Did you know that for less than a dollar a day, you can have access to hundreds of marketing, prospecting, and objection handling tools – live weekly coaching, podcasts, webinars, and more?  In fact – we'll give you the first 30 days for just $5! Start your Power Agent® trial and have total access to every tool we have including letters, dialogues, training tips, webinars on demand, eBooks, and marketing tools.
If you're ready to have everything you need to handle whatever the market tosses your way — get started today!