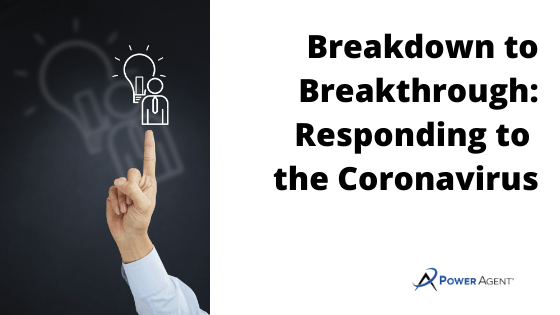 March 31, 2020
Breakdown to Break Through
Breakdowns often lead to breakthroughs. That, when challenged with obstacles, we as human beings can find opportunities and solutions and adapt at extraordinary levels — sometimes ones we didn't even know were possible.


This week, as my team and I work around the clock to make the shifts and solutions necessary to help our coaching members and real estate professionals all over this great nation navigate the changes before us, I wanted to share this message of hope and resilience with you.
Together we are better and stronger. Just as test pilots drive planes to breaking points to find ways to make aircrafts stronger and better — these times that are testing us will create breakthrough mindsets and skill sets for us as well.
Power Agents – it's more important than ever to join us on our Monday Morning Coaching Calls. We are going to be very fluid with what time we end the call for the next few weeks as we help everyone get their questions answered and navigate what everyone is feeling and dealing with right now. We're so very proud of the amazing community in our Facebook Group. The compassion, care, and camaraderie is just wonderful to see. Thank you all for that.
We are also going to be offering more virtual workshops and setting up additional outreach opportunities.
We've got you. Stay tuned. We're in it together!
——
Not yet a Power Agent®? Did you know that for less than a dollar a day, you can have access to hundreds of marketing, prospecting, and objection handling tools – live weekly coaching, podcasts, webinars, and more?
Start your Power Agent® trial and have total access to every tool we have including letters, dialogues, training tips, webinars on demand, eBooks, and marketing tools for just $5.
If you're ready to have everything you need to handle whatever the market tosses your way — get started today!
Need help? Contact our team today at (800) 395-3905!