August 6, 2018
Bring Your Listing CONVERSATION to the Next Level®
POWERFACT:  People don't want to be SOLD. They respond better to a two-way CONVERSATION than a canned PRESENTATION.
When it comes to listing homes, I want agents to stop and remember they are in the people business. That means it's more important to have a CONVERSATION, which is a two-way exchange of information where you're talking with each other rather than a presentation which can feel salesy and puts a lot of pressure on you to PERFORM. That's got anxiety written all over it, right?
But a CONVERSATION, that's different. Now, some agents go into a listing appointment loaded with everything including the kitchen sink. They want to bring everything to the table and just start TALKING — the MLS, the open house, the neighborhood open house, the lockbox, the this, the that — next thing you know the sellers are either bored, agitated, or asleep. Sometimes the agents bore themselves to want to take a nap. Don't do that.
Instead, here's what I coach Power Agents® to do — I coach them to pick just FIVE things they are super passionate about. The five things they believe they and their company can do better than anyone else in the world when it comes to helping that homeowner get to THEIR Next Level®, and get their home sold for the best possible price and terms. What makes you excited about what you do? What do you love most about helping people? What are super thrilled to share with those folks — so much so that you aren't presenting, you're speaking from the heart?  That's where the magic is. 
That's where people buy in — not just to a marketing plan, or even a sales price — but to the person they believe they can like and trust enough to help them get to their Next Level®.
Watch this…
I outline what I believe is the best possible approach to a successful listing conversation in my eBook, The 4-Step Listing Conversation. You'll find it in the Listing Appointment tab in your Power Agent Classroom. It's a quick and easy read, and a valuable tool you may want to reference before every appointment until you get the hang of this approach.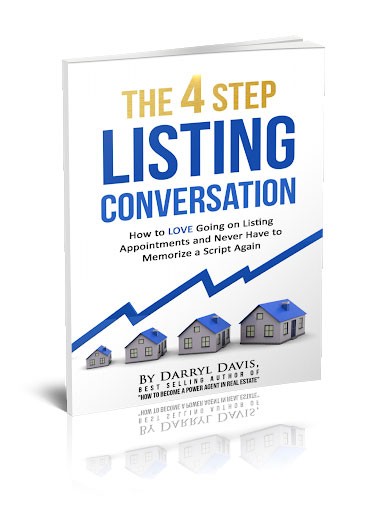 As I've been saying for a while, now is not the time to put the brakes on or coast in your prospecting or marketing. It's more important than ever to build a strong listing inventory so you can weather any and all market conditions.
That means having the RIGHT marketing tools, objection handlers, prospecting tools, and coaching.
Power Agents, be sure to join us for our coaching calls EVERY MONDAY at Noon Eastern time, where we take agent questions and concerns live during our hour together. This week was an awesome call where we generated dialogue on the spot for agents working Expireds, one who took her first million-dollar FSBO listing using her new tools, newer agents competing against more experienced competitors, and listing conversation tools that are in sync with what we are talking about in this week's article, and more. They are literally a POWER HOUR.  If you've not made those calls in the past – we'd love to have you on them. Every question and answer is a chance for everyone to learn!  Click here to get the credentials to join us for the next call.
If you're not CURRENTLY a Power Agent, now's the time to try us for free for the next 30 days. You'll have all the tools, training, and coaching you need to handle objections and list like a pro. Your free trial gives you total access to every tool we have including letters, dialogues, training tips, webinars on demand, eBooks, and marketing tools.
Now is NOT the time to reinvent the wheel. It's the time to get laser-focused so that in 90 days, you're in the position to handle whatever the market throws your way.
Ready? Set? Go!
Need help? Contact our team today at (800) 395-3905!