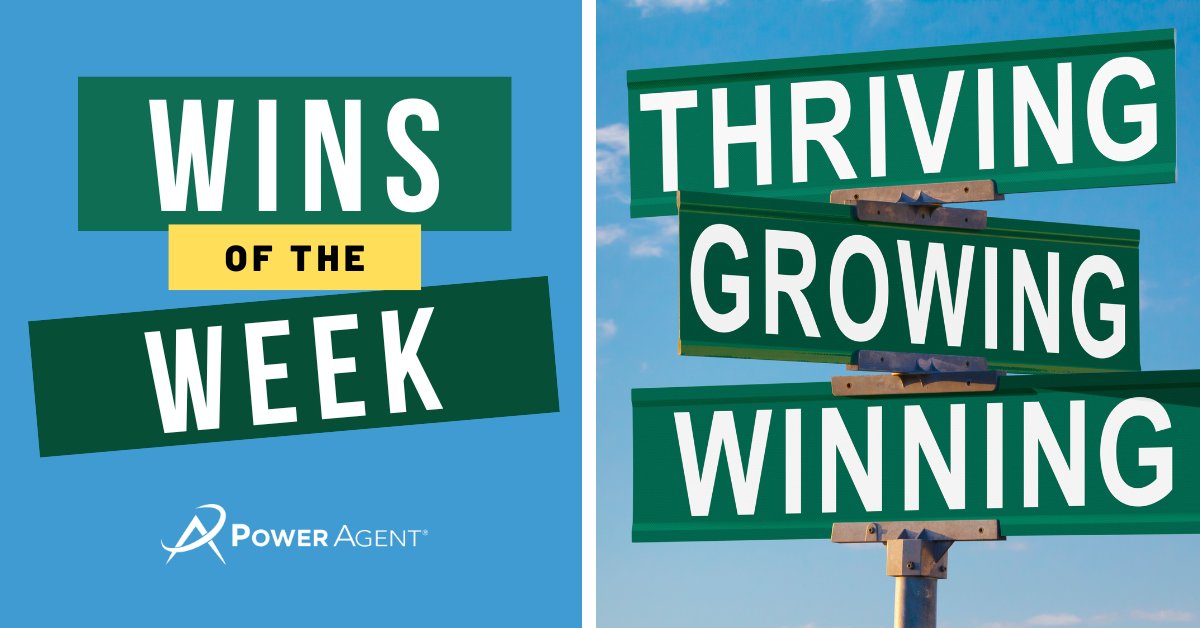 September 30, 2022
Can Real Estate Coaching Help Boost Your Weekly Wins? (We sure think so!)
Wondering if real estate coaching can add some wins to your week – look no further!
Our Monday Mindset Call with Darryl Davis is always a great way to start the week! We start each call off with a "WIN PARTY", where our coaching members, who we fondly refer to as POWER AGENTS®, share their real estate wins from the previous week and how our coaching program and community are helping them achieve success.
This week was no exception – we are so proud of our members and all they are accomplishing! Keep up the great work, everyone!
Help us celebrate these real estate wins:
15 New Listings
5 Closings
3 Sales
3 New Buyers
3 New Deals Under Contract
Stayed Focused
Made a Breakthrough Getting Comfortable Making Phone Calls
Set Up their DOT BOARD for the Very First Time
Made Calls Following Mail Marketing
Joined a New Agency & Got a Lot of Leads
Successfully Used Darryl's Pricing Strategy from Last Week and Got an Offer Over Asking
Said "No" For Once
Got a FSBO Appointment
Reached Out to Sphere With a Check-In Call
Got a Seller to Come to their Senses and Close
Got an Investment Condo Under Contract
Guided a Senior Couple to De-Age their Home For Listing
Got their Head Together to Work Toward Becoming Successful
Called 25 Realtor.com Leads, Gaining 5 Potential Clients
Joined The POWER AGENT® Program
Sold a New Listing in 5 Days and $30K Over Asking
Got a Listing from a FSBO
Got a Buyer's Offer Accepted
Reconnected with a Previous Client
Got a New Showing
Stayed Positive
Very First Deal Under Contract
Got a Compliment from Buyer's Lender for Being a Proactive Agent
Presented a Contract
Got a Sale and Listing from the Same Client
Started Farming & Got a Really Good Lead
Got a $2M Listing Appointment
Got a Great New CRM
Got 2 Offers on a Stagnant Listing
Back-to-Back Closings Scheduled
Got 2 Referrals for Listing Buyers
Got an Addition Completed
Got a Nice Waterfront Listing
Got 3 Closings Scheduled for the Week
Hired a New Agent for their Firm
Successfully Negotiated an Offer
Got a Repeat Referral from a Past "A-List" Client
Started Working with a New Client
Completed a New Promotional Video & Is Getting Lots of Hits on Facebook with it
Had 50 People Attend their Open House
Got 2 New Clients
Reconnected with a Past Client who is Back in the Market
New Listing with a Repeat Client
Made Massive Money as a Property Manager for a Home
Convinced a Seller Not to Overprice their Home
Saved a Deal
Signed up for the POWER Builder CRM
Met Darryl Davis in person
We LOVE celebrating these wins each week and LOVE seeing the changes these weekly real estate coaching calls make in our members' lives!
Recommended reading: The Importance of Acknowledging and Celebrating Your Achievements
Ready to share YOUR real estate wins for the week?
POWER AGENTS® – Be sure to join us on the next Coaching Call to share those triumphs and cheer the weekly WINS of your fellow POWER AGENTS®! 
Real Estate Coaching is an essential piece for agents eager to create transformative results in their careers and life and create the kind of 
real estate success stories
 they see in other agents.
If you're not yet a Power Agent®- no stress!
Give us a go! This comprehensive program provides affordable coaching, training, and customizable marketing tools for real estate agents. It's proven to help thousands of agents significantly boost their listing inventory, solidify their business, cultivate lifelong customers, enhance authenticity and confidence, reduce stress, and craft fulfilling careers and lives.  
Imagine what you could do if you had just a snippet of what's inside The Power Program®! Just a fraction! 
Hope to see you on the "inside"! Here's to your success!  
---

Get the latest real estate training tips delivered to your inbox!