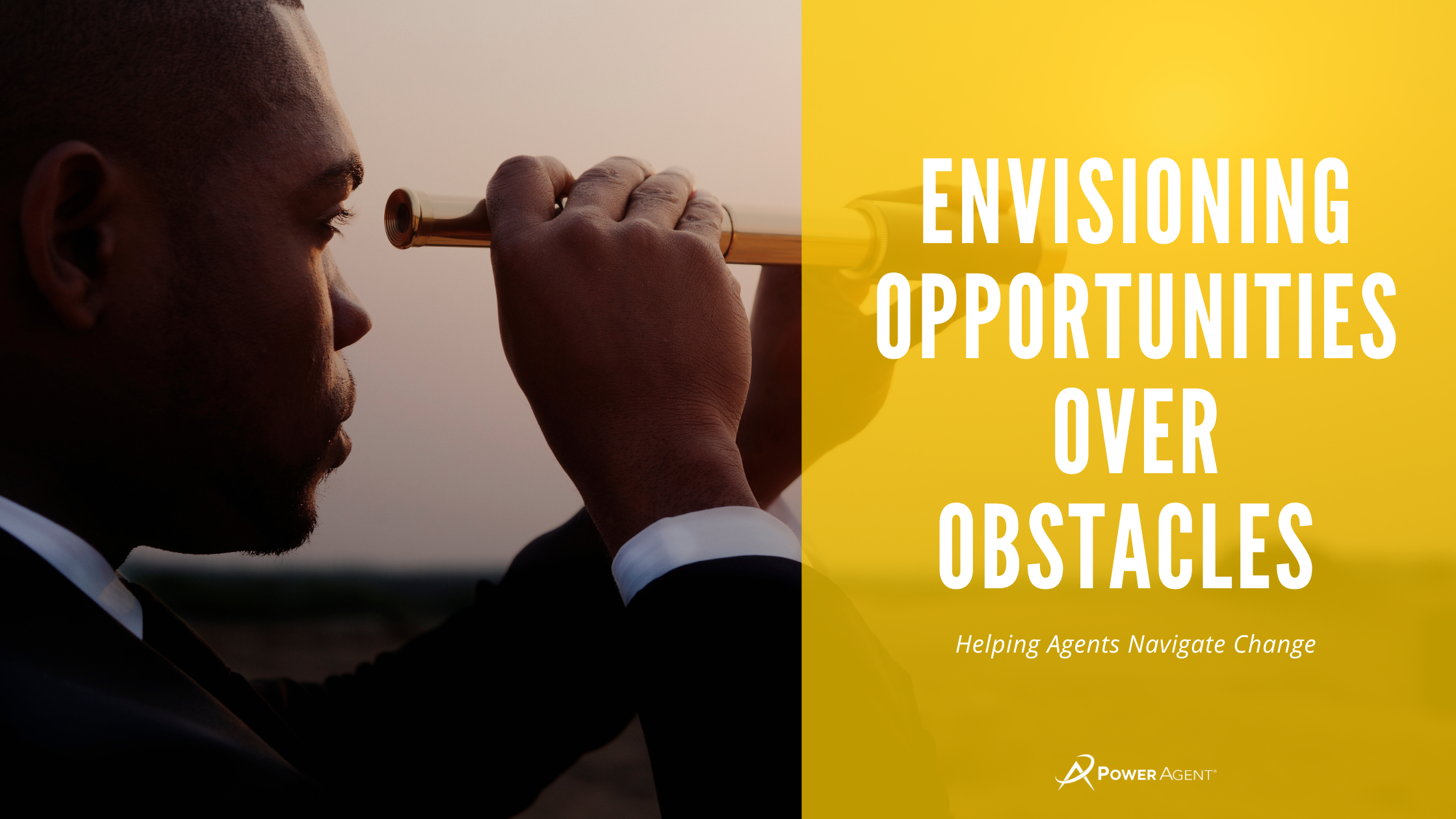 July 7, 2023
Envisioning Opportunities Over Obstacles 
Love this quote by Reed Markham, "Successful leaders see the opportunities in every difficulty rather than the difficulty in every opportunity." 
Oh, boy – did that really hit the nail on the head for what it takes to thrive in today's market, right? There's a lot of "sky is falling" talk out there, and frankly, that's a serious distraction for agents in a time where they need to be more focused than ever. Where they need to look for the hidden opportunities in the obstacles rather than jumping into the noise of negative news.  
As leaders, we can help them do that by modeling that mindset and skill ourselves. It's something we've done in our weekly POWER AGENT® coaching calls this year and it's made a huge difference. Darryl kicks off our Monday calls with a round of "Wins of the Week". This is a powerful part of our sessions where agents share their wins of every kind. What's amazing is that we not only celebrate the good that is happening – it always leaves us with a feeling like the whole idea of "business is slow" goes right out the window and it encourages agents to be proactive in their prospecting and productivity. So much so that they can't WAIT to share. That's why we are going to make celebrating the wins our first strategy for you this week! 
Celebrate the wins!

Consider kicking off the week, your training sessions, or your meetings with a rousing round of wins from your agents. Wins will look like a wide spectrum of accomplishments as well so encourage that. For some it will, of course, be listings, contracts, and sales. But, for some, a win might be committing to prospecting time, re-organizing, sending out letters or notes to past clients, etc. By teaching agents to celebrate the wins every week, you are promoting taking action, staying focused, and looking for the opportunities. 

 

Dare them to be different.

You know what they say about doing the same old thing and expecting different results, right? Now is a great time for agents to get out of comfort zones and consider all kinds of different marketing ideas – but not the ones that cost a fortune. Canvassing neighborhoods, creating conversation moments wherever they are, getting back in touch with past clients, and focusing on niche markets they can be passionate about can all be powerful ways of shaking the trees for new business as well as looking at their careers through a new lens of possibilities.

 

Cultivate connectivity.

After our event this year, one of our members made it a goal this year to strengthen her "referral pillar" in her business. Meaning she actively carves out time each week to cultivate referral relationships with agents from around the country that can refer business to her and she can refer business back. Encourage your agents to do the same. It's a foundation builder!

 

Inspire them with real world stories of opportunity born from obstacles.

Let's start with this one: Did you know that Airbnb was founded by two friends who were struggling to pay rent in San Francisco during the global financial crisis in 2008? They decided to rent out air mattresses in their apartment to attendees of a design conference, providing them with a place to stay. This idea led to the creation of Airbnb, a platform that allows people to rent out their homes or spare rooms to travelers. It was an uphill climb for a while they faced numerous challenges, such as regulatory hurdles and trust concerns. Nevertheless, Airbnb persevered and became a global phenomenon. Today, it is valued at billions of dollars and has revolutionized the travel and hospitality industry.

 
Helping agents SEE the world through a lens of opportunity versus obstacles starts with YOU and your ability to create clarity during these times of tremendous distraction. They need great vison and great leadership today to navigate change and choices with more confidence. Be that light that leads the way for them and know that we are always here to help! 

Darryl Davis is an award-winning international speaker, real estate and business coach, and best-selling author of three books, all published by McGraw Hill Publishers. 
For more than 35 years, Darryl has spoken to and trained more than 100,000 sales professionals around the globe to more than double their production year after year. His book, How to Become a Power Agent in Real Estate, tops Amazon's charts for one of the most sold books to real estate agents. 
He was awarded the Certified Speaking Professional (CSP) designation by the National Speaker's Association which is given to less than 2% of all speakers worldwide. 
Whether from a stage or Zooming into a virtual room, Darryl's extraordinary humor, relatability, and natural gift for teaching real-world, results-producing skills and mindsets to audiences have made him a client favorite throughout his career. 
Audiences will laugh, learn, and ultimately walk away better prepared for a changing world, with the tools, skills, and training they need to build their businesses with more ease and less stress and to design lives and careers worth smiling about. 
Bring One of Darryl's W.O.R.K. Topics to Your Organization!
By providing your agents with the knowledge and insights they need to stay ahead of the game, you can ensure that they are equipped to handle any situation that comes their way! Contact us here to learn more!