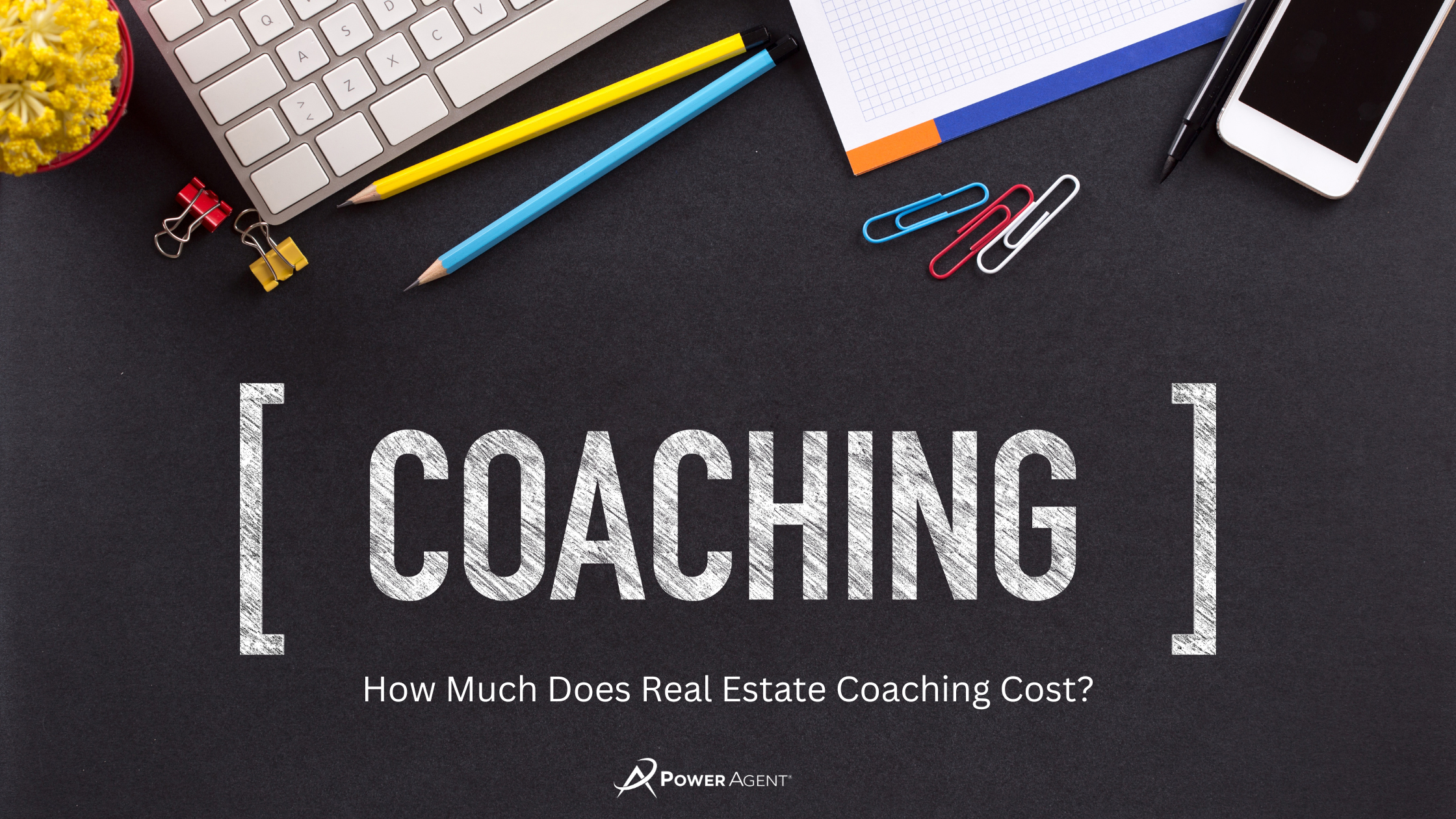 October 28, 2022
How Much Does Real Estate Coaching Cost?
Evaluating real estate coaching costs and whether the ROI is right for you is an important career decision.
There's an age-old question in our industry, and that is, "How much does real estate coaching cost?" The age-old answer that usually follows it is, "If you do it or if you don't?" 
The "if you do" scenario leans towards an industry standard of at least a 10% return on investment per year. Our coaching members average much more than that. 
"Darryl and his programs help you stay focused, which is why I went from $2 million to $4.2 million."
– Dawn Mikulski

"Because of Darryl and his program, I made over $130,000 my second year and $262,000 my third year. This course gave me the tools to succeed. "
– Gail Gladstone

"I am a strong advocate of this program because it takes you to the next level. It's very much worth every penny. My total dollar volume before Darryl's Program was under $1 million and a year later, I generated over $3.3 million – over a 300% INCREASE!​"
– Denise Outlaw-Adams​
The "if you don't" scenario often means staying stuck, not getting to your next level, producing less than your potential, and staying grounded in limiting belief systems.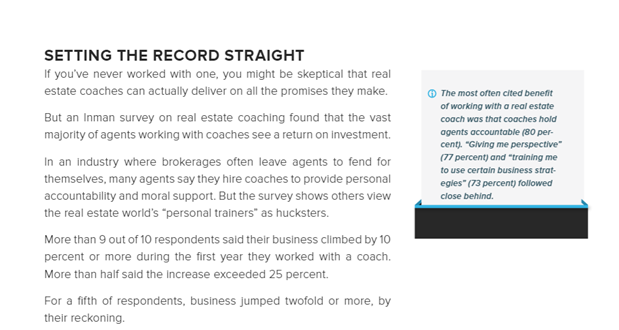 According to a study by Inman, many agents saw a 10% increase in their bottom line during their first year of working with a coach. They shared that having an independent source as their real estate coach, over and above what brokerages offered, provided the benefits they needed.  
How much does real estate coaching cost?
According to the folks over at Real Estate License Training, between $350-700 per month.  
A quick look at our real estate coaching competitors and we'd say they are on the mark. In a list of 40 real estate coaches, the fees ranged from $97 per month to $997 per month.  
How much do WE charge per month?
We're proud to say that for 30 years, we've been in the business of providing the most affordable, reliable, results-driven real estate coaching in the industry.  
Not at $749 per month, or $499 per month, $450 per month, or even $100 per month like our competitors – but rather $47 per month.  
Why? What's the catch?
No catch. Just our way of ensuring that every agent who wants to better provide for their families, feel confident in skills, serve their communities, and have a real estate career worth smiling about without breaking the bank has access to the tools, training, and strategies they need to do just that.  
Our company mission is to help real estate professionals design careers and lives worth smiling about. We get those budget constraints, challenging markets, and shifting industry dynamics can often create more stress than smiles.  
That's why for $47 per month, we offer…
Weekly coaching sessions

 

Live weekly training sessions

 

Online library of more than 150 webinars on demand

 

Membership in the POWER AGENT Directory

®

-an international referral network

 

Classroom portal with over 600 customizable marketing tools

 

Business and marketing plans

 

Activity tracking tools

 

Lead generation strategies and tools

 

Fully customizable listing presentation and buyer presentation

 

More than 30 scripts/dialogues for success

 

$1000s in vendor coupons and bonuses

 

And more

 
What is the best real estate coaching company?
Our answer is US! That's biased, we know, but the real answer is the real estate coaching company that works for you.  Much like a diet, or a time management plan, or the "best time of day to call prospects" – the answer to all of these (and many of life's questions) is the one that you can commit to. The one that resonates with you. The one you're going to USE.  
We can tell you what's DIFFERENT about us. 
We're not into hard-close, lean-on-the-pain, recite-the-manual sales techniques. We don't think you should be "technique-ing" anyone. Because people don't respond to that anymore. We're not going to have you memorizing scripts or dancing on people's pain points or being anything less than your authentic self.  
Phew. 
That's the sound we hear a lot when we're talking to agents about how to come from a place of service and not sales. When we tell them they don't have to "bug" people and that prospecting doesn't have to be based on fear or failure (if I don't get the appointment, I've failed) but rather come from a place of creating a connection with another human being, building rapport, and sharing your ability to help people get THEIR questions answered in a world that, let's face it, needs more answers – such as… 
"What does the market change mean for my home value?" 

"Should I wait to buy? Or sell?" 
Home buyers and sellers aren't the ONLY ones with questions!  
You've probably got a few of your own! We often get the question – What are good questions to ask a real estate coach? 
Glad you asked (if you did) – here are the most recent top ten "frequent flier" questions real estate agents ask their coach. (Also- let's get YOURS answered, too… hit us up in the chat!) 
What should you look for in a coach?
Someone you can believe in – and, who you believe, believes in you. Yeah, that sounds a little "motivational speaker", but it's true. You have to feel like the real estate coach that you choose has got your back. That you are seen, heard, and empowered to be your best self.  
That's what we strive for, and our members tell us is the game-changer and difference-maker for them.  
"Best money I have ever spent! At $47, it's almost free. I feel I am in a coaching group that really is focused on us succeeding in Real Estate and more importantly, in our lives!" – Barbara Balik

"I've been in the business for seven years and find so much value in the webinars, support from the Facebook group, and definitely in Darryl's training. This is place of growth and a chance to perfect your skills to be of value to your clients. It's an investment in you and your business that keeps giving."
– Carole Warren
How should you measure YOUR real estate coaching return on investment?
Forbes actually did an interesting take on the coaching return on investment. They didn't stop at just dollars; they shared many different metrics of how coaching delivers a return on investment such as:  
fROI – Feedback Return on Investment

 

eROI – Emotional Return on Investment

 

mROI – Motivational Return on Investment

 

hROI – Happiness Return on Investment

 
That's brilliant, right? (Of course, it is, it's FORBES, after all!) It's brilliant because real estate coaching is not just about money. Money's great, don't get us wrong. No one is in this to be a non-profit agent. 
But, real estate coaching is about taking a deep dive into what you're doing (or not doing) that is driving your business or holding you back. It IS about feedback. About having a sounding board. A place you can ask questions and get answers.  
It IS about an emotional return. More than ever, real estate agents need to feel like they have a sense of belonging. A community they can count on. Like they aren't ALONE – which you can feel even in a company with hundreds of agents.  
It IS about the motivational return. If you don't have a resource to feel empowered and committed and able to handle change – real estate can be a tough business to navigate.  
It IS about a happiness return. Listen, life is – as they say – short. It's important – scratch that, it's imperative to raise your happiness quotient. To live a life you can be joyful about. To create connections that make you happy.  
That's what we're to do. Darryl often says, "Give me a month, and I'll give you momentum. Give me a year, and I'll give you a career.  
If you're looking for not just how much real estate coaching COSTS but, more importantly, what you can GET from it, try us for a month. We'll give you momentum. Try us for a year – we'll give you a career worth smiling about.  
---

Get the latest real estate training tips delivered to your inbox!
Not yet a POWER AGENT®? Did you know that for LESS than the cost of a Starbucks coffee, you can have access to hundreds of marketing, prospecting, and objection-handling tools – live weekly coaching, podcasts, webinars, and more?  
Start your POWER AGENT®  trial and have total access to every tool we have , including letters, dialogues, training tips, webinars on demand, e-Guides, and marketing tools for just $5.    
Contact our team today to sign up or get the answers you need: 631-929-5555!