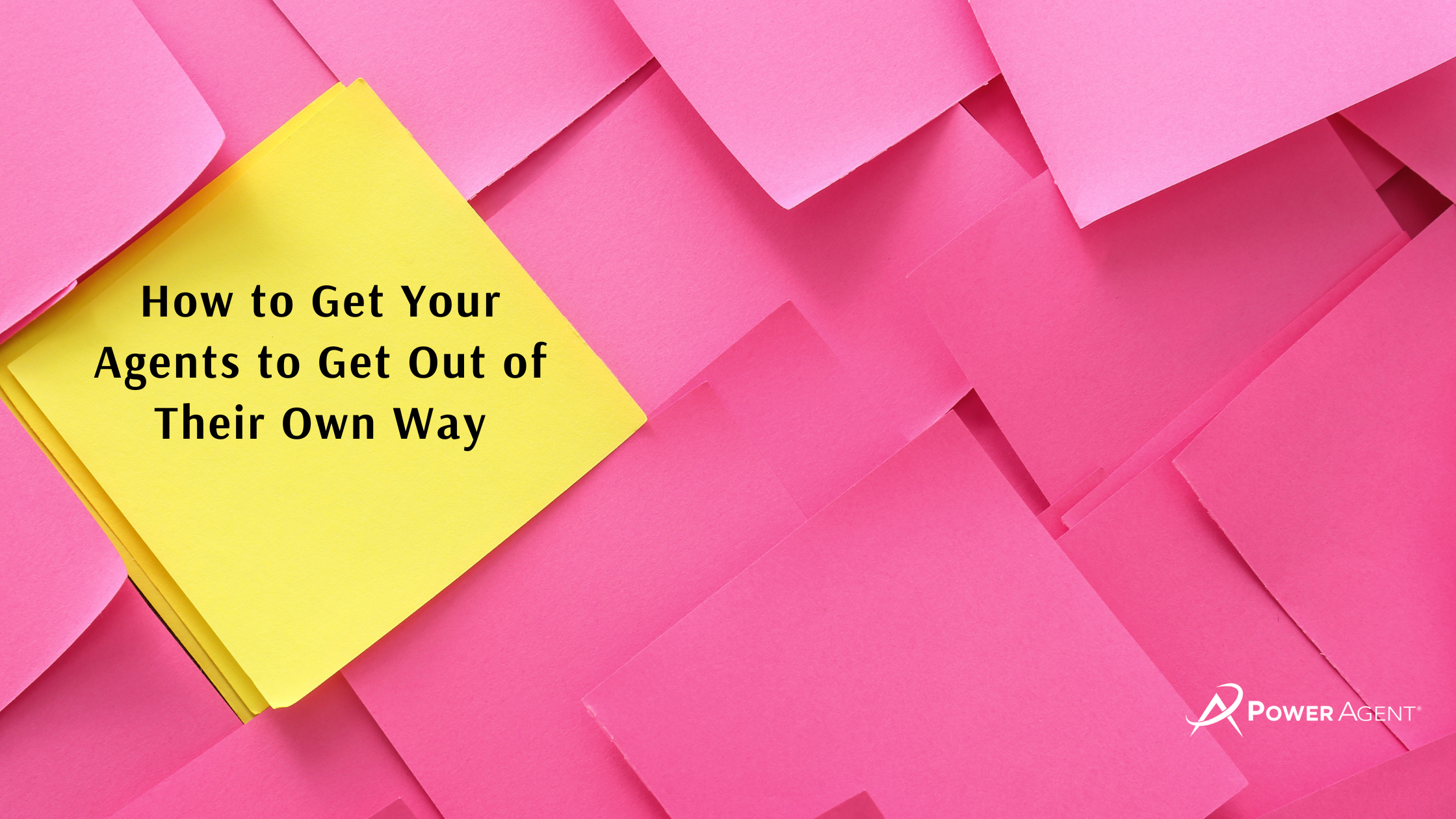 May 19, 2023
How to Get Your Agents to Get Out of Their Own Way
Being a leader in this market can be challenging, especially when it comes to motivating your agents to "get out of their own way". Many have their own personal roadblocks that prevent them from achieving success, whether it's knowing their market, generating leads, time management… the list goes on. 
We recently did a training session on the 17 reasons agents are failing in this market and how they can avoid them… we wanted to share a few with you and give you this checklist that you can share with your team!
Here are just a few of those reasons:
Not knowing their market. Here's what happens when an agent doesn't know days on the market, local prices, or inventory levels: they have insecurity and doubt. Those two things equal fear, which will stop them from doing the next vital thing: prospecting. 
Not prospecting. If your agents aren't generating leads constantly, they can't stay in business. Not in this market. As a leader, a top priority has to be the kind of prospecting training that doesn't cost them a fortune AND has the ability to get them over the fear of the phone. That's the winning formula.  
Not being client-focused. This is the difference between transactional agents and service-minded agents. The agents who are in constant pursuit of the next deal will always play catch up as opposed to those who are service minded and focused on building solid, referral-based relationships.   
Feel free to share the checklist we shared with our training attendees with your team members. Every one of these represents a stumbling block to success in today's industry, but they don't have to. As leaders, you have the ability to give them the insights, tools, and training they need to master each and enjoy long, profitable careers in our business. Know we are here to help! Call us to set up a conversation with Darryl to see how!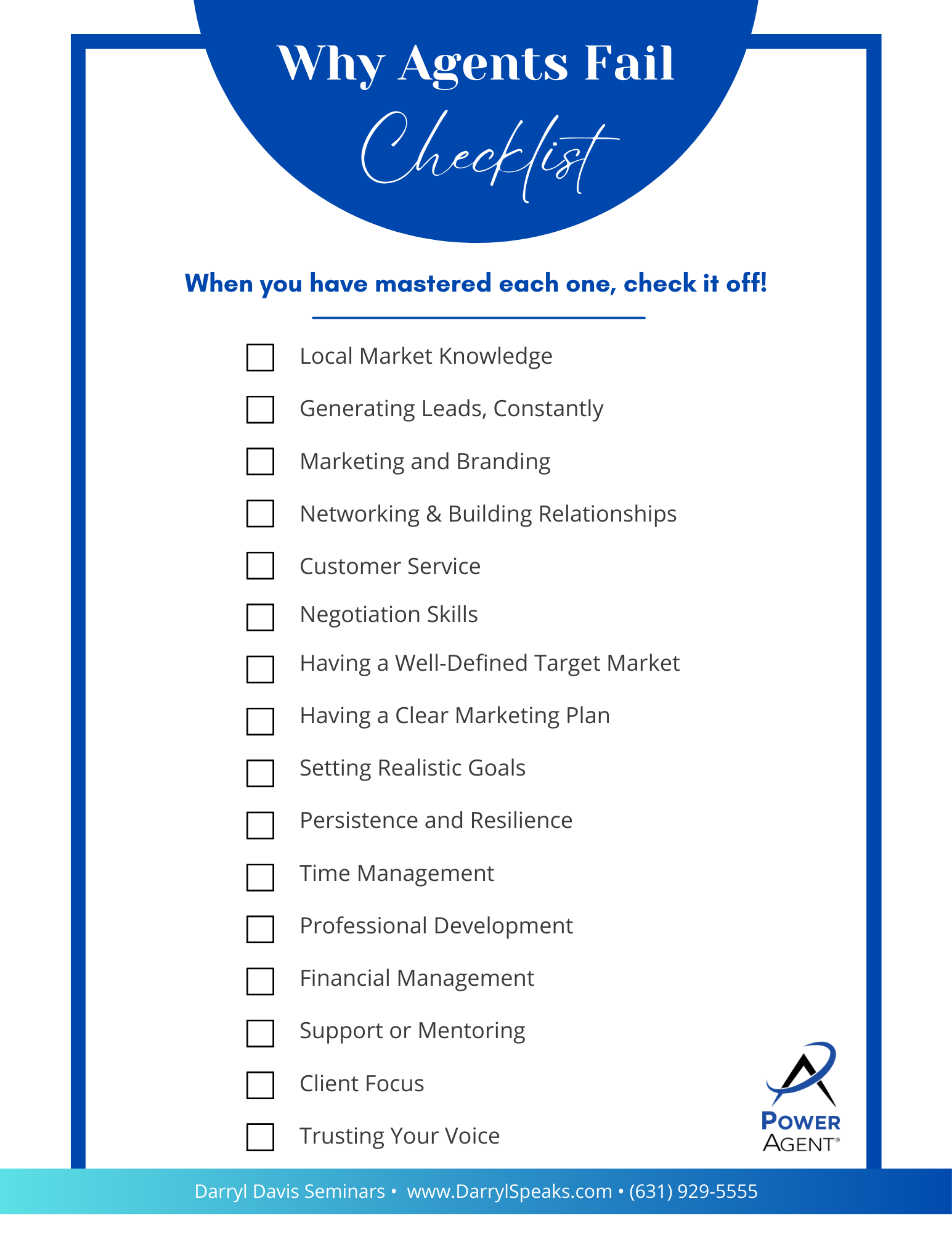 Resources You Can Count On
Agents do NOT have to become negative statistics in a changing market. Our goal is to bring the tools, training, and coaching each needs to not only survive the shifts – but build solid, dependable foundations they can count on and help them build clients for life. If that sounds like a goal that can help you reach YOUR goals – then join us for our Free Weekly Real Estate Webinar Training Series! Click below to register for the next one! 

Darryl Davis is an award-winning international speaker, real estate and business coach, and best-selling author of three books, all published by McGraw Hill Publishers. 
For more than 35 years, Darryl has spoken to and trained more than 100,000 sales professionals around the globe to more than double their production year after year. His book, How to Become a Power Agent in Real Estate, tops Amazon's charts for one of the most sold books to real estate agents. 
He was awarded the Certified Speaking Professional (CSP) designation by the National Speaker's Association which is given to less than 2% of all speakers worldwide. 
Whether from a stage or Zooming into a virtual room, Darryl's extraordinary humor, relatability, and natural gift for teaching real-world, results-producing skills and mindsets to audiences have made him a client favorite throughout his career. 
Audiences will laugh, learn, and ultimately walk away better prepared for a changing world, with the tools, skills, and training they need to build their businesses with more ease and less stress and to design lives and careers worth smiling about. 
Bring One of Darryl's W.O.R.K. Topics to Your Organization!
By providing your agents with the knowledge and insights they need to stay ahead of the game, you can ensure that they are equipped to handle any situation that comes their way! Contact us here to learn more!