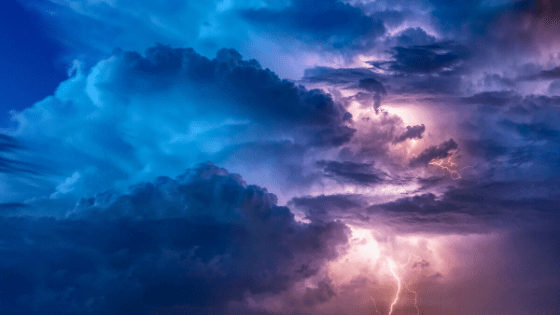 June 15, 2020
Leaning Into The Storm
Powerfact: Storms bring us opportunities we never would have found otherwise, or by our own efforts.
By Real Estate Coach and Speaker Darryl Davis, CSP

On a recent coaching call, one of our Power Agents, Brian, shared his story of how a shift in mindset led to writing five new contracts and closing seven deals – all within a week – even during this time of crisis. He shared, "While most people put their heads down saying, 'Oh my God, what am I going to do?' I put my shoulder into it and said, Ok, I'm going to just do it!"
Why did Brian have that breakthrough?
Not because there's less competition out there. Not because there's more opportunity right now. Not because of any outside factor. Brian had a breakthrough because he got more committed than ever before – and that's inspiring. That should be a call to action for each and every Power Agent® out there.
It reminded me of what I saw on a virtual graduation recently. Oprah Winfrey was talking about how when there is a storm, planes fly higher and higher until they can get above the clouds. What's on the other side? The sun. Which was always there – just hidden by the storm. It's a good reminder to us that we all have the capacity to break through to the other side of anything.
Our world is certainly feeling pretty stormy right now.
Between Covid and civil unrest, there is plenty of uncertainty and stress to go around and certainly a lot that feels outside of our control. That can feel challenging and scary and has led many agents to leave the business altogether.
It has led other agents to do exactly what Brian has done – lean into the challenge. This is the opportunity to follow their lead, dig in, and commit to doing whatever it takes to build your business and show up in new and important ways for your communities and the people in them.
In times of crisis we can relinquish our power, or we can lean in and leverage it. Which direction will you choose?
Lean in! Power Agents, Download the Activity Tracker found in your Time and Money Management tab to ramp up your production and positive momentum starting TODAY!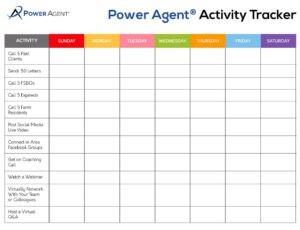 Not yet a Power Agent®? Did you know that for less than a dollar a day, you can have access to hundreds of marketing, prospecting, and objection handling tools – live weekly coaching, podcasts, webinars, and more?  
Start your Power Agent®  trial and have total access to every tool we have including letters, dialogues, training tips, webinars on demand, eBooks, and marketing tools for just $5.
If you're ready to have everything you need to handle whatever the market tosses your way — get started today! 
Need help? Contact our team today at (800) 395-3905!