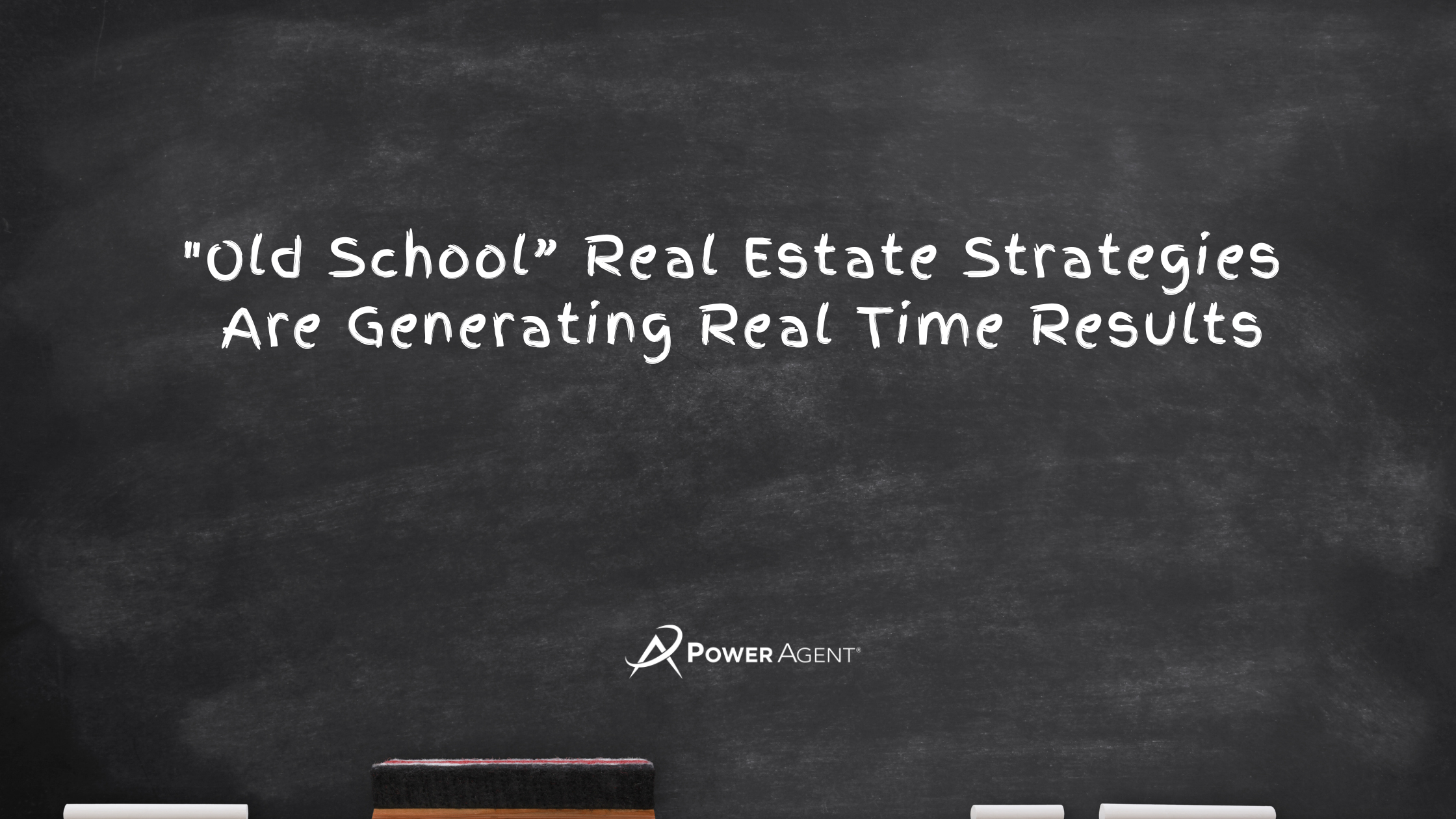 May 4, 2023
"Old School" Strategies Are Generating Real Time Results
In a changing market, the best thing to do is not focus on the "new" shiny strategies but on the proven old-school practices that build businesses. 
We just had our quarterly brainstorming session with our coaching members, and what was really interesting was that for the first time in a while, it was not focused primarily on the "new" apps, technology tools, sites, or widgets – instead, we kicked it "old school".
In other words, agents were getting the most results from face-to-face, belly-to-belly, and voice-to-voice connections with the people in their sphere, farm, and community.  So, not the $14,000 lead generation app – but the $2 card they put in the mail to past customers.  Not the social media video platform, but the old-fashioned door knocks with a small thank-you gift.  Not the high-profile digital marketing plan – but instead the "wearing your nametag and talking to people at the grocery store".  
Wait… what? Even in today's lean market, agents don't need to spend a fortune (that many don't have because their listings have waned). In this changing and, yes, challenging market, our students are "shaking the trees" old school, using concepts, dialogues, and connectors to reach clients rather than canned scripts and high-tech tools, and they are seeing tremendous results.  
The power of these connections can't be overstated. The ability to make a genuine connection with clients and community members – to listen and offer advice – is still one of the most significant components of a successful real estate practice. Agents are finding personalized notes, cards, letters, and even impromptu conversations with strangers in local businesses are helping them set themselves apart from competitors. For example, a handwritten note is often unexpected and shows the client you took the time to send them a personalized message. It also indicates that you appreciate and value their business.  
In this fast-paced world of real estate, it can be easy to forget that small gestures can have a big impact. When people don't feel like they are being "sold" or "techniqued" – they are responsive. There is an old saying that goes, "People don't care about what you know until they know that you care", which is truer than ever. In an industry full of "razzle dazzle" new tools – help your team members kick it old school for solid, referral-worthy results!  
We're here to help you teach them skills that are both old-school and high-tech – and everything in between! Reach out – let's get your team building new business connections.  
Darryl Davis is an award-winning international speaker, real estate and business coach, and best-selling author of three books, all published by McGraw Hill Publishers. 
For more than 35 years, Darryl has spoken to and trained more than 100,000 sales professionals around the globe to more than double their production year after year. His book, How to Become a Power Agent in Real Estate, tops Amazon's charts for one of the most sold books to real estate agents. 
He was awarded the CSP designation by the National Speaker's Association which is given to less than 2% of all speakers worldwide. 
Whether from a stage or Zooming into a virtual room, Darryl's extraordinary humor, relatability, and natural gift for teaching real-world, results-producing skills and mindsets to audiences have made him a client favorite throughout his career. 
Audiences will laugh, learn, and ultimately walk away better prepared for a changing world, with the tools, skills, and training they need to build their businesses with more ease and less stress and to design lives and careers worth smiling about.