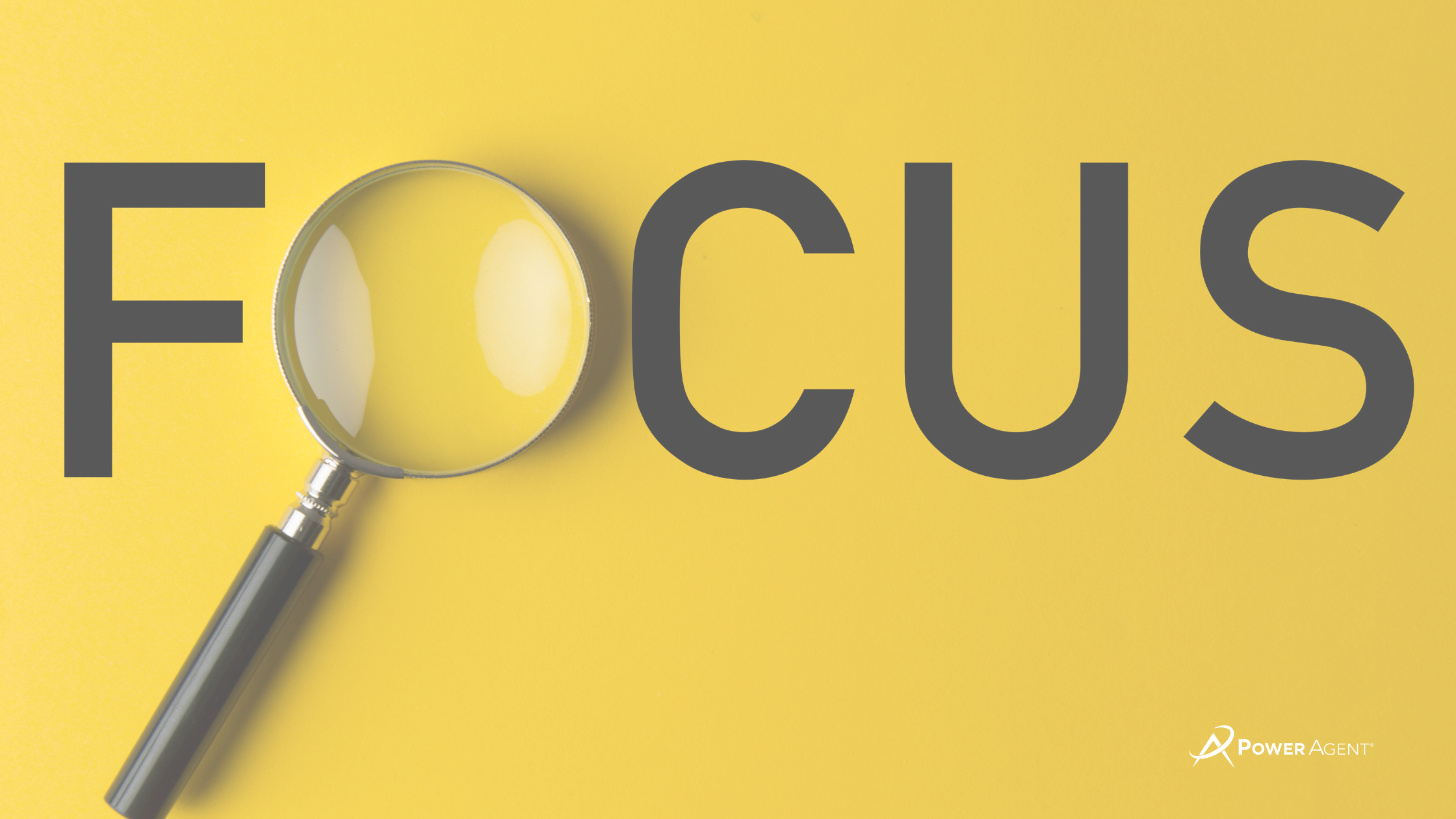 June 23, 2023
Optimize Your Agent's Efforts by Keeping Them Focused on What They CAN Control
In challenging times, FOCUS becomes an absolute priority to help agents to get on track, stay on track, and leverage change for all it's worth.
As reported by the National Association of REALTORS (NAR), we can anticipate a 15% reduction in membership for 2023, with already 60,000 REALTORS® leaving the industry this year, according to Axios. While this shift may initially appear concerning, the flip side is that it means less competition and presents an opportunity for agents to capture market share and listings from the exiting agents.  
The key, however, is to help agents get out of their own way. So many are so focused on the "sky is falling" rhetoric and things they can't control that they have stopped focusing on the activities they CAN control.  (Like prospecting for listings in every way, shape, and form possible.) 
Here are seven ways you can help agents re-focus and get more listing appointments:    
❌Time to Ditch the Distractions. 

Now, more than ever, agents must step away from the NEWS (Negative Events We See) and dive passionately into W.O.R.K. (Walk the Walk, Obtain Leads, Remain Resilient, Keep Focused). Visual charts, contests, and integrity partnerships can help them get in the zone and stay there. 

 

🎯Target Expired and FSBO Listings

: Make it a priority for agents to connect with owners of expired listings and FSBO properties. We already know these folks have the desire to sell, and in the case of FSBOs, we know that agent-sold homes sell for higher. 

 

🌏Re-Engage Their Sphere: 

Past clients will always be a great source of referrals and business for agents IF they consistently stay top of mind. There's already a level of trust and rapport built. Agents should proactively call to check in, connect, and offer to answer questions about what this current market might mean.  

 

📁Put Past Records to Good Use.

In almost any company, there are files of past client transactions where the listing or selling agent has left the business or the company. That begs the question, who's representing the company now? Dust off those files and disperse those contacts as leads to new agents to call as the new representative and ask if they have any real estate questions or needs! 

 

😃Get OUT of the Office. 

Now is no time for agents to be "secret agents."  Every week our coaching members tell us they are taking this advice, getting out into their communities with their name badges proudly displayed and even in branded career wear. They are picking up clients in the process! 

 

🎊Engage in Local Events

: Active participation in local events, community activities, and especially community Facebook groups puts agents front and center in the minds of potential sellers. This not only gives you the chance to demonstrate their expertise but also allows them to build a robust local reputation.  

 

🤝Establish Partnerships with Local Businesses

: Here's what we know – when agents collaborate with local businesses to sponsor events or even just spotlight the business as part of the communities they serve, they set up a reciprocal relationship that often turns into more listings. Just this week, one of our members shared how a simple outreach to a local plumber turned into two listing appointments.  

 
These are challenging times, no doubt – but they aren't "end times" for agents that are willing to dive in. As leaders, it's up to us to help agents navigate new normals, even if that means a new shift every season! 
Giving agents the structure, skill training, and solutions they need to weather whatever the market throws their way is vital. Let's get agents re-focused on building listing inventory and serving clients and communities at their highest level. Know that our team is committed to helping you do just that.   

Darryl Davis is an award-winning international speaker, real estate and business coach, and best-selling author of three books, all published by McGraw Hill Publishers. 
For more than 35 years, Darryl has spoken to and trained more than 100,000 sales professionals around the globe to more than double their production year after year. His book, How to Become a Power Agent in Real Estate, tops Amazon's charts for one of the most sold books to real estate agents. 
He was awarded the Certified Speaking Professional (CSP) designation by the National Speaker's Association which is given to less than 2% of all speakers worldwide. 
Whether from a stage or Zooming into a virtual room, Darryl's extraordinary humor, relatability, and natural gift for teaching real-world, results-producing skills and mindsets to audiences have made him a client favorite throughout his career. 
Audiences will laugh, learn, and ultimately walk away better prepared for a changing world, with the tools, skills, and training they need to build their businesses with more ease and less stress and to design lives and careers worth smiling about. 
Bring One of Darryl's W.O.R.K. Topics to Your Organization!
By providing your agents with the knowledge and insights they need to stay ahead of the game, you can ensure that they are equipped to handle any situation that comes their way! Contact us here to learn more!