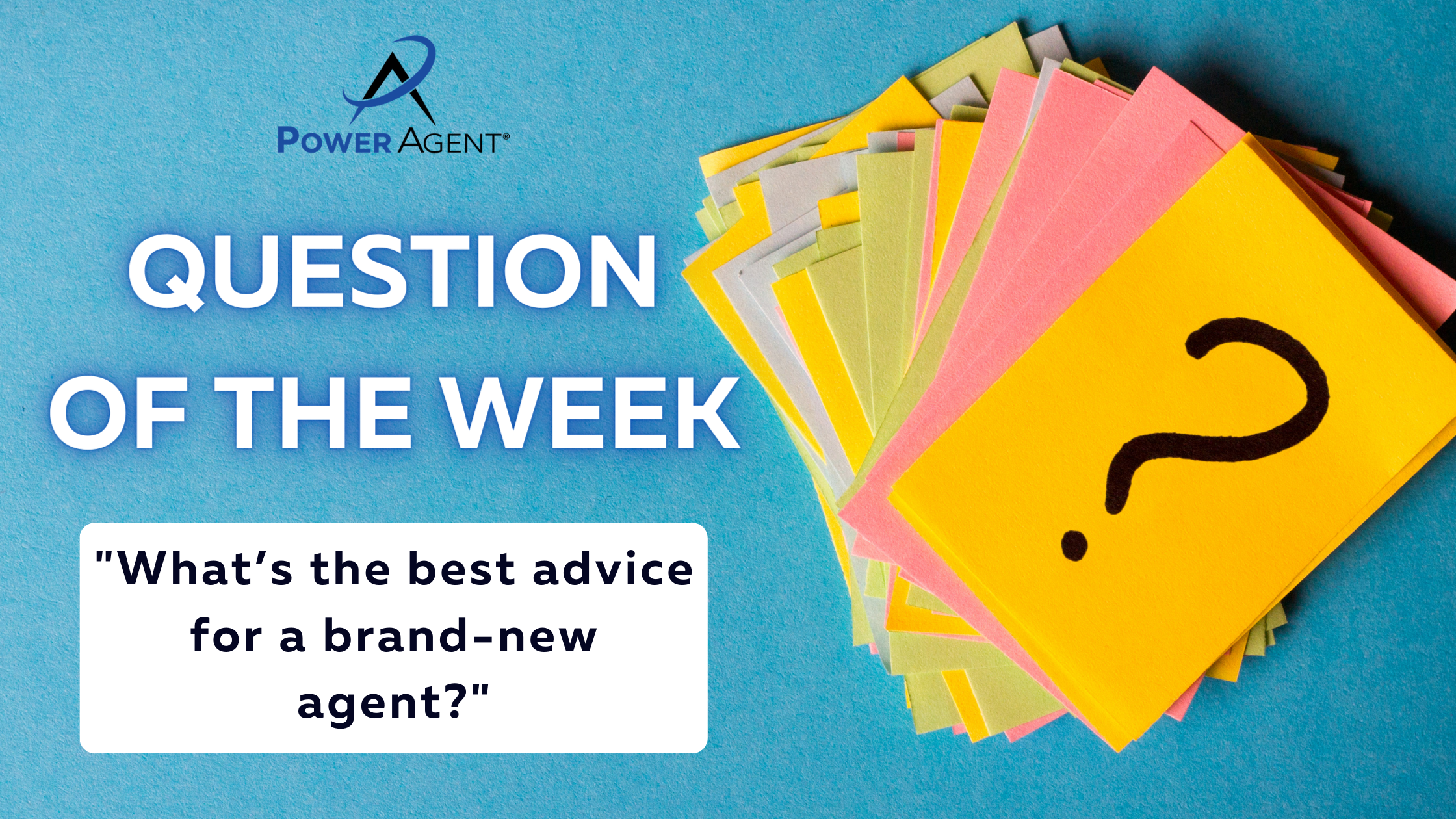 May 19, 2023
Question of the week: What's the best advice for a brand-new agent?
Putting a new agent on a faster track to success is a challenge we'll accept any day – and clearly the same is true for our POWER AGENT®️ Members!
We had some fun on a recent coaching call when we got this question from a new member. Darryl, of course, had some thoughts, but we first opened it up to our mastermind group, and boy – did we get some awesome feedback!  
Here are the top eleven of the twenty-five suggestions that came in!   
Do one thing, and do it consistently
Don't depend on family and friends; go out and find your own leads
Find what motivates you and use it
Attend Open Houses in your marketplace and get to know your market
Don't stop moving forward, and listen to Darryl!
Pick one skill to focus on and develop
Make your prospecting calls every day
Learn how to do Open Houses really well
Remember that this a job, so put in your time every day
Pick a niche that interests you to become your farm area
Follow up, follow up, follow up!
As leaders, we KNOW you have many that you, too, would add to the list! During this time of great change in our industry, we will always see new agents come in as others exit. It's important to give our fledgling agents as much of a head-start as we can to help them navigate our industry successfully. We are always here to help! Please tell YOUR newbie's good luck from us! We're pulling for them!  
POWER AGENTS®️, for the full list of suggestions, click here. 
Learn more about the POWER AGENT® PROGRAM
Join Darryl's Inner Circle Facebook Group. 
We are always posting fresh ideas, training tools, strategies, and templates, along with hosting important, timely discussions with real estate professionals across the globe who are committed to their Next Level® of success and life. 
Subscribe to our newsletter.
 Click the button below to fill out a simple form and tap into new resources, free downloads, premium content, and exciting promotions.
Reach out and talk to us.
 Not sure if this coaching program and community are right for you? Click that blue chat button on the bottom right of the screen, or call us at the number in the header. We are here to help! 
---

Get the latest real estate training tips delivered to your inbox!
POWER AGENTS®️, for the full list of suggestions, head over to the Classroom – and don't forget to download The New Agent Success Starter Kit!
Not yet a POWER AGENT®? Did you know that for LESS than the cost of a Starbucks coffee, you can have access to hundreds of marketing, prospecting, and objection-handling tools – live weekly coaching, podcasts, webinars, and more?   
Start your POWER AGENT®  trial and have total access to every tool we have , including letters, dialogues, training tips, webinars on demand, e-Guides, and marketing tools, for just $5.     
Contact our team today to sign up or get the answers you need: 631-929-5555!