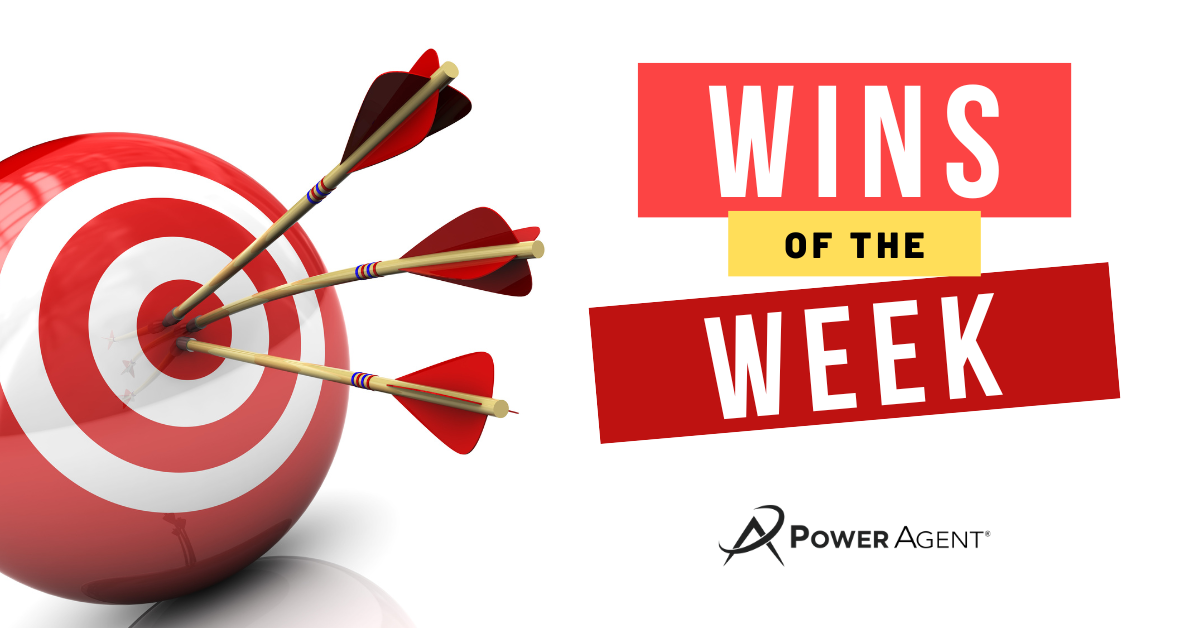 September 16, 2022
Real Estate Wins of the Week: Moving the Needle
Ever wonder how a weekly coaching call can help YOU move the needle and create big real estate WINS? We're here to share!

On every Monday Mindset Call with one of the best real estate coaches in the business, Darryl Davis, we start the morning by having a WIN-PARTY! Where agents share their real estate wins from the previous week.
During this week's Monday Morning POWER Hour, Darryl asked our POWER AGENTS® to share their WINS from the past week.
Help us celebrate these wins:
7 New Listings

4 New Buyer Leads

4 Made Calls to FSBOs

3 New Buyers

3 Listings Under Contract

2 Listings Referred

2 Offers Accepted

Got a Buyer's Agreement Signed

Attended a Networking Event

Set up Power Builder

™

CRM 

Fired an Awful Client

Added an Auction Option for Sellers

Started Using a New CRM

Had a Listing Conversation

Established a Mindset to Follow Models & Implement Plans to Stay Focused

Working Smarter, Not Harder

Using the Phone to Become More Productive

Landed First Listing from a Post Card Mailing

Had a Killer Open House

Made Two Videos

Called FSBOs, Expireds, & Prospects

Made Meaningful Connections

Preparing Mailings for FSBOs and Expireds

Ratified a Contract

Completed a FSBO Drip Campaign

Getting More Comfortable Making Calls

Sent Introduction Letters to Farm Area

Recited Positive Affirmations

Got Contacted by a Past Client Ready to Buy

Under Contract for First Sale as a Real Estate Agent

Helped a Client Move

Created Workflow Checklists

Joined the Coaching Call

Planning a Fall Festival

Went Door Knocking for the First Time

Started Calling Sellers who Listed & Withdrew during COVID

Started a Routine List

Removed Contingencies for Two Listings

Enrolled in One-on-One Training with a Land-Selling Program

Door Knocked before Open House

Printed and Practiced the POWER AGENT® Buyer Phone Inquiry

Sent out "Just Sold" Postcards

Got Organized

Joined Homes for Heroes

Started a Marketing Plan for First Responders

Rejoined the POWER AGENT® Program

Scheduled a Closing

Updated CRM 
There's a lot of distraction and stress in this business. LOOKING for your weekly wins and acknowledging them is powerful.
Recommended reading: 6 Reasons to Celebrate Your Success
Ready to share YOUR real estate wins for the week?
POWER AGENTS® – Be sure to join us on the next Coaching Call to share those triumphs and cheer the weekly WINS of your fellow POWER AGENTS®! 
Real Estate Coaching is an essential piece for agents eager to create transformative results in their careers and life and create the kind of 
real estate success stories
 they see in other agents.
If you're not yet a Power Agents®- no stress!
You can try us on for size for less than a cup of Starbucks!  
You can open the door for an all-access 30-day trial of this extraordinary, success-fueling program for just $5.  
That's it. $5. No contract. No long-term obligation.
Just a wide and wonderful network of success-minded agents with a love of learning and a passion for helping one another, plus Darryl, plus our terrific team, plus a classroom literally packed to the rim with tools and training for every conceivable aspect of your business.  
Imagine what you could do if you had just a snippet of what's inside The Power Program®! Just a fraction! 
Hope to see you on the "inside"! Here's to your success!