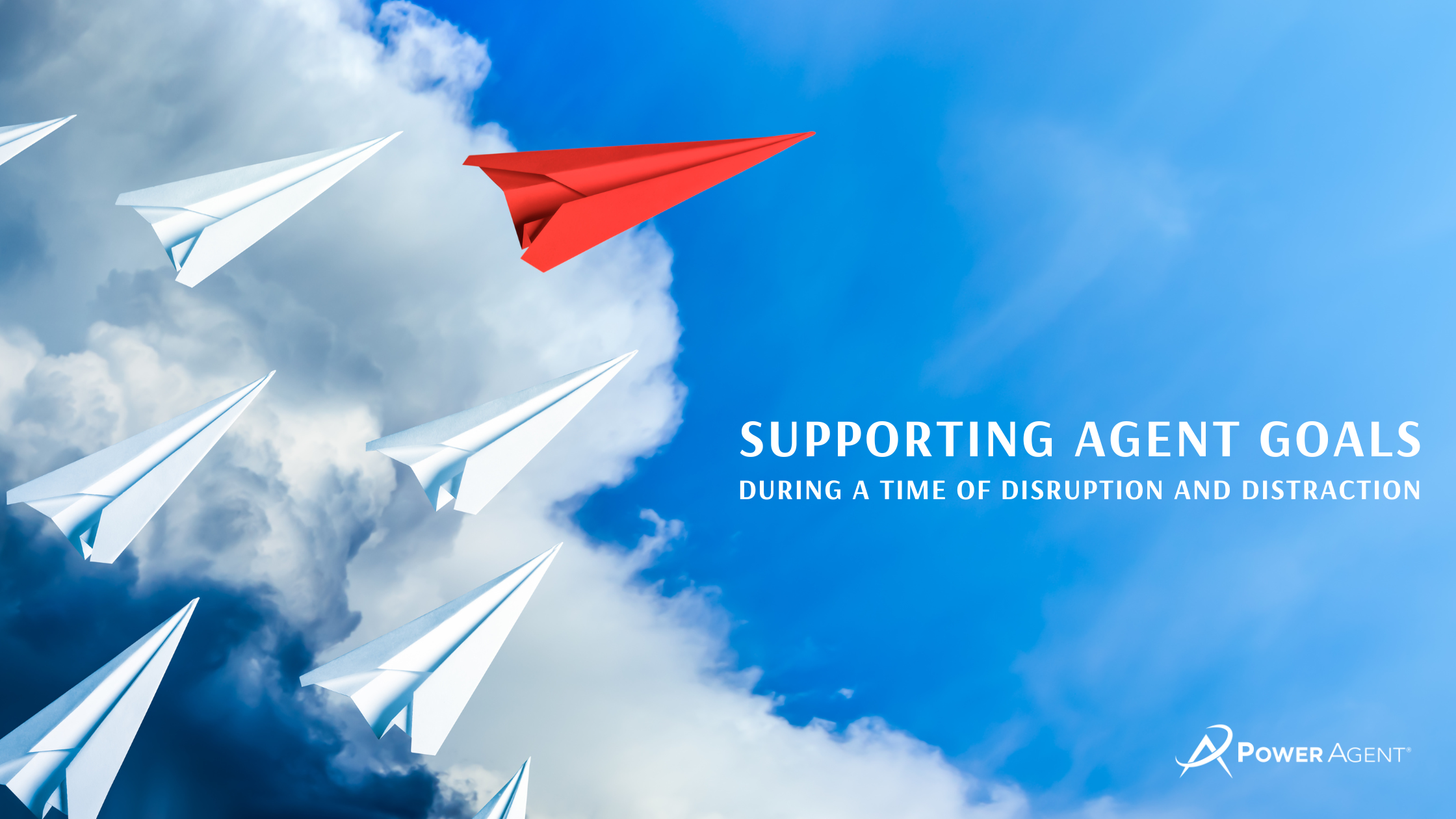 March 26, 2023
Supporting Agent Goals During a Time of Disruption and Distraction  
The industry is changing. In truth, it always is. However, every new twist and turn in our market, our businesses, and our world – can leave agents feeling uneasy, distracted, and sometimes – adrift.
So, what can YOU do to help them? The easy-not-so-easy answer is to provide support and systems that help them stay focused, and agile and help them to understand that change is not a bad thing. In fact, it's opportunity in the making.  
Let's outline a few ways you can do that… 
Don't be a "silent leader."

We tell agents not to be secret agents, right? We tell them to get out there in the world and let people in their community know they are ready, willing, and eager to help. The funny thing is, that just like agents, sometimes leaders hide their light. Sometimes, they don't communicate to agents that they are there to serve, there with resources, there to assist. I'm here to tell you to "toot your own horn" and let agents know that they don't have to fly solo in a changing market (or any market) – that you are there to help. No S.O.S. required. 

 

Train them

. More than ever, agents need to buckle down and knuckle down into mastering the basics. Like prospecting and negotiating and pricing and mindset. Oh, and a big one – getting past their own fear and getting out of their own way. That's a biggie. I talk to hundreds of agents a week on our coaching calls, and moving them past fear and into action is a big part of what we do here. Moving them from old and often limited thinking to new and exciting ways to serve has turned on a lot of "light bulbs" for agents and helped them expand their skills and lean in to once again, or maybe even the first time, loving what they do for a living.

 

Be flexible.

Now is not the time for rigid policies or politics. Agents need to know that you are adapting to the market, to change, and to the world directly ahead of them. Think of your leadership as the icebreaking ship that cuts a path through difficulty and makes way for safe passage. The icebreaker has to have enough power to "push through" and a thick hull to endure. 

 

Foster a supportive culture

. To build a strong, connected, and collaborative team, put systems in place to recognize excellence and praise it. Recognize when agents have challenges and support them. Illustrate to everyone that you've got resources to lift and guide them wherever they are in their real estate journey. 

 

Make sure they feel heard and seen. During times of distraction and disruption, it's important to acknowledge that there may be an emotional toll that these challenges can take on agents. Don't negate that – rally that you have tools and team members that can help offer emotional support by checking in regularly, providing resources for stress management and mental health, or even organizing team-building activities or social events. By demonstrating that you care about agents' well-being, you can help to create a more supportive and resilient team.

 
Supporting your agents during times of distraction and disruption in the real estate marketplace is essential for maintaining productivity and achieving success. By providing regular communication, offering training and resources, being flexible, fostering a supportive culture, and providing emotional support, you can help your agents navigate these challenges and come out stronger on the other side. 
Related Reading: Inman: Market Shifts are Never Bad: How to Train Your Agents Through Shifts
We are here to help you navigate it all. For more than 30 years, my goal, our company's goal, is to help real estate professionals get to their next level. To design lives and careers worth smiling about. To shift their focus from sales to service – and why that will not only increase productivity – but profitability – and, better still – peace of mind.  
Are you ready to take your team to the NEXT LEVEL? Call my team to learn how we can directly impact YOUR team or members with a workshop, webinar, or keynote. I promise to deliver everything they need to take change and distraction on with less stress – and everything YOU need to fire up and fuel your next event, audience, or team meeting with fun, laughter, and easy-to-implement takeaways that can create true breakthroughs.  
Darryl Davis is an award-winning international speaker, real estate and business coach, and best-selling author of three books all published by McGraw Hill Publishers.
For more than 35 years, Darryl has spoken to and trained more than 100,000 sales professionals around the globe to more than double their production year after year. His book, How to Become a Power Agent in Real Estate, tops Amazon's charts for one of the most sold books to real estate agents.
He was awarded the CSP designation by the National Speaker's Association which is given to less than 2% of all speakers worldwide.
Whether from a stage or Zooming into a virtual room, Darryl's extraordinary humor, relatability, and natural gift for teaching real-world, results-producing skills and mindsets to audiences have made him a client favorite throughout his career.
Audiences will laugh, learn, and ultimately walk away better prepared for a changing world, with the tools, skills, and training they need to build their businesses with more ease and less stress and to design lives and careers worth smiling about.