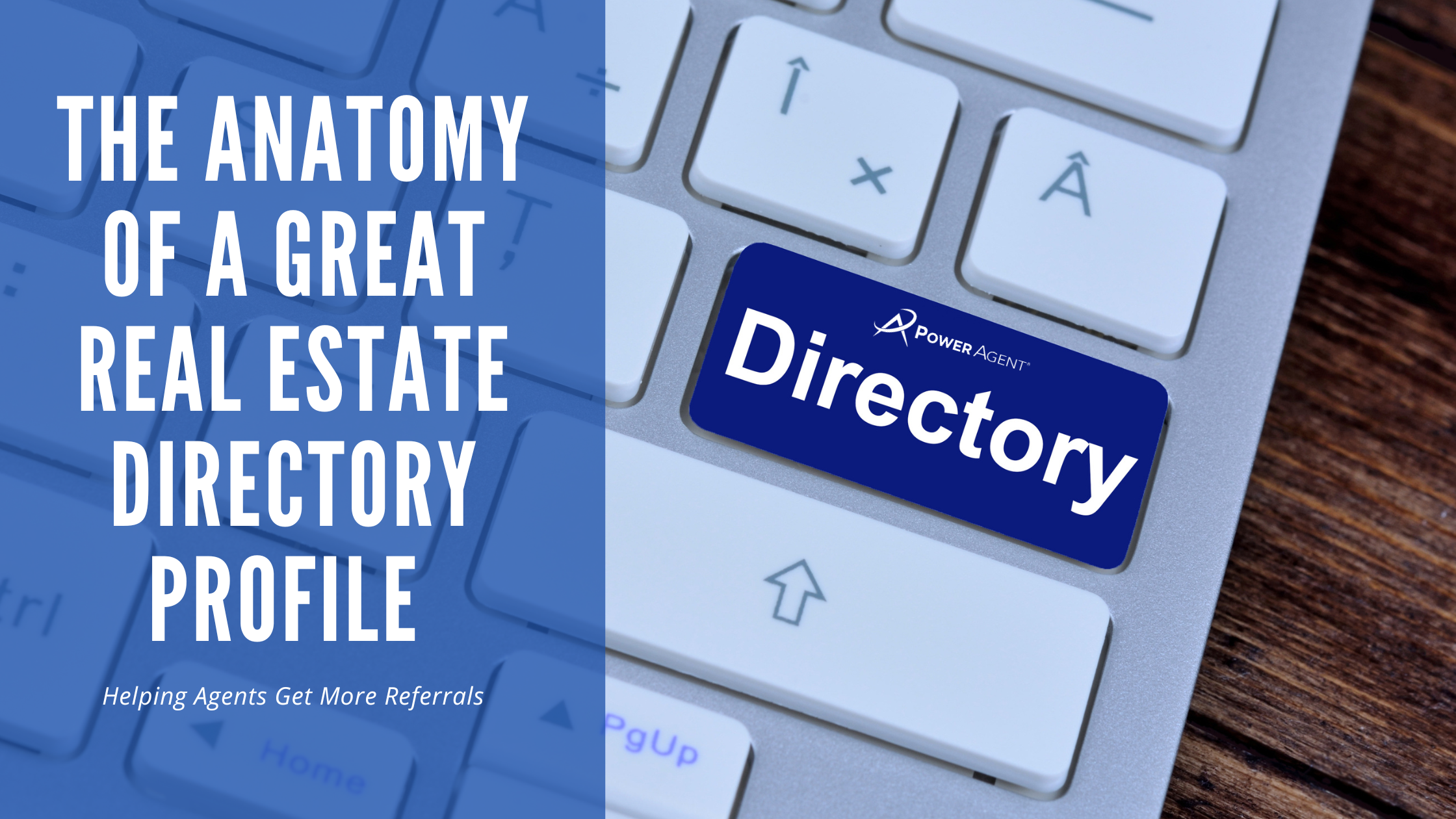 July 21, 2023
The Anatomy of a Great Real Estate Directory Profile 
Learn how to leverage the full power of the network of committed real estate professionals you are a part of! 
What is the purpose of taking the time to properly fill out your directory profile? How can it benefit your business? Let's dive in!
The Power Agent® Directory can be a powerful revenue-generating resource for you. It's where Power Agents® go to search for a fellow agent whom they can send their most prized possession: their referrals. It's also an extraordinary source to find role-playing partners, mentors, and even new friends.  
Pro Tip: Check out this article by WorkIt Daily on the 5 Benefits of Being Part of a Network!
During one of our recent webinars, Power Agent® Angela Brown shared that she'd gotten a $1.2 million referral from a fellow Power Agent®! Our members are sharing referrals with each other every week. If you haven't filled out your profile, you could be missing out on an incredible source of income.   
How do you make your profile POP to attract the kind of attention that's going to increase your bottom line? 
The information you share in your membership profile could be the very thing that draws another Power Agent® to you. The more fields filled out, the better the chances that your profile will stand out and demand attention.  
Filling out every field and including as much information as possible, increases the likelihood that someone is going to find a commonality or something that endears them to you in a way that makes them want to reach out.  
Your profile is like a snapshot of your life and business, a way for you to introduce yourself and make the first impression on the person who finds it. The first image someone will see when they find your profile in the directory gives them a glimpse of who you are.
You'll want to include a profile picture and some information in the Title field. These will serve as a visual introduction to you.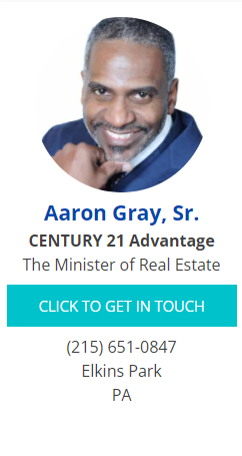 What things should you include in your Bio?
Time to get personal…
One of the most important parts of your profile is the Bio section. This is where you get to share who you are with the person reading it.  
If you've never written a Bio about yourself before, don't worry, we've got you covered! You can find a webinar on How to Write an Intriguing Real Estate Bio  in the Tech Tools and Training folder in the Classroom.  
What are the things you would like other people to know about you? Are you a hometown sports fan? Are you involved with a local charity? Do your kids play soccer? Are you a doting parent to fur babies? Do you have an unusual hobby? Are you an enormous sci-fi nerd? What are the things in your life and career that bring you joy? What are your interests and hobbies?  
These personal details will automatically warm up a conversation from your end and set the stage for building a better professional relationship.  
… and time to get specific. 
Your professional details need to go into your Bio as well. What is your niche? Do you work exclusively with luxury homes? Perhaps you focus primarily on farmland properties. Are you a dynamo with short sales, expireds, or foreclosures? Do you have a passion for helping military families find homes? 
Whatever it is that is unique and specific to you, whether it's personal or professional, is something you really want to emphasize in your Bio. Sharing this kind of information in your Bio could very well be the thing that brings a million-dollar referral right to your door.  
PRO TIP: Including your professional specialties in the Title field of your profile will significantly help narrow someone's search to find you as well.   
How do you broaden your profile's reach? By being thorough. 
In the Power Agent® Directory, there is a field for Areas Serviced. The best way to ensure that your profile shows up in a search is to include as many areas in that field as possible.  
For example, a Power Agent® in Tampa, Florida may want to include areas within Tampa, such as Carrollwood, Westchase, or Citrus Park. They may also want to include some neighboring cities or townships, such as Brandon, Clearwater, Palm Harbor, Oldsmar, and St. Petersburg.  
You'll want to include as many areas as you're willing to cover in order to make your profile stand out to someone who is searching in your vicinity. Broadening the field of your areas serviced makes you that much more findable to someone who is going to send you business!  
Time to get social.
Do you use social media? Of course, you do. Everybody does! And if you're not using it, well you can just skip this part. (But don't worry, we still love you.)  
Linking your social media to your profile creates more opportunities for others to connect with you. And honestly, when has having more connections ever been a bad thing in this business?  
Are you bi-lingual?
What languages can you speak? Do you speak Spanish? Mandarin? German? Real Estate? The Queen's English? American English with a Boston accent? "Where'd you pahk the cah?" or "Can I get some cheddah for my chowdah?" 
Adding the languages in which you're fluent in both the "Title" and "Languages I Speak" fields of your profile will make finding you so much easier for anyone who speaks your language.  
And the award goes to…
If we had an award for a Profile MEGASTAR, it would go to Power Agent® Aaron Gray, Sr.! You might recognize Aaron from his profile's weekly appearance during our Classroom Training sessions. Aaron has crafted what we at Power HQ consider to be a profile of perfection.  
Starting with his dazzling profile pic, which we can only assume came from his GQ photoshoot, Aaron has filled in every field and category of his profile page. He gives a brief, but clear picture of his professional and personal life. If you visit your own profile and find it to be a little barebone, you can look to Aaron's example for ideas to spruce it up.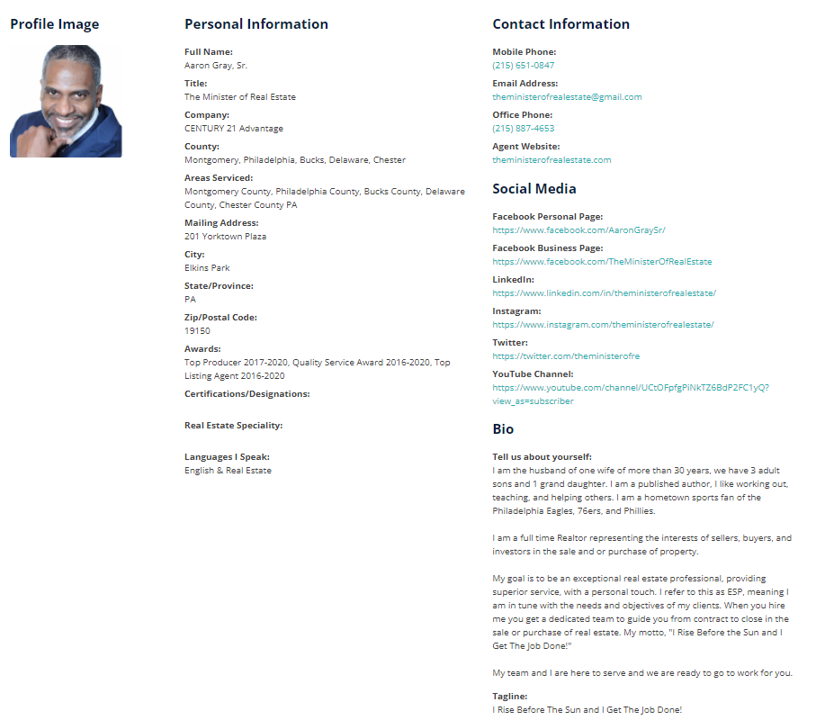 Not one to be outdone or miss an opportunity to crack a joke, our Customer Smile Creator Shelly Henry's profile is also filled with examples of properly filled-out fields.   
Updating your profile is easy! To enter information into a field, simply click "Update". To save, click on the little checkmark. It's that simple!  
The bottom line is that there is gold in your Power Agent® Directory and network. You are part of an exclusive membership that is less than 1% of agents in North America. These are like-minded, dedicated professionals with lots to share and so many reasons to connect.  
We love seeing real estate success stories like Cheryl Brown's pop up…
"I would like to thank Power Agent® Regina McCann for finding me in the directory and sending me a referral! I could not dream of a better scenario! Her buyer called, we emailed back and forth with homes she might like, and she came to town to look, and made an offer that day! We had to use an escalation clause and we won!! The sellers' agent was easy to work with, the seller couldn't be nicer and it's a cash transaction! Of course, the buyer is just delightful, I feel I will know her for some time.! Thank you for this powerful tool!"
Or this one from Kathryn Tarlin…
 "Just closed on a property🏡 that was a referral from Fellow Power Agent® Rafiqul Islam Murad!  Woo Hoo!! The Directory works wonders!!!"   
Don't wait another minute Power Agents®! Head to the Directory TODAY and start filling out your profile! When you're done – let your fellow agents know on Facebook! Let's start sharing the LOVE and the referrals! See you online!  
---
Get the latest real estate training tips delivered to your inbox!
Not yet a Power Agent®? Click here to learn more about how you can access hundreds of marketing, prospecting, and objection handling tools – live weekly coaching, podcasts, webinars, and more!
Need help? Contact our team today at (631) 929-5555!
About Darryl Davis, CSP, Speaker, Coach, Author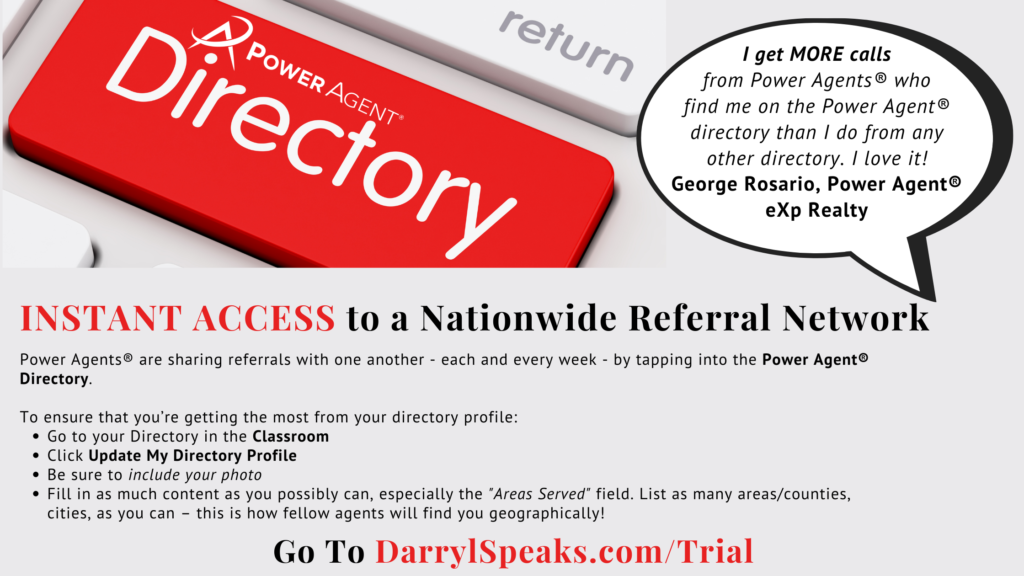 Darryl has been spoken to, trained, and coached more than 100,000 real estate professionals around the globe. He is a bestselling author for McGraw-Hill Publishing, and his book, How to Become a Power Agent in Real Estate tops Amazon's charts for the most sold book to real estate agents. His real estate training system The Power Program® has proven to help agents double their production over their previous year. Darryl is currently hosting weekly free webinars to help agents navigate the new real estate reality. Learn more at www.DarrylSpeaks.com/Online-Training.