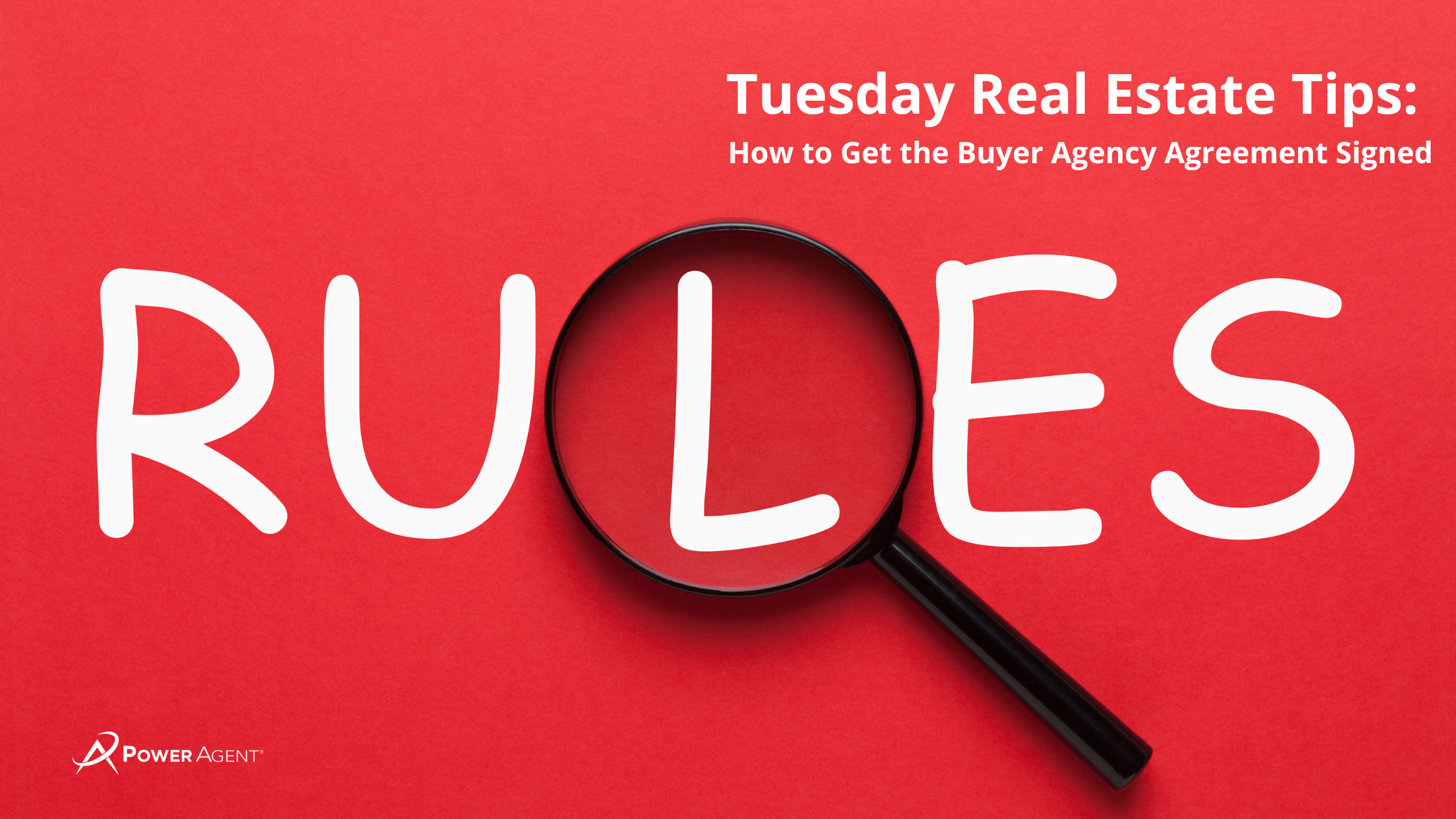 August 26, 2022
Tuesday Real Estate Tips: How to Get the Buyer Agency Agreement Signed
Tuesday Real Estate Tips for Real Estate Buyer Agency Agreements: Blame it on the "Rules"
For this week's Tuesday Real Estate Tip, we're talking buyer agency! Getting the buyer agency agreement signed is a thorn in a lot of agents' sides. We hear questions and complaints about it during our coaching calls almost every week. "But Darryl, they don't want to sign!" Our answer? "Then they are telling you (without telling you) that they are not committed to the buying process and certainly not committed to you."  
One of our favorite tips for getting a buyer agreement signed is in the form of a little twist we learned from our insurance expert on the topic. Robert did a webinar for our coaching members on Risk Management. While all of the session was enlightening, one of the biggest takeaways was when he shared how he teaches his real estate agent clients to use insurance liability as one powerful reason to ensure they always have a Buyer's Agency Agreement signed.   
The dialogue goes something like this… 
"Mr. And Mrs. Hunna Hunna, before we can go look at properties, I am obligated, by law, to share with you how a buyer's agent works, how I work, what a buyer agency is, and explain how this agreement solidifies my fiduciary responsibility to you, as an agent. It also allows us to ensure that our insurance covers us in the case of any liability while viewing properties.  

You see, technically, without a buyer's agency agreement, the agent's responsibility is in the seller's best interest, and insurance may not be binding because a legal relationship has not been established. So, you see, signing a Buyer's Agency Agreement protects your rights and interests, protects against liability, and creates a legally binding relationship where I can serve as your representative to negotiate the best possible price and terms on your behalf.  

Let's sign this buyer's agency agreement and start finding your dream home."
Here are a few questions you might encounter when you first sit down with buyers for an initial consultation. 

 
What is a Buyer's Agent? 
We will let our friends at NAR give you a great explanation here that you can share with your potential home buyers to help them make the best decision for their families before buying a house. "True to their name, buyer's agents help real estate buyers navigate the real estate market; they can also save you tons of time and money on the road to your new home." 
What is the Difference Between a Buyer's Agent and a Seller's Agent?
There's a lot that goes into every real estate transaction. The Washington Post did a pretty good job explaining the breakdown of fiduciary responsibility and transactional relationships here.  
How Can a Buyer's Agent Help Your Home Search?
NerdWallet for the win with this article explaining how an agent is a powerful resource for buyers before buying a house. From finding the right home to negotiating the best price and terms to ensuring that a buyer's legal interests are accounted for, in what has become a fairly litigious world, it just makes sense for every party in a real estate transaction to have legal representation. 
How Do Real Estate Buyer's Agents Get Paid? 
The folks over at The Balance detail the breakdown for real estate commissions in this article. We actually cover this topic in-depth on many of our real estate coaching calls. It's a source of confusion for a lot of agents. Darryl can walk you through how to explain to your buyer that what's important to the sellers is they net the amount they want out of the home and how they can roll the buyer agent commission into the loan.  
Two of the most important conversations you should learn to master in this business are the listing conversation and the buyer conversation. Most agents understand the importance of creating a strong listing presentation, but when it comes to buyers, they usually just jump and start taking people out to see properties without first having a consultation meeting of the minds to explain how they work, what a buyer agency is, why it's important, and how it best serves the buyer in every way. Legally, financially, and liability.  
Many agents find themselves at the end of weeks of showing homes for sale to prospects to then get a call that they purchased from the listing agent of the open house they walked into or the FSBO down the street. Don't let that happen to you. We're here to help you improve your skills, and confidence, as both a buyer's agent and a seller's agent. 
POWER AGENTS® – to see the entirety of our real estate insurance expert Robert Zabbia's real estate risk management session, click here. (You'll also find over 100 sessions in the Webinars-On-Demand tab of the Classroom.   
Do YOU have questions about how to be the best possible Buyer's Agent and create incredible buyer loyalty that will ensure you get paid for your work and create a client for life?   
Jump into The Power Program and join us for next Monday's coaching call.   
Get the latest real estate training tips delivered to your inbox!
The Power Program® is packed to the brim with tools, strategies, real estate scripts, and coaching from real estate expert Darryl Davis. As one of the best real estate coaching programs in North America, it's our mission to help real estate agents get more listings with less stress. Feel more like they're serving rather than selling. Create almost unheard-of buyer loyalty. And find the answers they need for both their business and life when they need them.   
Want to know more about how we help real estate agents solve their biggest struggles? Go to www.trypowerprogram.com to get instant access to everything you need.