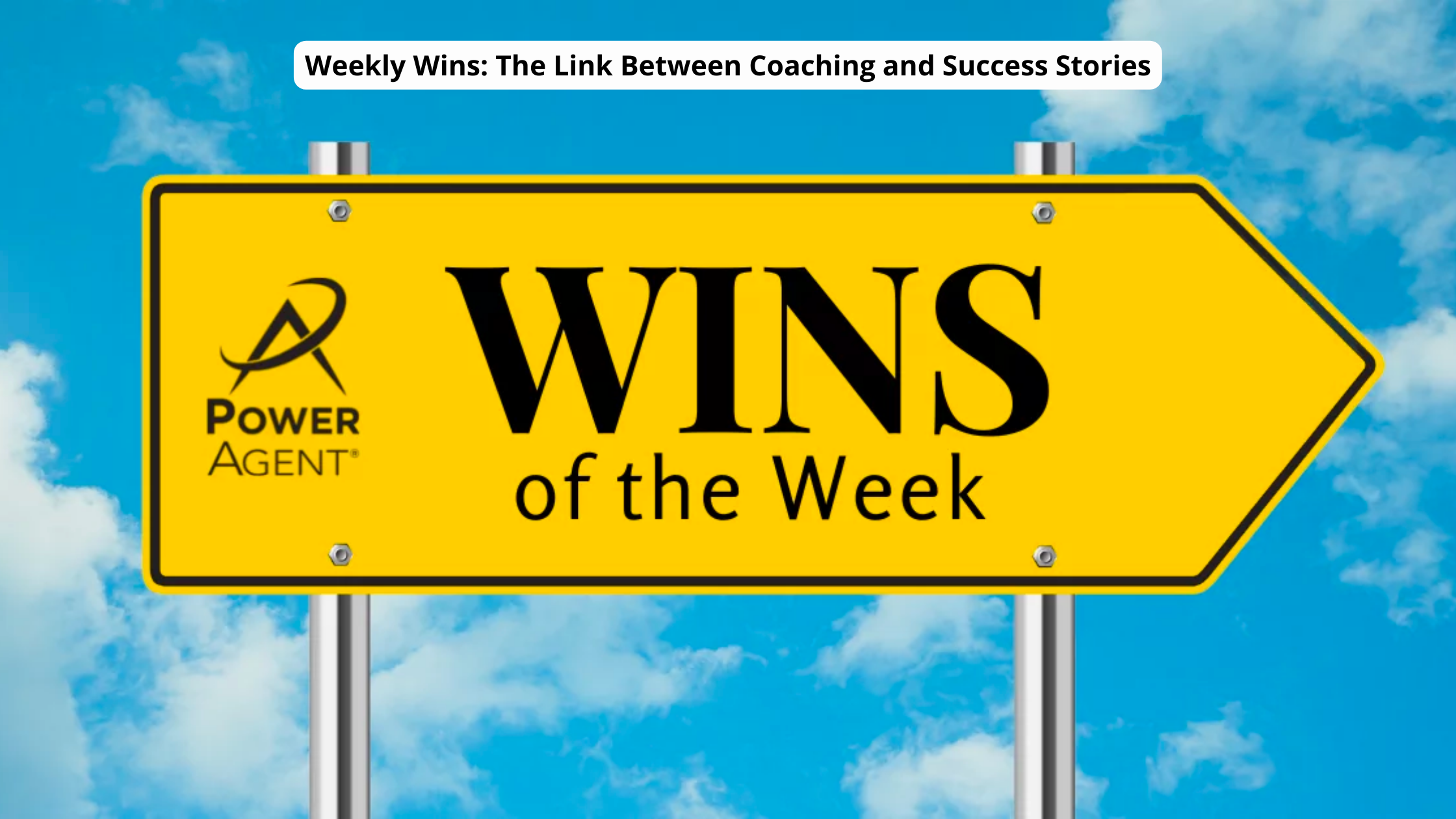 November 14, 2022
Weekly Wins: The Link Between Coaching and Success Stories
The link between real estate coaching and weekly wins and real estate success stories is REAL.
Our Monday Mindset Call with Darryl Davis is always a great way to start the week! We start each call off with a "WIN PARTY", where our coaching members, who we fondly refer to as POWER AGENTS®, share their real estate wins from the previous week and how our coaching program and community are helping them achieve success.
This week was no exception – we are so proud of our members and all they are accomplishing! Keep up the great work, everyone!
Help us celebrate these real estate wins:
9 New Closings

7 New Listings

7 New Buyers

5 Referrals

4 Listing Appointments 

2 FSBO Appointments

Got an Offer Accepted

Got a Second Mailing Out to a New Farm Area

Went to Look at a FSBO

Finally Put Together a Postcard

Got a Buyer Agency Agreement Before Working with New Construction Buyers

Sold Stuff that was Overcrowding their Home to a Potential Lead Generator

Upped their Presence on Social Media

Got Two Leads by Passing Out Business Cards while Giving Out Halloween Candy

Gained Two New Clients

Found a Buyer a Home in a Difficult Price Point

Three Transactions about to Close and Gained a New Qualified Buyer 

Delivered Trick-or-Treats to Farming Neighborhood

Got a Great Referral from a Builder

Got a Colleague to Join the

POWER AGENT® Program

Repurposed Flyers as a Blog Post

Prepared Just Sold Postcard to Advertise a Sale

Grabbed One of the Last Upgrade Packages for The Next Level

®

Event

Sold their Own Listing 

Picked Up a Coming Soon Listing in Howard Beach

Finished CE Course

Scheduled a Lease Signing

Started Organizing a Holiday Event

Scheduled a Tough Listing Appointment

Had a Nice Lunch with a New Contact

Created their Marketing and Budgeting Business Plan for 2023

Listed and Closed a Lot within Seven Days 

Registered for the Next Level

®

Event

Contacted Everyone in their Phone

Did Halloween SMILE Stops™

Had Two Listing Appointments from Referrals

Decided to Quit their Team and Go it Alone

Has a Sale Pending

Showed a $2M Listing

Contacted a Builder and Scheduled a Meeting

Found a Home for their Daughter During a Visit with Her

Listed a Four Unit Building

Got a Sale Pending on a Commercial Listing

Prepared a Newsletter to Send Out by Email
We LOVE celebrating these wins each week and LOVE seeing the changes these weekly real estate coaching calls make in our members' lives!
Recommended reading: The Importance of Acknowledging and Celebrating Your Achievements
Ready to share YOUR real estate wins for the week?
POWER AGENTS® – Be sure to join us on the next Coaching Call to share those triumphs and cheer the weekly WINS of your fellow POWER AGENTS®! 
Real Estate Coaching is an essential piece for agents eager to create transformative results in their careers and life and create the kind of 
real estate success stories
 they see in other agents.
If you're not yet a Power Agents®- no stress!
You can try us on for size for less than a cup of Starbucks!  
You can open the door for an all-access 30-day trial of this extraordinary, success-fueling program for just $5.  
That's it. $5. No contract. No long-term obligation.
Just a wide and wonderful network of success-minded agents with a love of learning and a passion for helping one another, plus Darryl, plus our terrific team, plus a classroom literally packed to the rim with tools and training for every conceivable aspect of your business.  
Imagine what you could do if you had just a snippet of what's inside The Power Program®! Just a fraction! 
Hope to see you on the "inside"! Here's to your success!  

Get the latest real estate training tips delivered to your inbox!