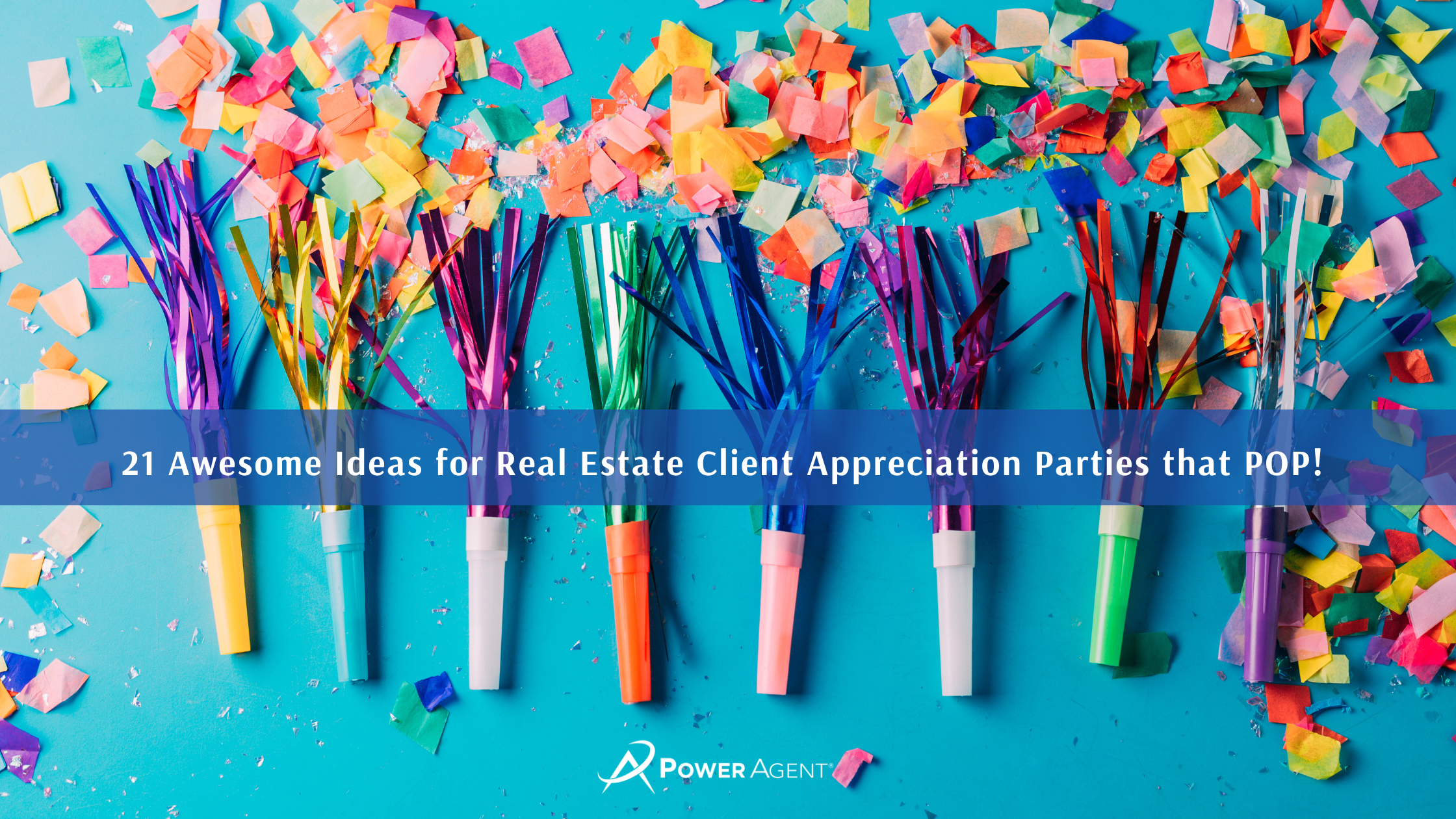 March 16, 2023
21 Fun Client Appreciation Event Ideas for REALTORS®
Have more fun and get more referrals with these 21 hilariously themed client appreciation event ideas for REALTORS®!

 
Kudos to one of our new POWER AGENT® on this month's brainstorming session whose "pickleball potluck party" mention sent us down the path of crafting some fun (and funny) ideas for innovative client appreciation parties!
Listen, if you are tired of the same old boring client events that feel like a snooze-fest, we've doubled down on some out-of-the-box ideas! Whether you're a seasoned real estate pro or brand new to this real estate game, let's unlock some really fun ways to connect with your sphere, your farm, and the VIPs in your communities!  
Host a "Hilarious Housewarming Party."

Invite all your clients to a virtual or in-person event where you have a variety of hilarious housewarming gifts to give away, such as a big jar of pickles (a la our pickleball friends),

laugh-out-loud doormats,

or even a lava lamp.

Escape the House Challenge.

Set up a real estate escape room-style challenge and invite your clients to try and escape within a set time frame. It's a fun way to showcase a property, have some laughs, and have your clients high-fiving themselves at their problem-solving skills.

Real Estate Roast Comedy Show

– Inject some humor into your next client event by bringing in a local comedian to deliver a hilarious routine that revolves around the ups and downs of buying and selling homes. This unique approach to real estate entertainment will leave your clients in stitches and make your event memorable with a witty and relatable real estate spin. This is a fantastic way to connect with your clients and build strong relationships that last.

REALTOR® for a Day

 – Host a competition where clients can experience what it's like to be a real estate agent for a day. Create a scavenger hunt or obstacle course, and provide them with tasks to complete. Get the kids involved with a coloring contest or have a real estate agent costume contest and let the hilarity ensue! Get fun prizes to cap off your contests!

"Moving Out" Karaoke Night

– Rent out a karaoke bar or host a virtual karaoke night, and encourage your clients to sing songs about moving or upgrading their homes. It's a fun way to let loose and celebrate their real estate successes. Here are some song title ideas: "Money (That's What I Want)" by Barrett Strong,

"Movin' Out (Anthony's Song)" by Billy Joel, "Take Me Home, Country Roads" by John Denver, "The House That Built Me" by Miranda Lambert, "This Land Is Your Land" by Woody Guthrie, "Closing Time" by Semisonic, and "Our House" by Madness! 

The Great Home Buyer and Seller Bake-Off

– Host a baking competition where clients can show off their skills in the kitchen by making their best home-themed desserts. You can even have a panel of judges to award prizes for the best entries. Here are some ideas for your contestants: Brownstone Bites, Condo Cookies, Loft Lollipops, Mansion Meringues, Villa Vanilla Cake, Cottage Cheesecake, Duplex Donuts, Penthouse Pudding, Townhouse Tiramisu, and Bungalow Bars! 

Real Estate Jeopardy –

Create a game show-style competition where clients can test their real estate know-how! You can create categories such as "TV Homes" – This category could feature homes from popular TV shows, such as the Brady Bunch house, the Friends apartment, or the Breaking Bad house. "Celebrity Real Estate" – This category could feature questions about famous celebrities and their real estate holdings, such as Jay-Z and Beyonce's Bel-Air mansion or Ellen DeGeneres' Santa Barbara estate. "Haunted Houses" – This category could feature questions about famous haunted houses, such as the Amityville Horror house or the Winchester Mystery House.

"Property Pursuit" – a real estate take on Trivial Pursuit!

  – Host a trivia night at a local pub or restaurant and have a variety of real estate-related questions to keep things interesting. You can provide fun prizes for the winners, like a real estate board game or a funny real estate-themed gift. Categories can include "Real Estate History" – This category could cover the history of real estate, such as the evolution of real estate markets, the history of the mortgage industry, and landmark court cases that have shaped the industry. "Architecture and Design" – This category could cover topics such as architectural styles, design principles, and famous architects throughout history. Or "Homeownership and Finance" – This category could cover topics such as mortgages, property taxes, insurance, and other financial aspects of homeownership. Get your lenders and vendors to help create the game and co-sponsor your event.

"Extreme Home Makeover"

– Invite clients to submit photos of their home renovation projects and have a panel of judges select the most impressive ones. You can even create a video showcasing the before-and-after transformations and play it at the event. If you're a

Boxbrownie

client, consider using their Virtual Renovation options to spotlight your ability to create transformation!
POWER AGENTS®, look for your $40 coupon in the approved vendor section of your classroom. 

"House Hunter Games"

– Create a competition where clients have to navigate an obstacle course that simulates the home-buying process. You can have challenges like finding the perfect home within a set budget or negotiating a deal with a difficult seller. The winners can receive fun prizes such as a gift card to a home decor store, a personalized doormat with the winner's name or a fun real estate-related quote, or a smart home device, such as a Google Nest Hub or an Amazon Echo.

"Real Estate Fashion Show"

– Invite clients to a fashion show where models walk down the runway wearing outfits made entirely out of real estate materials, such as carpet samples or wallpaper. It's a fun way to showcase your creativity and entertain your clients. Get your local stager involved to make it more fun, increase your guest base, and create clever prizes!

"The House Hunter Olympics" –

Create an Olympics-style competition where clients have to complete various challenges related to the home-buying process, such as staging a home for sale or packing up for a move. We even found

these fun gold, silver, and bronze "Olympic"medals

you can get on Amazon for your winners!

"Real Estate Scavenger Hunt"

– Create a scavenger hunt where clients have to search for real estate-related items throughout the community. You can provide clues and riddles to make it more challenging, and the winner can receive a fun prize like a real estate-themed gift basket or a home cleaning/organizing service package.

"Housewarming Bonfire"

– Host a bonfire for clients who have recently sold their homes. Clients can bring photos or mementos of their old home to burn in the bonfire and celebrate their new chapter. You can even provide funny awards, such as "Most Creative Use of Duct Tape" or "Best Garden Gnome Collection.


"Moving Day Breakfast"

– Host a breakfast event for clients on the day of their move. You can provide coffee and breakfast foods to help them fuel up for the big day. Make it fun by having a "Guess How Many Boxes" contest or providing silly moving hats.

"Goodbye House, Hello Happy Hour"

– Host a happy hour event for clients after they've sold their homes. You can provide a signature cocktail and appetizers and invite clients to share their moving stories. Make it fun by providing a silly photo booth with props like "Sold" signs or cardboard moving boxes.

"Pins, Pals, and Properties: Real Estate Bowling Night"

– Host a fun bowling night for your clients at a local lane. You can have bowling shirts with your logo, and create a unique bowling game where players "hunt" for specific pins, such as a red pin representing a "dream home" or a green pin representing a "fixer-upper". Players who knock down the specific pins win prizes, such as gift cards to home improvement stores or decor shops.

"Realty Reels: A Night at the Movies with [your company name]"

– Rent out a local movie theater for a special screening of a recent movie or go real estate themed with titles such as

Home Alone

or

The Money Pit

. You could do introductions before the movie, pass out gift bags, and even have a fun real estate-themed snack bar with treats such as "Housewarming" popcorn: Serve plain popcorn with a seasoning mix of garlic powder, onion powder, salt, and paprika, and label it as "housewarming" popcorn. "Mortgage Munchies" trail mix, "Sweet Home" cupcakes, "Sold Sign" cookies, and a "Bricks and Mortar" cheese and cracker platter.

"Build Your Equity: A DIY Home Improvement Workshop"

or "DIY Dreams: A Real Estate Workshop on Home Improvement" – Host a fun DIY workshop for your clients where you can bring in a local contractor or handyperson to help facilitate crafting a decorative sign with a popular real estate quote, building a rustic shelf, or painting a front door.

Lowes

has some awesome family-friendly ideas here. Have your contractor on hand to offer home improvement advice and a discount for your clients, a stager there who can answer questions about staging. Of course, you, as the host with the most, offer real estate advice and a free Neighborhood Market Report, which is what my coaching members call our CMA's! You can also raffle off a Homeowner Toolkit with items like a tape measure, screwdriver, and hammer, all essential items for home improvement projects.

"Good Faith" Games and Gifts Gathering!

Host a game night! You could play games like Monopoly – Set up a few boards for guests to play in small groups. Real Estate Pictionary: Have players draw and guess different real estate-related terms and phrases. The Price is Right: Set up a game show-style competition where players have to guess the prices of different real estate properties or even Real Estate Bingo: Create a bingo card with different real estate terms, such as "closing costs," "mortgage rate," and "home inspection," and play a few rounds. You could serve food and drinks that tie in with the real estate theme, such as a "Housewarming Punch", "Mortgage Margaritas", or "Real Estate Ribs". You can give prizes such as home improvement store gift cards, custom doormats or cutting boards, or a real estate swag bag filled with goodies.
POWER AGENTS®, head to your classroom to customize our Loanopoly and Sellopoly boards that walk buyers and sellers through the real estate processes! You can even order Monopoly pieces from Amazon here.  

Keys for a Cause Charity Event.

Organizing a charitable event is an excellent way to demonstrate to your clients that your interests extend beyond profits. You can select a cause that resonates with both you and your clients, and design a fundraising event around it. Not only does this allow you to give back to the community, but it also fosters positive relations with your clients.

 
Need MORE than 21 fun real estate client appreciation ideas? 
We've got you covered! 

Get your FREE Download of our Client Appreciation Event eGuide Called the
POWER AGENT® Parking Lot Party Guide
!
This 46-page real estate community and client event guide is packed with "parking lot party" ideas for every month of the year and includes flyers, checklists, links, tools, strategies, and more to make bringing people together in your market fun, exciting, and rewarding! 
Real estate doesn't have to be a drudge-fest, boring, or feel like you're waging an uphill battle. It SHOULD be fun. It SHOULD bring you joy. Because, let us tell you, when you incorporate aspects of your job that you absolutely love, the work part feels a whole lot less like work, clients will attract to you like magnets, and you won't just have a "job" – you'll have a career that feels more like a calling. 
That's what thousands of POWER AGENT® Coaching members are saying. We don't just help agents get to the next level in life financially – we help them feel more fulfilled, have more fun, be true to themselves, and make a difference in the world.  
Like Linda Catalano, "I am so happy I joined your coaching! I can see the light at the end of the tunnel! There are a lot of Real Estate coaches out there, but you are the only coach that covers all the basics and commits to us totally and makes us feel like we can commit to ourselves!" 
And Holly Thomson, "So much fun! Darryl is the coach that just keeps on giving and giving!! Can't help but 😊 smile!" 
And Allyson Hoffman, "In fifteen years, my best year was $12 million. Thanks to Darryl's systems, this year I generated $18 million, took two months off, and paid off 98% of all my debt!" 
And Tina Rosseti, "I think Darryl is the most entertaining and knowledgeable speaker there is. Because of his training, I make over $200,000 a year, average twenty listings at any time, and do this with all NO effort! Darryl's the best!" 
Read more real estate coaching success stories here and see what agents are saying.  
Power Agents®, click here to get your Parking Lot Party Guide, and then head to your classroom to take advantage of more than 700 marketing tools, training sessions, checklists, scripts, and more! Whatever you need to succeed with more ease is at your fingertips! 
Not yet a POWER AGENT®? Learn more about the POWER AGENT® PROGRAM!
Join Darryl's Inner Circle Facebook Group. 

We are always posting fresh ideas, training tools, strategies, and templates, along with hosting important, timely discussions with real estate professionals across the globe who are committed to their Next Level® of success and life. 

 

Subscribe to our newsletter.

 Click the button below to fill out a simple form and tap into new resources, free downloads, premium content, and exciting promotions.

 

Reach out and talk to us.

Not sure if this coaching program and community are right for you? Click that blue chat button on the bottom right of the screen, or call us at the number in the header. We are here to help! 

---
Get the latest real estate training tips delivered to your inbox!
Not a POWER AGENT® yet? Give us a go! This comprehensive program provides affordable coaching, training, and customizable marketing tools for real estate agents. It's proven to help thousands of agents significantly boost their listing inventory, solidify their business, cultivate lifelong customers, enhance authenticity and confidence, reduce stress, and craft fulfilling careers and lives.
Start your POWER AGENT® trial and have total access to every tool we have, including letters, dialogues, training tips, webinars on demand, e-Guides, and marketing tools.     
Contact our team today to sign up or get the answers you need: 631-929-5555!