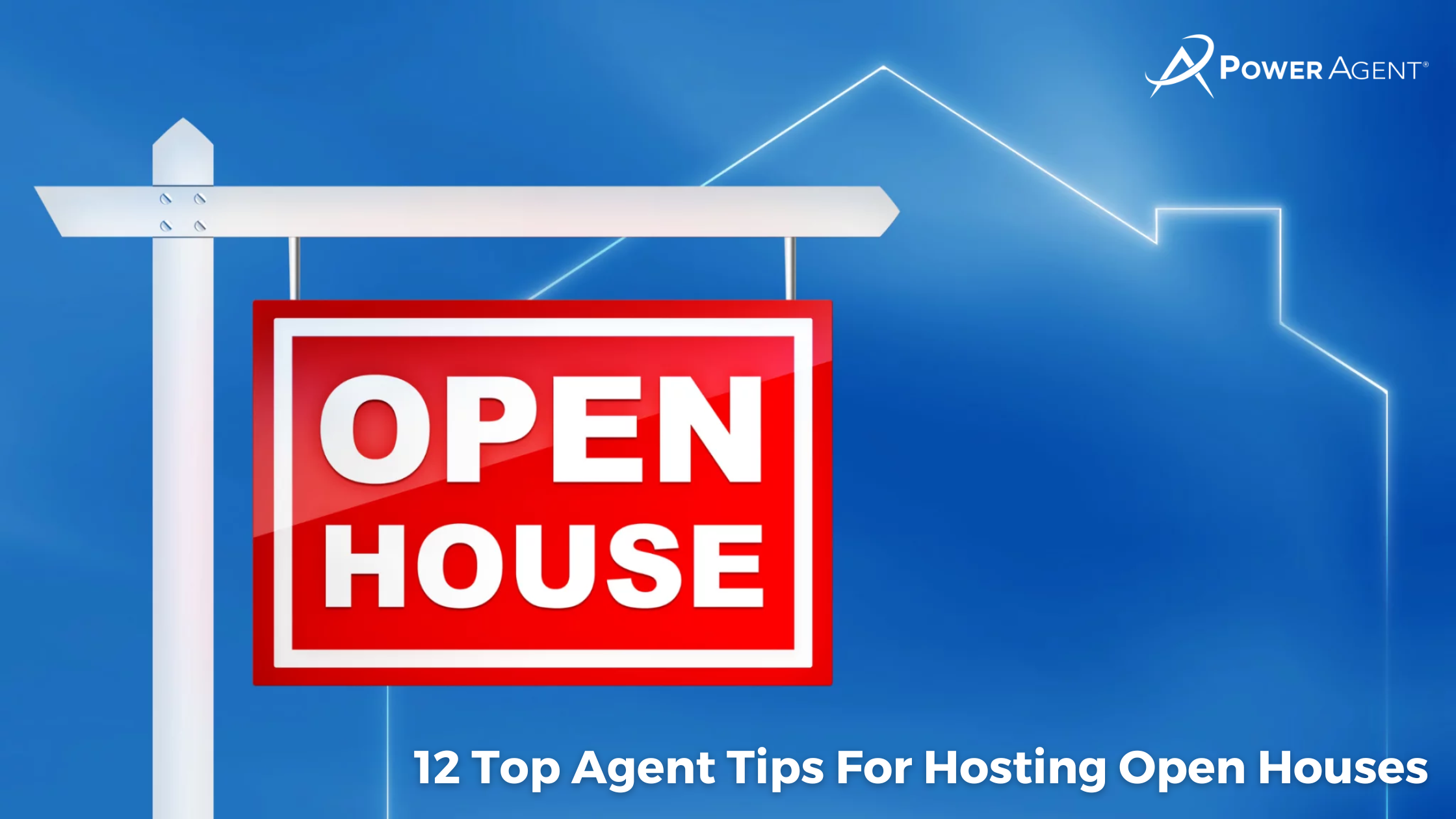 February 22, 2022
12 Top Agent Tips For Hosting Open Houses
Open houses remain one of the best ways to generate leads! Here's a strategy-filled mini-guide to make your next open house a massive success.
One of our favorite people and members Joanne Mills was asked, "What's your best source for listings?"
She answered, "As a top agent, I am asked this often, and the truth is, I believe that every agent should have at least 3 to 4 pillars of lead generation that you focus on — referrals, social media, trade shows, etc."
A top source for listing leads has always been the Open House, so we wanted to bring together several of the hottest tips for making open houses one of your best sources to gain new listings. 
TIP: For additional ideas on preparing for the Open House, check out this article by The Balance.  
1. Your Open House is Your Audition
Buyers, sellers, neighbors, and everyone in between are coming to watch you, and you need to impress them. Taking the time to make that impression on people might not lead to business today, but the impression you make today will affect their decision on whom to work with in the future. People are always looking for others in the community they would like to work with one day, which means they need to remember you. 
2. Host Open Houses Every Weekend
If you really want to make that big impression, and you are working in a specific neighborhood, host an open house every weekend. There are so many agents who are not willing to do this, but it makes such a splash, and then the neighborhood is seeing your name and face in the area constantly.  
3. Host Open Houses at "Off" Times
There is no rule that says open houses must be scheduled on weekends between 10 and 5. In fact, it's really effective to schedule open houses on Thursday evenings from 5 to 7, or even Wednesday afternoon. We've learned that weekends are often busy for people, so whenever you can host an open house on another evening or afternoon, or even earlier or later on the weekends than other agents – that's a great way to go the extra mile and give buyers in your area options that will appeal to them.  
4. A Vacant House is a Storefront
Since the homeowner is not living there, you can use it anytime you want. Treat your vacant listing like an office, hosting an open house with your banners and signage out front to invite people in while you are there, and it is also a great time to make phone calls. Only have one person show up? No problem, you can spend the time engaging with them (remember that audition idea we mentioned?). 
5. Keep Blank Open House Postcards Handy
One of our Power Agents® wisely keeps blank Open House Postcards with her. Two days before she plans to be at the house (using it like a storefront), she will write notes on these cards saying, "I'm going to be at 123 Main Street from 5 to 7 Thursday evening. Stop by if you have any questions." She drops these off around the neighborhood, and she gets people coming in all the time because it's her storefront until it sells. 
6. Put Your Face Everywhere
Make your signs and banners a little bigger than everyone else's. Be sure to have balloons and your face on the signage.  It's a great way for people in the area to start to know your face, name, and what you do for a living. If you are looking to take over a geographic area, your face needs to be everywhere. You want to reach the point where you walk into the grocery store and people say, "Hey, it's that real estate lady." That's what it means to brand yourself effectively.
7. Use Nearby Schools To Your Advantage
Is your listing near a school? Plan an open house around the end of school hours so that parents picking up their children from school can easily pop out of that school pickup line and pop in to view the home before they hit the commute again. Signs that point the way right from the school will help with advertising and will guide potential clients there. 
TIP: You might want to check out this article: "Back-To-School Marketing Tips for Real Estate Agents" 
8. How To Host An Open House When You Don't Have a Listing
Remember when we said that a lot of agents don't like hosting open houses every weekend? Consider hosting one (or more) on another agent's behalf. They don't need to be team members, or even in your brokerage. Their listing is shown to potential buyers, you get the leads! Talk about win-win! 
9. Attracting Guests to Your "Trade Show"
There are the usual avenues of marketing your open house – social media, website, mailouts, etc. — but also using a lot of signage to show off the house like it's your storefront. We like to say it becomes your trade show for the next two hours. These might not be your direct market, but you are there, working, and advertising yourself and the home. Use social media and every other tool you have to promote the open house and attract buyers and potential clients. 
TIP: Check out this article by My Real Page, "How To Promote Your Open House Using Instagram, Facebook, And Twitter." 
10. Team Up With Another Agent
Joanne shared that she rarely does an open house by herself. It's a great idea to have at least two agents working the open house together, and this is why: it creates an experience for your guests. They feel like you are providing excellent service by having someone engage with them while they wait, as well as offering pamphlets, marketing pieces, brochures, and giveaways. They see you taking care of your clients, which leaves them with a favorable impression of you.  
The first thing you want to do is have a conversation with the other agent before the open house regarding the expectations of partnering with the open house. The worst thing that causes relationship problems in an office is when those conversations aren't made before you start working together. That can lead to miscommunication and resentment.  Lock down the lead sharing/financial conversations beforehand.  Some questions to ask are: 
What are your expectations?

 

What would you want out of this?

 

How will the duties be split?

 

Who will do follow-ups?

 
When choosing another agent to work with you, this can be a great way for you to give new agents an opportunity to get buyers, leads, training, and experience. When it comes to the leads you get, we suggest offering a referral fee for buyer leads. If someone books a listing appointment, split that listing and go together. Other agents will simply split all the leads 50/50. 
One Power Agent® we spoke with recently often teams up with a mortgage specialist for open houses, giving both of them business leads and providing an added layer of service and expertise.  
11. The Practicalities of The Open House
In these times of social distancing, we have gotten a great routine down pat. We love having one agent standing at the door talking to people who are waiting to go inside. This person is responsible for getting everyone signed in, engaging them while they wait, and building rapport.  
If you don't have another agent working with you, a small table with the sign-in sheet and instructions is suitable. This is where you can put your brochures, branded giveaways, even goody bags! 
Design your tours to have guests enter the front door, and when they are finished their tour, exit out the back door in order to maintain social distancing and avoid crowding in the front entryway.  
12. Agent Tour vs Self-Guided Tour?
We are often asked which type of open house tour is recommended, the agent-guided or the buyer-guided tour.  
There is no right or wrong answer here, but this is the way we look at it: You are there to be where the people are, and to build those relationships. That can't happen if you're just by the front door, so don't let anyone go through the house by themselves, even if it's vacant.
Yes, only one person can buy that house, but everyone else is a potential client or can enlighten you on customer trends, or even send a referral your way. You can also answer questions about the house, as well as have conversations about the home features that might be less obvious and provide your value as an agent to them by showing what you know about the market. 
The Difference Between Ordinary and Extraordinary
Sure, you can do what all the other agents are doing, and that's great, but also do something they're not. Go above and beyond to move past being an ordinary real estate agent into being an extraordinary agent. 
TIP: For more ideas on how to make your next open house a success, check out this related article, "Tips for Making Your Next Open House The Talk Of The Town" 
A very special thank you to our guest coach for our recent coaching call, Joanne Mills, Exit Realty – as an Open House EXPERT – she really helped to bring all of this valuable information together for our Power Agent® members! 
What's Next?
Are you ready to start taking things to the Next Level®? If you don't already know what you need to do to get to your next level, we can help!  
Power Agents®, for all the tools, resources, and strategies for hosting a killer open house, head to the Service Sellers tab in the Classroom.  Whether you need a boost of confidence or empowering dialogues, we are here to help you get the skills you need to be the go-to agent for the buyers and sellers in your farm area. 
---

Get the latest real estate training tips delivered straight to your inbox weekly!
Not yet a Power Agent®? Did you know that for LESS than the cost of a "happy meal", you can have access to hundreds of marketing, prospecting, and objection handling tools – live weekly coaching, podcasts, webinars, and more?
As a BONUS Get our FREE copy of our Customizable Open House Signs, Open House Checklist, and More!
Start your Power Agent®  trial and have total access to every tool we have including letters, dialogues, training tips, webinars on-demand, eGuides, and marketing tools for just $5. 
Contact our team today to sign up or get the answers you need: (800) 395-3905!