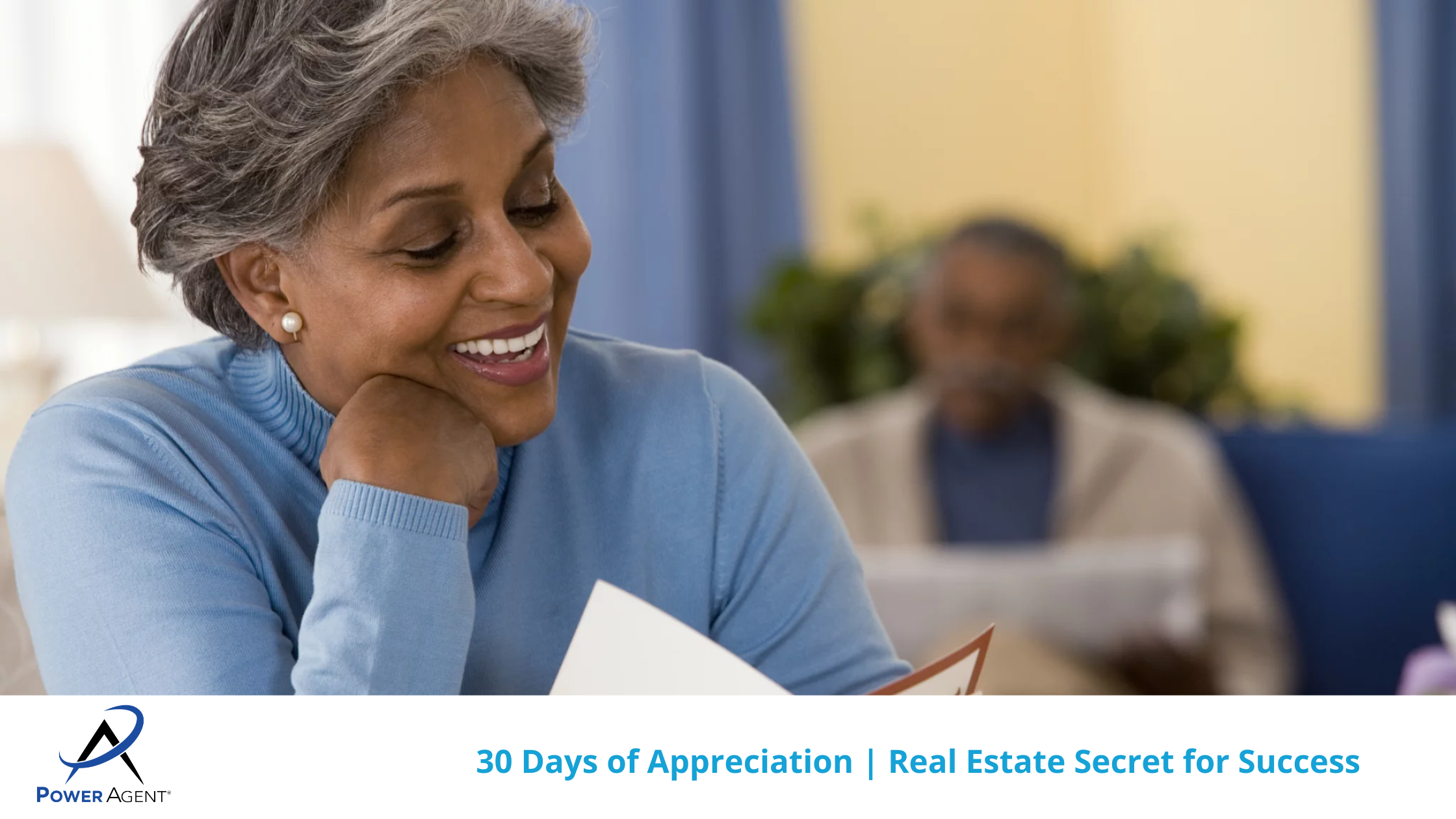 July 5, 2021
30 Days of Appreciation | Real Estate Secret for Success
Want to make a difference in 30 days? Use the appreciation marketing secret for success and remember Teddy Roosevelt's words, "They don't care what you know until they know that you care."
We were so fortunate to have Curtis Lewsey from AM Cards as our guest speaker for our Power Agent® exclusive webinar recently. He shared a few pearls of wisdom about how just 30 days of sending a greeting card (or note, or letter) to the VIPs in your book of business could be the secret sauce to not only finding new business but fueling life-long repeat referral business (and some really good relationships).
Let's break down a few timely strategies.
Card Worthy Care Moments
Time block 25-30 minutes per week. (Five minutes a day is doable, right?)
Scroll through the social media of the VIPs in your book of business and look for "card-worthy" opportunities. (New grandchild, work award, marriage, or life event.) Copy the picture and save to your computer.
Head to AM Cards. You can get there from your Classroom! Be sure to be logged in, then use this link https://darrylspeaks.com/class/greeting-cards/ or look for the Greeting Card tab!
If you haven't yet, be sure to set up your profile in AM Cards. You can add a signature – create a branded card back and add your contact information.
Then, choose the blank card option. Upload the photo you took from social media for the front of the card.
For the inside, genuinely make a note of occasion. For example: "I saw you post on Facebook! Congratulations on the new grandbaby! How exciting! Wishing you every joy!"
On the back of the card, you can add your photo, logo, and contact information.
DO NOT ask for referrals or business – this negates all the good will you just created.
That's it! Imagine the impact of touching the lives of people in your sphere with such kindness. It's referral worthy!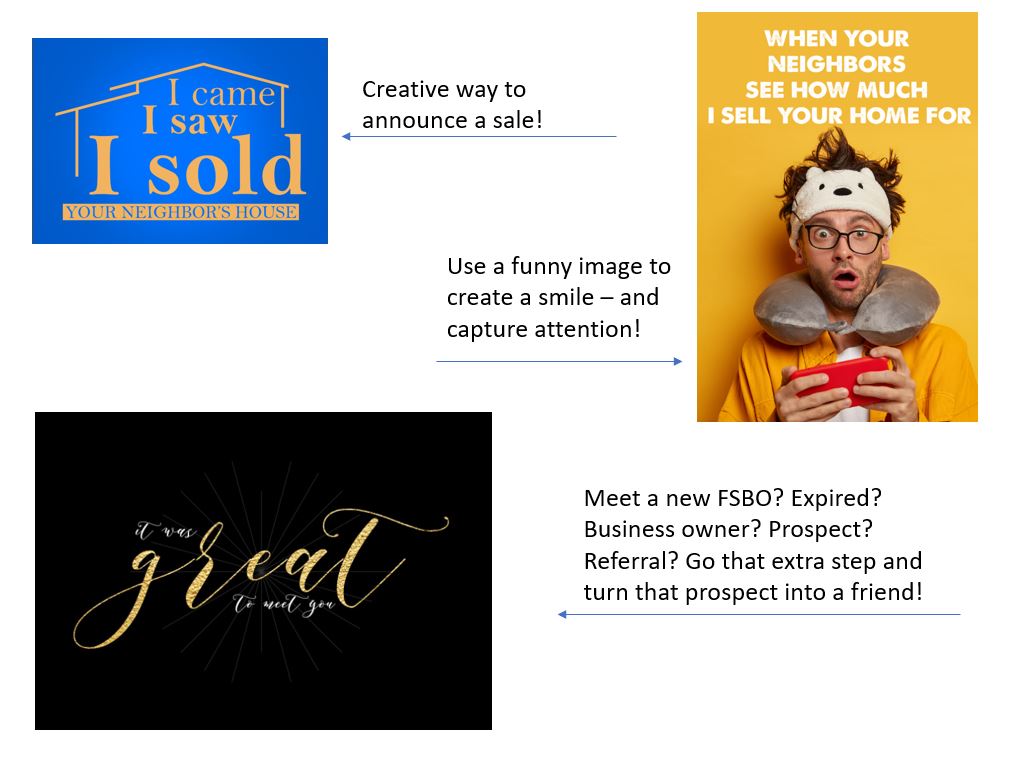 FSBOs and Expireds
Three times per week look for the FSBOs and Expireds in your area.
Grab a photo of their home from the listing or snap one yourself if you see it while you are out and about.
Log into AM Cards through your Classroom, and upload the photo.
On the inside of the card write a caption similar to this, "Thank you for the opportunity to earn your business. I already know what it will take to get it sold and ensure your return on investment! Call me!"
Follow up within five days of sending the card.
Create a Campaign
We LOVE the idea of a set-and-forget campaign for home anniversaries and birthdays, and AM Cards has done all the work including inside messaging for these fun cards.
Upload your list of clients.
Pick card designs, one per year for five years, adjust any copy you'd like, then schedule them to go out!
This is such an underserved strategy by real estate agents, but such a wow factor that will get you noticed and respected amongst your clients.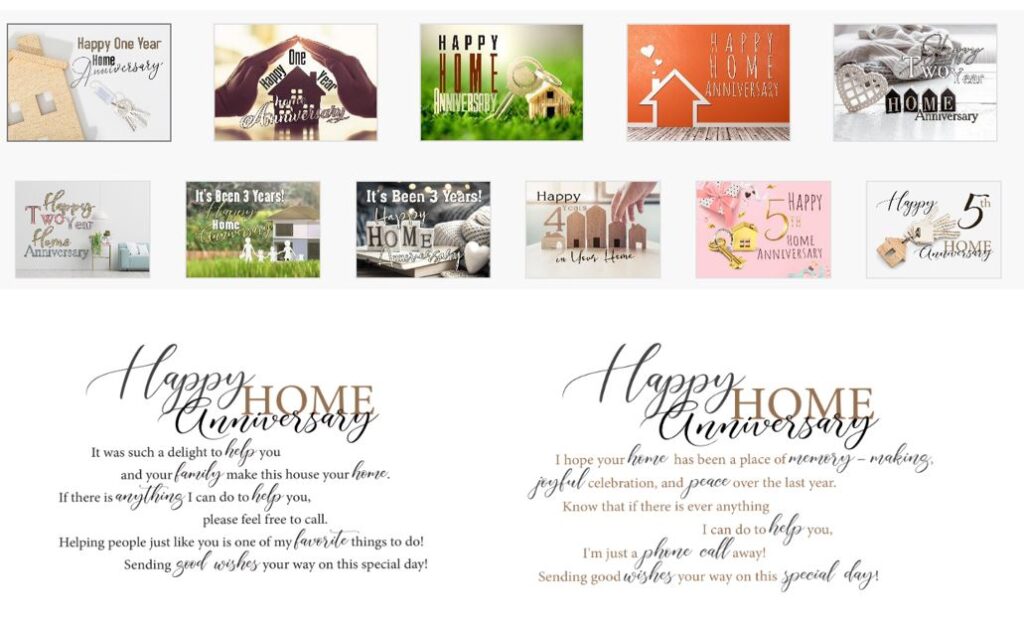 Power Agent® Perks
Did you know that we've already negotiated on your behalf? Because you are a Power Agent…
The entire set-up business membership fee ($295) is waived
Monthly membership fee ($39) is waived
Your first three cards are FREE, including postage
Wholesale pricing – your greeting cards are $2.25 per card including postage (reduced from $4.25 per card)
The AM Cards team is there to help you get set up, upload your contacts and walk you through any questions you might have.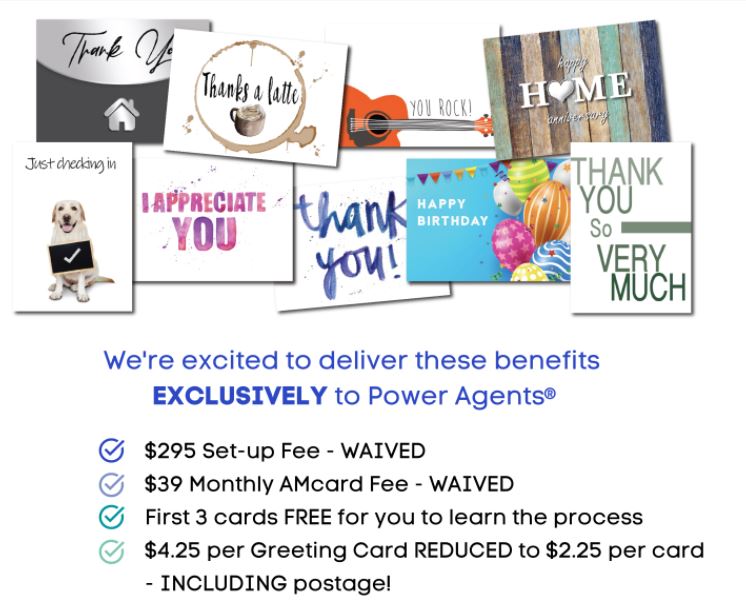 You can find handy help videos here or reach their support team at WeCare@AMcards.com.
Power Agents®, find your exclusive webinar on demand here, along with a copy of Curtis's book, Appreciation Marketing!
---
Get the Darryl Davis Newsletter!
Not yet a Power Agent®? Click here to learn more about how you can access hundreds of marketing, prospecting, and objection handling tools – live weekly coaching, podcasts, webinars, and more!
Need help? Contact our team today at (800) 395-3905!