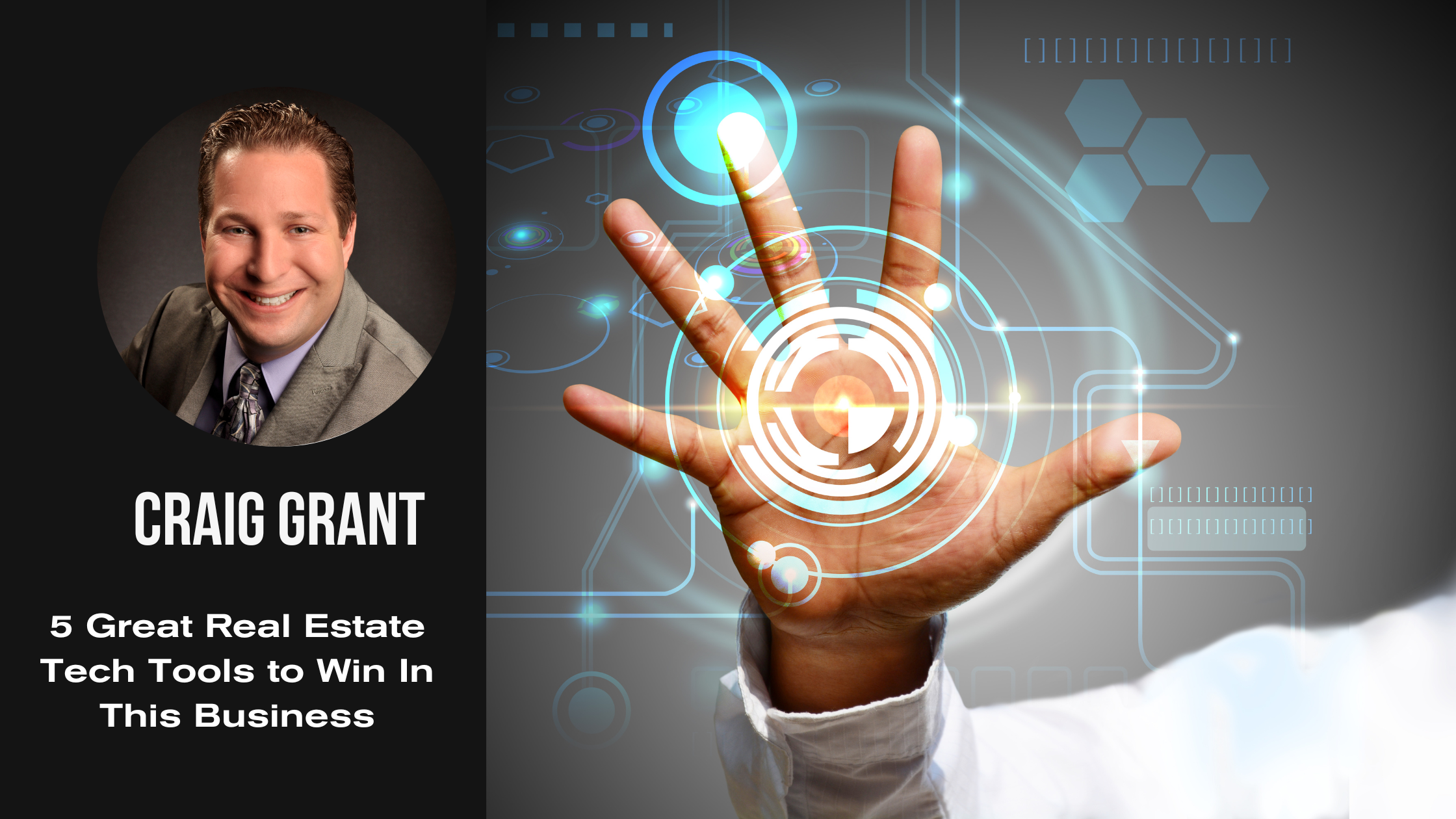 November 28, 2022
5 Great Real Estate Tech Tools to Win In This Business
Here are five great real estate tech tools that every agent should be using.
As a real estate professional, your schedule is already tapped, and every minute of the day is valuable and already accounted for.  But what if you could gain back some of those precious minutes with great tools and tricks that could help you get more done in half the time rather than what you are currently doing? 
The role of technology (if done right) is always to improve something, whether it be saving time and money or increasing efficiency and profits.  With today's always-connected consumer having very little patience or loyalty while at the same time often having unrealistic expectations and needs, it is more important than ever for you to be on top of your game at all times. 
We've taken a look at five terrific tech tools for real estate agents… 
1. DocuSign: DocuSign is a great tool for agents because it allows clients to sign documents electronically. This helps speed up the process of signing documents and can save agents time and hassle when dealing with paperwork.
2. Virtual Reality Tours: Virtual reality tours are becoming increasingly popular in the world of real estate. They allow potential buyers to get an immersive experience without stepping foot on the property in person. This could be an excellent way for agents to show off their listings and give potential buyers an idea of the home's appearance before they visit in person.
3. BoxBrownie: This is another awesome tool for agents who want to showcase their listings attractively. It's a powerful way to expertly enhance your listing photos, create a floorplan on the fly, and even digitally stage your listing!
4. Realtor Property Resource (RPR): RPR is a great resource for agents looking to stay on top of market trends and keep track of their leads, contacts, transactions, etc., all from one platform! It also provides access to data on over 150 million properties nationwide which can help agents understand market conditions better than ever before!
5. BombBomb Video Email Marketing Platform: BombBomb is a video email marketing platform that helps agents reach out to potential leads with personalized video messages sent directly from their email inboxes! It's easy to use, affordable, and provides analytics to track your success rate over time!
With so many great real estate tech tools available today, there's no excuse not to take advantage of them all! From virtual reality tours that give potential buyers an immersive look at a property without stepping foot inside it; to BoxBrownie's beautiful photos; Realtor Property Resources' market trend data; BombBomb's video email marketing; or DocuSign's electronic signing options – these five tools will help any agent succeed in today's competitive real estate market! So don't wait – start using them today!
To help you TRULY master real estate tech tools, we've invited Craig Grant, CEO of The Real Estate Technology Institute,  a technology MASTER, to speak at our Next Level® Event 2023!
During Craig's session at The Next Level® Event 2023, you will learn about some incredible software, apps, extensions, and more that will help you: 
Schedule appointments in no time

 

Respond to & provide incredible communication in seconds

 

Conduct listing intake and enhancement like never before

 

Design your marketing materials on the go
How to truly leverage your CRM and the cloud to be productive in any environment. 
This is just one of many incredible sessions being offered at The Next Level® Event 2023 with a power-packed roster of speakers, including Rudy Ruettiger, Ruben Gonzalez, Matthew Ferrara, Tristan Ahumada, Amy Chorew, Kathrin Rein, Traci Palmero, an incredible diversity panel, plus of course the host and master of ceremonies, Darryl Davis. 
If you haven't done so yet,  be sure to register for this event while you still can, as tickets are going fast.  To get more details or to register, go to TheNextLevelEvent.com 
Craig Grant, is the CEO of The Real Estate Technology Institute, is a national speaker and expert on all aspects of technology, marketing, and cybersecurity/risk management, as well as a top consultant for real estate professionals looking to run their businesses more productively and cost-efficiently using technology.  For more information, check out CraigGrant.info, or Craig can be reached at 352-400-4857 or by email at Craig@RETI.us. 
We can't WAIT to take it all in!  
Click here for details, special registration offers, and more!   
See you in January!   
Eager for another motivational success story? Read about another of our exciting Next Level Real Estate Event and Conference Speakers Rudy Ruettiger here!
The NEXT LEVEL® Real Estate Event and conference will be a game-changing way to kick off 2023.   
Join world-class speakers, industry experts, top-producing panelists, and agents from all over North America for three days of intensive real estate training and tools to reset your mindset, strategies, and skills. This event is designed to help you transform your business into a high-performance machine that will generate repeatable, reliable results year after year!   
Create exponential growth in your business and life by learning how to build a sustainable business system that runs 24/7. We're delivering the cutting-edge marketing strategies, sales and communication skills, and proven systems agents need to increase production quickly without burning out. If you're ready to create more balance between your work and life by taking control over the number of leads you generate and close daily—and what happens when they reach out to you (or don't) – don't miss this event.  
Next Level® Real Estate Event Attendees Can Expect to Learn How to:
Become a listing machine with inventory-building intensive sessions 

 

Position yourself as a sales LEADER in your market 

 

Unlock your fullest potential by breaking through fear and limiting belief systems that hold you back 

 
Learn more about early bird pricing, VIP ticket options, and SPECIAL-priced sleeping rooms at the casino (but the room blocks are going fast). Check out http://www.TheNextLevelEvent.com