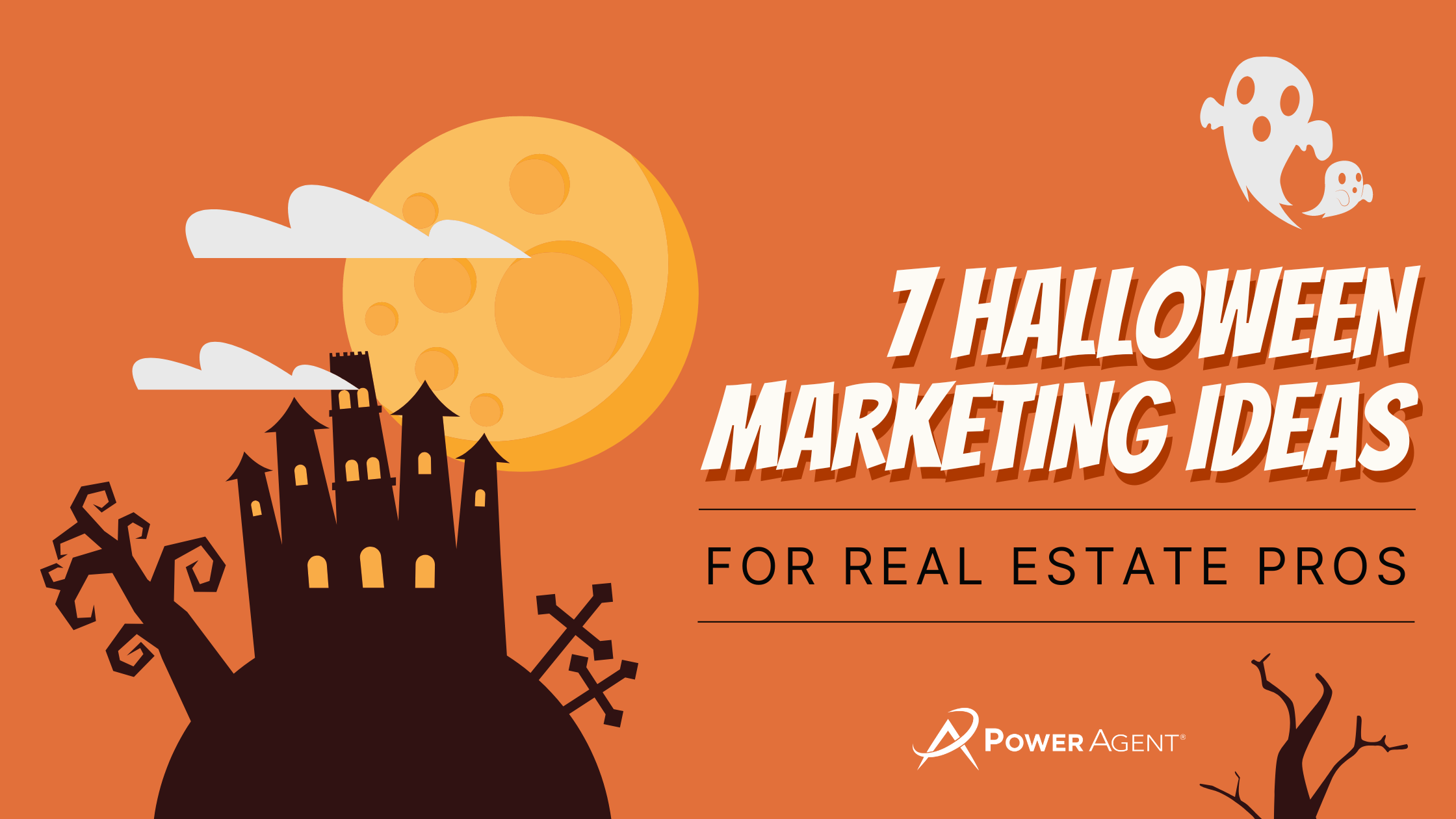 September 21, 2023
7 Fun Halloween Marketing Strategies for Real Estate Pros
From spooky open houses to ghoulish social media posts, these ideas will help you get noticed this Halloween season!
If you're a real estate agent, then you know that marketing your listings is important. But what about marketing yourself? After all, you are the face of your business! That's why we've put together this list of 7 Halloween marketing ideas for real estate agents, so if you're looking for some fun and unique ideas to market your real estate business this Halloween, then look no further!
1. Have a spooky open house. Transform your listing into a haunted house complete with ghosts, goblins, and witches. Serve refreshments like "eye of newt punch" and "witch's brew coffee." You can even have a costume contest for the best-dressed real estate agent!
2. Giveaway trick-or-treat bags. Fill bags with candy and other goodies, then hand them to trick-or-treaters. Have an adult version of goodie bags for their parents with your business card attached. This is a great way to get your name out there in the community.
3. Throw a Halloween party. Invite your clients, potential clients, and other local business owners to a Halloween party at your office. Decorate the space with spooky décor and serve festive foods and drinks. Be sure to take lots of photos so you can share them on social media later!
4. Attend local trunk-or-treat events – and plan your own for next year. Trunk-or-treat events are becoming increasingly popular as an alternative to traditional trick-or-treating. Get involved by sponsoring local events or participating in local events, and download this How-To Guide for Hosting a Trunk or Treat of your own next year. Hand out candy and other treats with your business information attached.
5. Create Halloween-themed social media posts. Use Canva or another design tool to create festive Twitter, Facebook, and Instagram posts promoting your real estate business. You could even do a series of posts featuring homes for sale that would be perfect for Halloween parties or haunted houses! POWER AGENTS® – we've got those ready and waiting for you in your classroom!
6. Make a Halloween video tour of one of your listings. Give viewers a tour of the home, pointing out features that would be perfect for throwing a Halloween party or hosting overnight guests during the holiday season. You could even dress up in costume while giving the tour!
7. Do a video tour or series about local houses and businesses that are believed to be haunted. You can give some history of the house and neighborhood and share some spooky facts.
These 7 ideas will help you stand out from the crowd and get noticed by potential clients. So put on your costume (if you dare) and have FUN this holiday!
Calling All Real Estate Agents!
Are you ready to start taking things to the Next Level®? We have the tips, tricks, and tools you need to find success no matter how long you have been in the real estate business! 
POWER AGENTS®, you can check out the Social Media Shareables tab in the Classroom for Brand-Building tools and ideas. Whether you need inspiration, motivation, or content to get started, we have it!    
Never Miss a POWER AGENT® Training Event Again! Click here to subscribe to our BRAND NEW Calendar feature! Training, brainstorming sessions, and top agent interviews will automatically be added to your calendar so you never miss out.     
---

Get the latest real estate training tips delivered to your inbox!