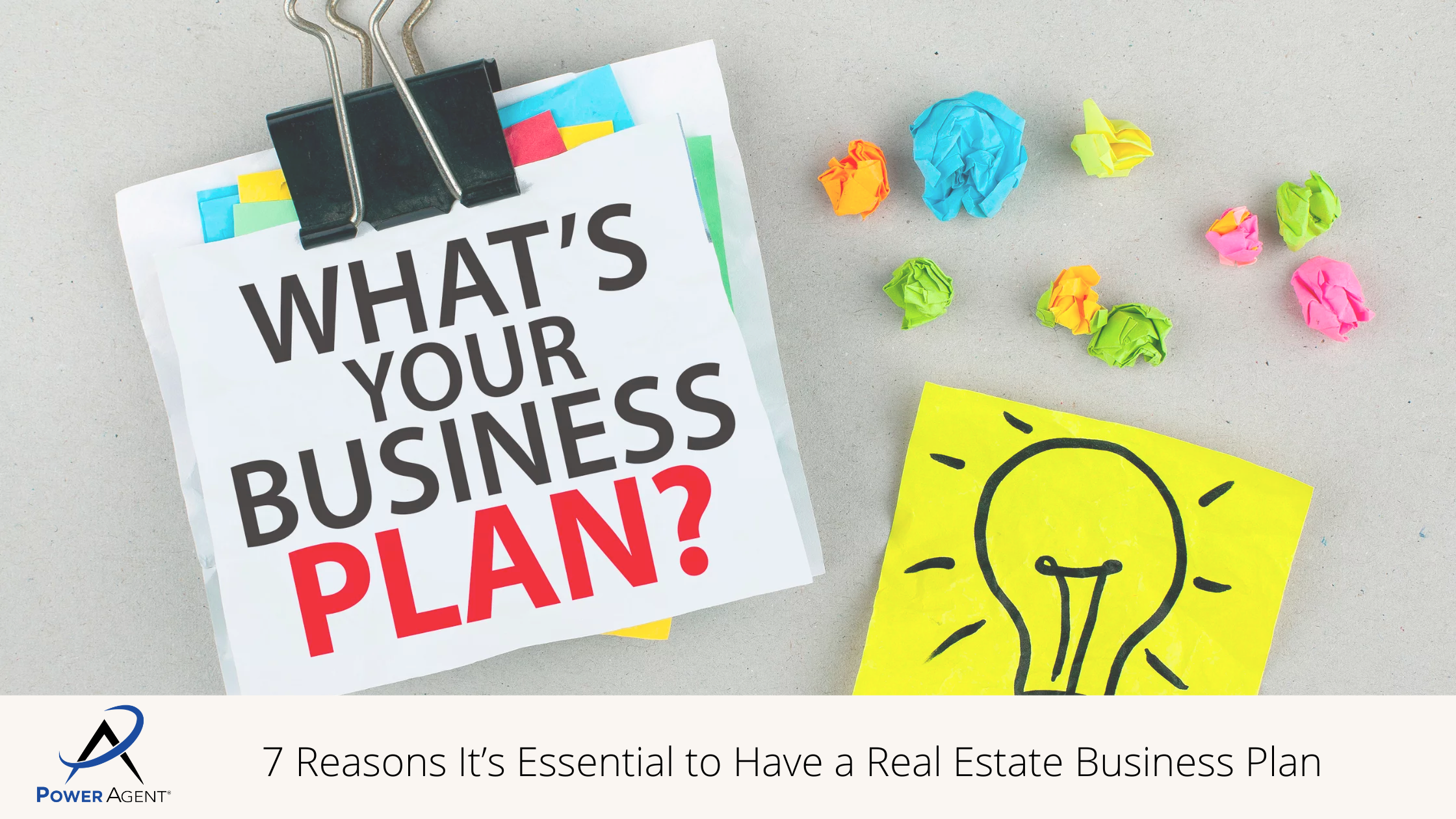 December 15, 2022
7 Reasons It's Essential to Have a Real Estate Business Plan
Being a real estate agent is an exciting, rewarding career that has the potential to earn top dollar – IF you have a plan in place to ensure that your success is sustainable and long-lasting. 
As a real estate agent, you know that success doesn't happen overnight. It takes hard work and dedication to make it in the business. If you want to set yourself up for success, it's important to create a well-thought-out business plan.  
A good business plan will provide direction, keep you focused on your goals, and help ensure that you are moving forward on the right path. Here are 7 reasons why every real estate agent should have a business plan: 
1. Establish Short-term and Long-term Goals  
Having a business plan helps you establish clear goals and objectives for both your short-term needs and long-term dreams. It gives you something to strive towards and concrete milestones that you can use to measure your success along the way. This is an essential first step to success, as it allows you to create specific strategies for achieving those goals. When setting your goals, be sure to make them SMART (Specific, Measurable, Attainable, Relevant, and Timely). Setting achievable goals will help keep you motivated and on track. 
2. Tracking & Analyzing Your Progress to Stay on Track 
A good business plan will include metrics that allow you to track and analyze your progress over time. You will be able to record milestones reached, lessons learned, successes achieved, and challenges faced—all of which will give you valuable insight into how well your business is doing at any given time. This information can then be used to create better strategies for future growth and success. With each strategy should come specific steps that will help move your business forward. Make sure that these strategic plans are in line with your overall mission so that all of your efforts are focused on reaching the same end result. 
3. You Have Methods to Gauge Your Performance 
Having a written business plan also allows you to gauge performance quickly and easily at any given time during the year by comparing actual performance against pre-set targets or goals that were outlined in the plan at the beginning of the year. This will provide invaluable insight into areas where improvement is needed and where progress has been made since last year's performance was measured against this same plan. You can also quickly pinpoint areas where opportunities for growth may exist. This helps ensure that all resources are being used effectively and efficiently toward achieving results.  
4. It Keeps You Focused on What You Want to Achieve 
Having a solid business plan will help keep you focused on achieving success rather than getting sidetracked by unrelated activities or tasks. It's easy to become overwhelmed when running a real estate business, so having an established roadmap can help keep your eyes on the next milestone, which means you keep moving step-by-step closer to your ultimate goal. 
5. You Have the Means to Develop Financial Strategies Rather than "Wing It" 
Finally, having a written business plan allows you to develop financial strategies tailored specifically towards achieving short-term objectives while still keeping long-term profitability in mind at all times – something that is often overlooked by real estate agents who are just getting started in their careers. They are eager to get their businesses up and running right away without taking into consideration their financial forecasting needs over time, so by having a written financial strategy; these agents can ensure their business grows profitably without sacrificing their long-term goals.  
6. It Makes it Easier to Secure Funding for Expansion 
If you ever need additional funds to grow or expand your business—for example, if you need to hire additional staff or purchase additional equipment—a solid business plan can go a long way in helping secure funding from banks or other lenders who may be willing to invest in your business. This can be particularly important when you start considering creating a team or becoming a brokerage.    
7. It Helps You Stay Organized & Prepared 
Having your goals and plans on paper helps you stay organized and prepared for any challenge that may come your way! Having everything laid out clearly will ensure that no stone is left unturned when it comes to planning out how things should go in order to maximize success (and profits) in the long run! From hiring an assistant to grow your team to becoming a mentor to others requires preparation and a careful organization of milestones to get you to your Next Level®.  
Related reading: How To Achieve Your Real Estate Goals 
The P.O.W.E.R. Program Business Plan  
Now that you understand why a business plan is essential to your success, we want to introduce our Easy-To-Use Business Plan to help you plan for Now business, Future Business, and Financial Freedom. 
We've looked at other business plans for agents – and frankly, they aren't this robust, or detailed, or agent-centric. That is why we developed this incredible guide for generating now business, future business, and financial freedom. 
Your 45-page 3-Part Breakthrough Business Plan Includes:  
Three expertly developed and solid plans for Now Business, Future Business, and Financial Freedom 
The best way to generate listings in the next 30 days and the importance of honing your listing presentation 
How to differentiate between survival income and Next Level® income 
A comprehensive marketing campaign to hit the ground running in 2021 
Getting more organized and committed to a consistent schedule 
Be more proactive and less reactive with your finances 
Put a formula in place for financial freedom 
No matter how experienced or inexperienced you may be as a real estate agent, a business plan is essential to ensure success in this competitive industry! Just like you wouldn't drive across the country through unknown places without a map, you don't want to try going through your career without a plan to keep heading in the right direction.  
From setting achievable goals and creating strategies for reaching them to monitoring performance metrics, having a well-laid-out map helps any real estate agent navigate toward success! So, take some time today and create YOUR perfect real estate business plan–you won't regret it!  
Calling All Real Estate Agents!  
Are you ready to start taking things to the Next Level®? We have the tips, tricks, and tools you need to find Real Estate Agent success, no matter where you are at in your business!  
"I can honestly say from Darryl's training that my sustained business is up 50% over last year, resulting in 70 transactions!​​"
– Ken Lenhart, Long & Foster 
POWER AGENTS®, you can check out the Time and Money Management tab in the Classroom for tips, tricks, and tools to help you manage the 4 pillars of your business and the mindset to make it happen! Whether you need inspiration, motivation, or validation, we have it!    
---

Get the latest real estate training tips delivered to your inbox!
Not yet a POWER AGENT®? Did you know that for LESS than the cost of a Starbucks coffee, you can access hundreds of marketing, prospecting, and objection-handling tools – live weekly coaching, podcasts, webinars, and more?   
Start your POWER AGENT®  trial and have total access to every tool we have, including letters, dialogues, training tips, webinars on demand, e-Guides, and marketing tools, for just $5.  
Contact our team today to sign up or get the answers you need: 631-929-5555!