August 11, 2019
72 Hours to Sold
POWERFACT:  With the right preparation and strategy, you can get your listing SOLD in less time and with less headaches! 
Want to get a listing sold FAST? Try these strategies BEFORE it hits the MLS.
1) Price it right! You can't sell something for more than it is worth — especially in today's market. Listings should always be priced at or just below fair market value. If the condition or location of the home is problematic, that should also factor in the adjustment of price. Watch this for more pricing strategies.
2) Host a neighborhood open house. This is to get the buzz going in the neighborhood first and to get the "lookers" out of the way before your listing hits. I love this strategy. Before your listing hits, head online or to your local office or even craft-supply store for wedding invitation stationery. Put your open house information on them and either door knock and hand-deliver to the neighbors or mail to them. Let them know that the sellers will NOT be home at the time and that they are welcome to come in and view the pre-listed property. That way if they know anyone interested in the area they will be well informed! This will help you avoid neighbors at your public open house, will usually land you a few new listing leads, and show your commitment to getting properties SOLD.
3) Create the pre-listing buzz via email, social media, flyers, mailings – the works! Full court press! Let everyone possible know that you have a new listing, priced to sell, coming on the market and when.
4) When your listing hits, let everyone know that you are holding all offers until a specific time. Once your listing is live, create round two of your listing buzz via all channels — and add to it that you're holding all offers until a specified time and date. So, if your listing hits on Thursday, say you'll hold all offers until Sunday at 6:00 pm.
5) Host public open houses Saturday and Sunday.  Really set the stage to get as many buyers out as possible — and let all prospective buyers know that you are holding offers until the specific date and time.
If all of these components are in place — your listing should be sold in 72 hours!
Now, want to learn how to DOUBLE YOUR SALES with Open Houses? We've got you covered there too!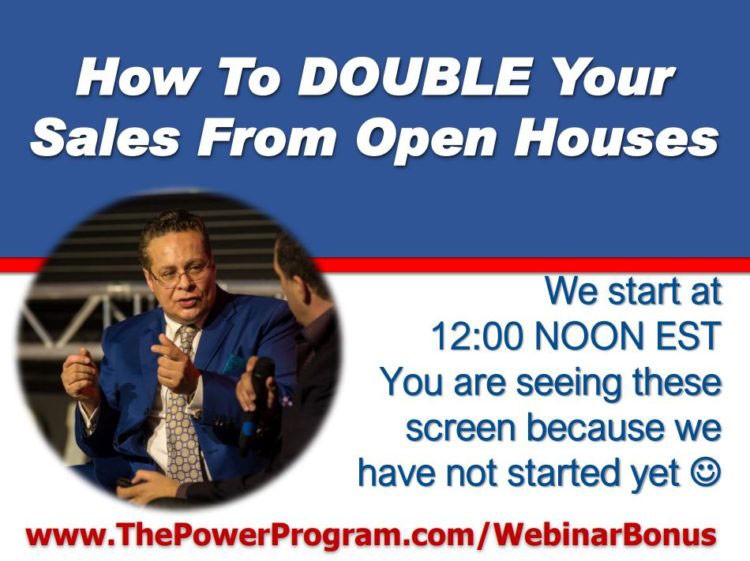 Power Agents, find webinars just like this one as well as the slide decks and tools referenced in them in the Webinars tab in your Classroom! 
Find this awesome open house checklist in your Servicing Sellers tab, and the all new Follow Up to Open House Dialogue in the Playing with Buyers tab!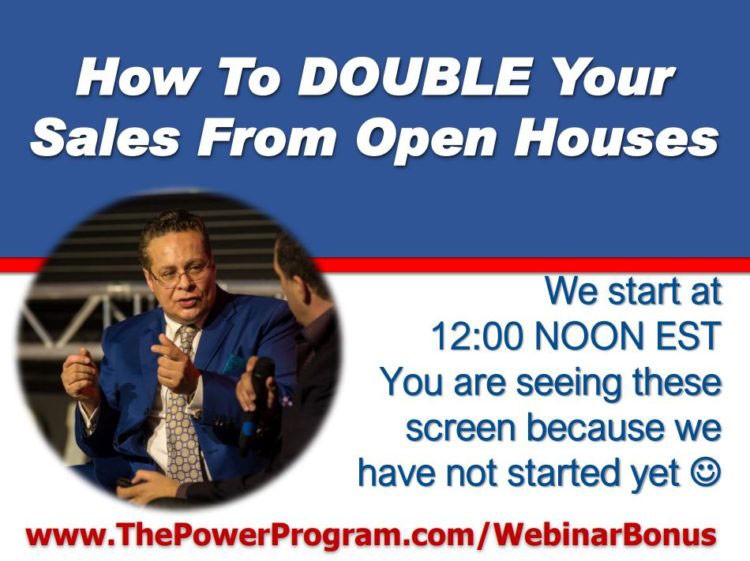 Not yet a Power Agent®? Did you know that for less than a dollar a day, you can have access to hundreds of marketing, prospecting, and objection handling tools – live weekly coaching, podcasts, webinars, and more?  In fact – we'll give you the first 30 days for just $5! Start your Power Agent® trial and have total access to every tool we have including letters, dialogues, training tips, webinars on demand, eBooks, and marketing tools.
If you're ready to have everything you need to handle whatever the market tosses your way — get started today!