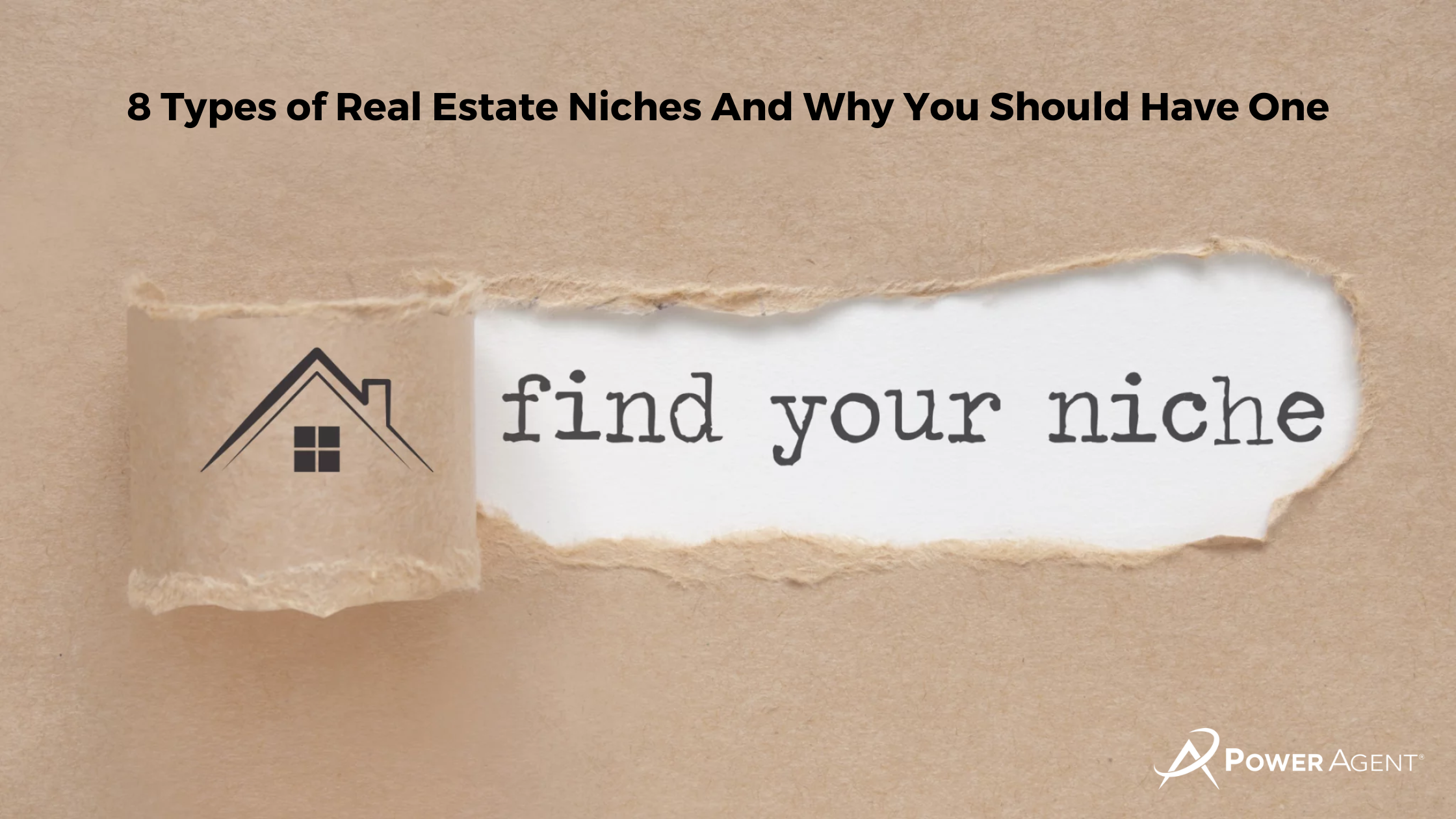 May 29, 2022
8 Types of Real Estate Niches And Why You Should Have One
Getting into real estate can be as exciting as it is tough, but one way to effectively brand yourself is to find a niche that you are passionate about serving.
For new real estate agents breaking into the industry, it's tempting to take any and every client as you try to build your client list. This can be a great way to get experience, particularly if you are trying to find a niche that you might like to work with. 
Related Reading: Mallory Brands –  "Why Every Real Estate Agent Needs a Niche" 
Does Every Real Estate Agent Need a Niche?
No, but there are several reasons why choosing to work with a specific niche can be highly beneficial. It allows you to become an expert rather than trying to be a "jack of all trades" in real estate. It allows you to target a specific group to market yourself to (likely with greater success) and, if we're going to be really honest, have a lot more fun at work. 
Related Reading: "Serving, Not Selling: Meeting Your Real Estate Niche Needs" 
How Do I Choose One?
Choosing a niche really comes down to asking yourself this simple question: What do I enjoy doing most? Answering this question and choosing a specific niche to work with will help shape your tasks and how you spend your time and money because you will be focused on building your reputation as an expert to that specific group. 
So, what are some examples of niches? 
Geographic Niche –

Geographic farm areas tend to be the traditional niche agents choose because it makes establishing yourself in that area as a community expert easy.

 

Luxury Homes –

It can be easy to think about focusing on luxury homes purely for the size of the commission, but like anything else, there is a give and take. Luxury homes often take longer to sell and sometimes require broader marketing, including an international strategy, depending on the type of home and who might be interested.

 

Language-Specific Groups –

Are you fluent in Spanish? Did you grow up in Korea and want to help other immigrants with their housing needs? With a growing population that struggles to speak English, being able to help translate the complicated legalese, helps these groups to buy and sell with confidence.

 

Waterfront Properties –

Do you know when high and low tides are on a daily basis? Do you understand why a bulkhead is important to protect a home on the water? Waterfront properties have unique needs, and for coastal regions or lakeside neighborhoods, this can be an excellent choice for a niche.

 

Character Homes –

For people that love antiques, history, or the unique architecture of older character homes, this could be the niche that gets you out of bed and jazzed every morning. Older neighborhoods often have a lot of interesting stories, which can appeal to buyers looking for a unique home.

 

Multi-Unit Properties –

Condos, townhomes, duplexes, and other multi-unit homes are also a great choice, and developing relationships with landlords and investors can be a great source of repeat and referral business. 

 

Low Income Housing –

Do you have a passion for helping people who are struggling financially? For many people in this income bracket, the idea of owning a home can be a distant dream, but one that you can help make a reality for people who need your expertise.

 

Former Careers –

Were you in the Military? Law enforcement? Nursing? Choosing a niche based on your former career can be a smart choice, as you are well aware of the demands of the job and the unique needs of these families. You also have a client list starting with former coworkers ready and waiting for you!

 
Related Reading: Community Influencer – "How To Choose a Profitable Real Estate Niche" 
What's Your "Why?"
This list is by no means exhaustive but acts more as inspiration for you to start thinking about what you genuinely enjoy doing. It comes down to understanding our "why" and who we are passionate about helping. If you aren't clear on these things, finding a niche that you love that will get you out of bed in the morning will be a challenge.  
You might think, "The money I make is a good enough reason to get up every morning!" Sure, but what gets you out of bed when business isn't going as well as you thought? How will you deal with those lows when you aren't being driven by something you're passionate about? Having a clear image in your mind about your Big Picture and what you are committed to is vital because that is how you get through the hard times.    
Related Reading: "Real Estate Professional vs Hobbyist: Which One Are You?" 
What's Next?
Are you ready to start taking things to the Next Level®? If you don't already know what you need to do to get to your next level, we can help!  
POWER AGENTS®, for more strategies and tools for handling all the objections and differences in opinion from buyers, check out the amazing content in the Farming, Self-Promotion, and Mailings tab in the Classroom.  Whether you need brilliant niche marketing ideas or pieces of value to mail, we are here to help you be the go-to agent for the buyers and sellers in your farm area. To make sure you don't miss out on training, SUBSCRIBE to the Power Calender.  
Not yet a POWER AGENT®? Did you know that for LESS than the cost of a Starbucks coffee, you can have access to hundreds of marketing, prospecting, and objection handling tools – live weekly coaching, podcasts, webinars, and more?  
"Just an amazing job Darryl and the team too. Best $47 you will ever spend. Every week I get a few things I didn't think of and put into use. There is so much here, I fired Zillow! He really inspires me and ALWAYS has great information and keeps my attitude high. People absolutely love being helped and it's helped me tremendously." – Mark Schilling 
---

Get the latest real estate training tips delivered to your inbox!
Start your POWER AGENT®  trial and have total access to every tool we have including letters, dialogues, training tips, webinars on-demand, eGuides, and marketing tools for just $5. 
Contact our team today to sign up or get the answers you need: (800) 395-3905!