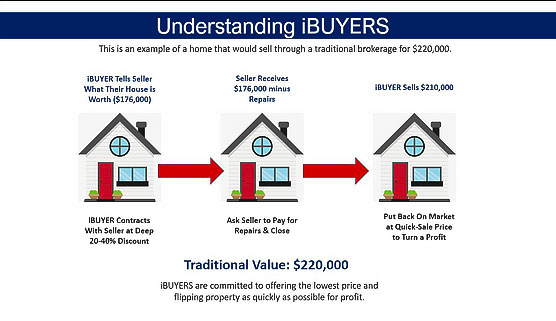 September 6, 2019
Advocate vs. iINVESTOR
By Darryl Davis, CSP
One of the mistakes that I'm seeing is a trend for some brokerages to create their own version of the iBUYER program. The reason why this is a mistake, in my opinion, it's actually empowering and giving credence to the other companies (like Zillow) that have been doing it longer and have much deeper pockets. When a broker decides they are going to add an iBUYER program to their repertoire as a company, they are saying to the consumer – "Hey – these programs have value. They are a service to homeowners."
When the truth is that could not be further from the truth.
These programs are costing homeowners – a lot – sometimes up to 20% or more on the value of their home. What brokers should be doing is clearly, professionally, and emphatically communicating the facts about how iBUYER programs really work so that consumers can make educated and wise decisions.
Because right now what they know is what is being blasted to them in social media ads and high-dollar media marketing.  Big claims about why these programs are so much easier and more convenient for sellers. "It's easier!" "No repairs necessary!" "Move quickly!" What they are NOT saying is that the reason why consumers don't have to spruce up their home, make a repair, and why it's such a quick sale, is basically because they are giving their house away. I think that's the term that we have use – "giving the house away" — because think about how many times homeowners sign listing agreements only under the promise that you'll make sure they aren't "giving the house away"? So that's a good counter tagline for agents to use in explaining the iBUYER model to homeowners.
Facts – are your friends. The ability to communicate those facts – in listing conversation, online, on social media, in your face-to-face conversations with your farm, everywhere is what will help in this age of disrupters. iBUYERS aren't going anywhere anytime soon – in fact, they are on the rise, especially in markets that meet certain favorable demographics for this kind of sale.
Instead of "joining them" – meaning putting iBUYER programs in place – EDUCATE the audiences in your market area. Let consumers know if they don't want to "give away their house" – they will want to learn the real facts about how to get their home sold for more money in less time – because they will have an ADVOCATE, not an INVESTOR helping them every step of the way.
We've got some tools that can help. Like this graphic of the iBUYER sales cycle.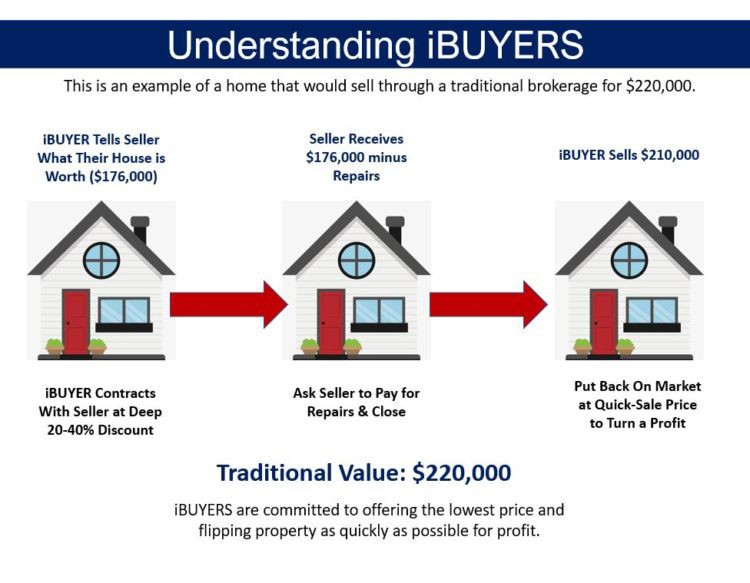 You might also want to watch our webinar on demand and Power Agents, you can download a customizeable version of the graphic above, plus the entire slide deck to use on your listing presentations in the Listing Appointment tab. 
Watch it. Share it. And feel free to use the information you learn to help home sellers in your area have the best possible information to protect their interests! 
Want to see where Darryl is doing the iBUYER workshop next? Click here!
Not yet a Power Agent®? Did you know that for less than a dollar a day, you can have access to hundreds of marketing, prospecting, and objection handling tools – live weekly coaching, podcasts, webinars, and more?  In fact – we'll give you the first 30 days for just $5! Start your Power Agent® trial and have total access to every tool we have including letters, dialogues, training tips, webinars on demand, eBooks, and marketing tools.
If you're ready to have everything you need to handle whatever the market tosses your way — get started today!