November 19, 2018
Darryl's EZ Business Plan for REALTORS
PowerFACT:  Failing to plan is a little like planning to fail. Keep it simple, but make a PLAN.
I'm not trying to be a holiday party pooper – but if you're not already planning your new year business strategies, you're already falling behind your competition. Here's what I know:  when you create a focus, and a plan to keep that focus, you've got a better chance of surpassing your goals. And that CERTAINLY is a way to design a life worth smiling about, right? That's why I'm a big fan of the business plan. However, I'm not a fan of the 20-page, need-an-engineer-to-decipher-it-for-me version of a business plan. I'm all about simplicity. Why?   Because the less you complicate it, the more likely you are to USE it.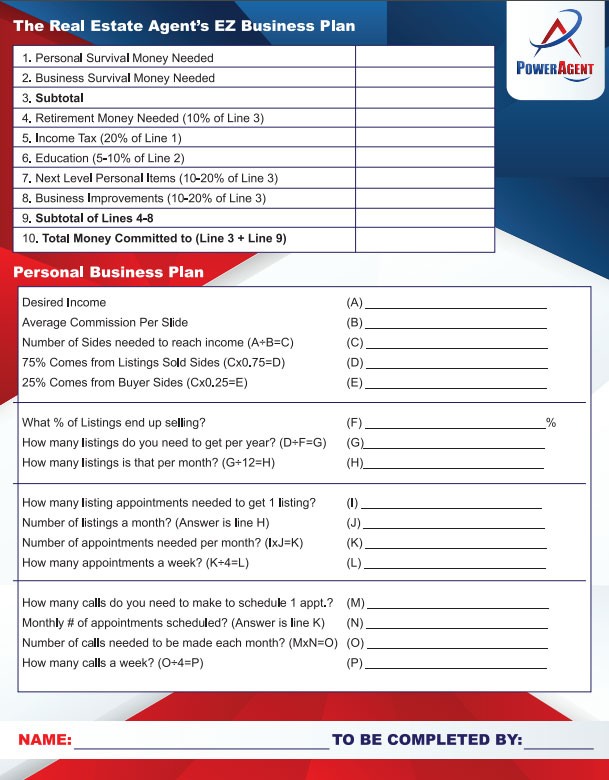 As we head into the new year, here's my gift to you. A super-simple, easy-to-implement business plan.
My goal for you in the next twelve months is to laugh more, stress less. To provide well for yourself and your family. To grow your business to the level that you want to be in this industry. I know we can help you do that.
Download the business plan from above.
Be sure to join us for our weekly coaching calls if you're a Power Agent®. They are every Monday at 11 am Eastern time. Find the login credentials here. 
Bookmark the blog so you can stay up to date on new ideas. We'll post a new one each week so that you've got a turn-to resource for listing and selling help.
Join us on Facebook, where we'll share new ideas, strategies, and even some fun to get you through your days, and hopefully, make you smile. (That's what it's all about!)
If you're not CURRENTLY a Power Agent, now's the time to try us for the next 30 days. You'll have all the tools, training, and coaching you need to handle objections and list like a pro. Your 30 day trial gives you total access to every tool we have including letters, dialogues, training tips, webinars on demand, eBooks, and marketing tools. You've got nothing to lose, and everything to gain. We have an amazing community of agents from all over North America who have come together to learn, to grow, and to excel in this business at extraordinarily high levels. Our members, on average, double their production from their previous year.
Need help or have questions? Contact our office today to learn more. We're here to make your lives easier, and your business more successful. That's part of what makes OUR lives worth SMILING about.
Now, don't stress. Keep it simple, and happy business planning!