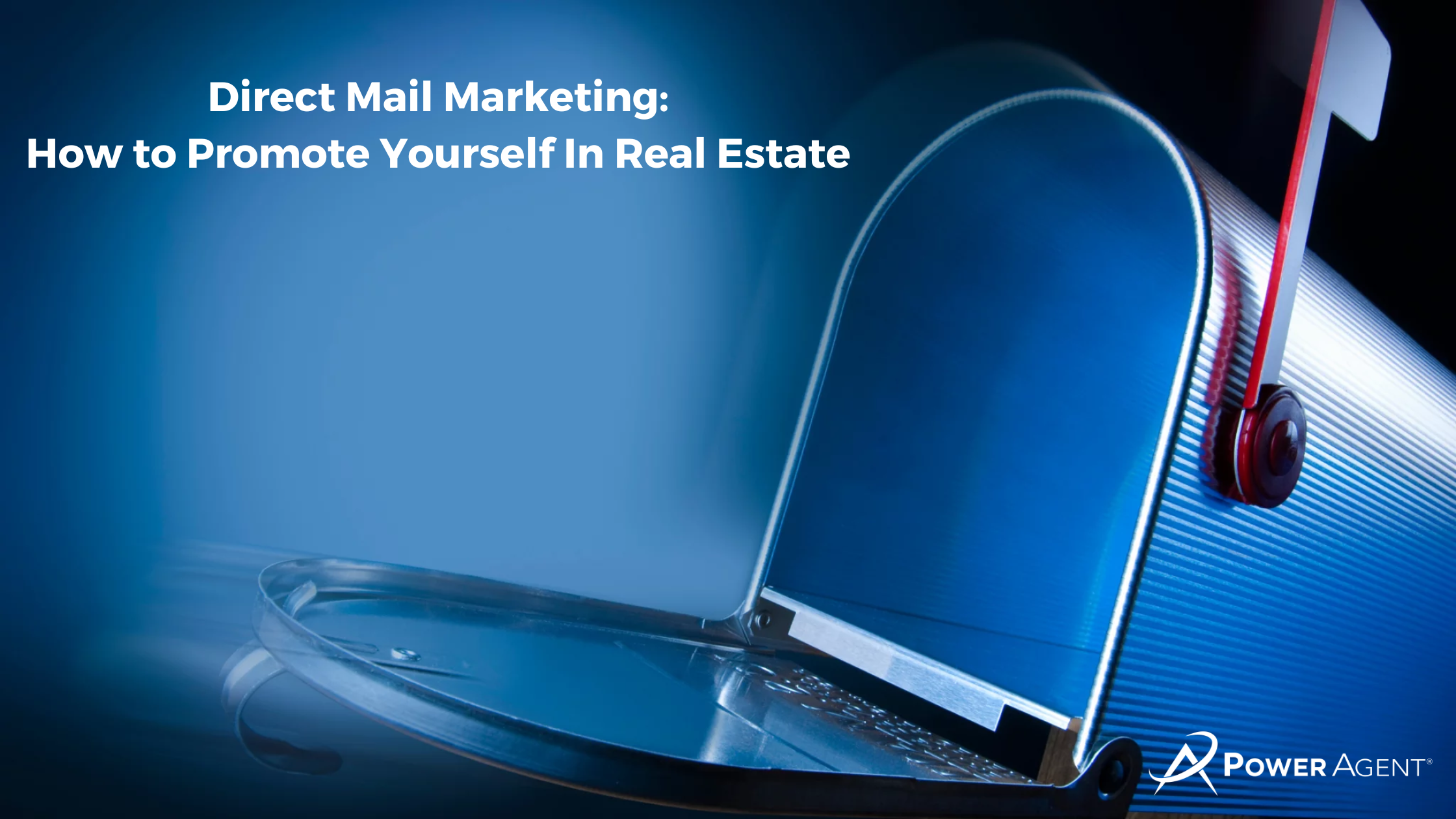 April 29, 2022
Direct Mail Marketing: How to Promote Yourself In Real Estate
What's old is new again, and direct mail marketing is one of the best ways to promote yourself to your farm area!
Think about the last time you received some junk mail.  Chances are, it was pretty easy to throw away, wasn't it? But what if that piece of mail was actually something useful – like a flyer announcing a sale at your favorite store? It would be a lot harder to toss in the trash then, wouldn't it? That's the power of direct mail marketing, and if you're a real estate agent, it can be a fantastic tool to use to promote yourself and your business. So how can you use recent home sales in your area to create effective direct mail marketing material?  
TIP: Check out this article by Meryl Randman, who dives into why direct mail marketing is still an essential component of marketing.  
Can I Make "Just Sold" Listings Part of My Mailings?
Many agents have already made "Just Listed" and "Just Sold" postcards part of their marketing strategy, though there is a misconception that to send out these "Just Sold" postcards, they must be your own sales. It's great if they are, but if you don't have any, it isn't illegal or unethical to send out a card simply pointing out that those homes have recently sold. They are a matter of public record, and as long as you don't make claims that it was your listing, you are simply showing your farm area that homes in their neighborhood are selling like crazy. 
Can I Promote My Listings That Are Under Contract If They Haven't Closed?
Yes! Instead of promoting the home as recently sold, you can also promote homes that went under contract quickly or had multiple offers. You can highlight that there are far more buyers than there are homes in your farm area, and if they know of anyone who is even thinking about selling, they should contact you. Emphasizing anything that promotes you, your skills, and why now is an excellent time to sell their home are reasons people will pick up the phone.   
Timing Is Everything
The biggest advantage of direct mail marketing is that you never know when homeowners will decide to list their homes. By sending out mail to their homes, you are getting your name, face, and what you do for a living into the minds of these homeowners before they reach that decision. Each mailing is a touch-point to stay top of mind, so when they think, "We should move, let's see how much our home is worth," you will be the one they think of first. That is always the ultimate goal with mailing campaigns, and why direct mail marketing works! 
TIP: Read our related article, "The "3-Touch-Point Marketing Plan" to Connect with Your Sphere and Farm"  
The Secret to Direct Mail Marketing Success
Success with using direct mail marketing comes from consistency. It isn't a "one and done" or something you do once in a while. One of the biggest mistakes real estate agents make is that when they get a new listing or sell a home, they send out the "Just Listed" and "Just sold" cards to only that neighborhood. Consistency is more than just frequency; it's also about continuing to send mailings to the same mailing list.    
There is a psychological trick to direct mail as self-promotion: people won't act when they see your first card. Or the second. Probably not even your third. Subconsciously, they think, "Is this a good company? Can I trust them? Do they have good ethics? I'll wait to see if I hear from them again." When they get another postcard from you (and subconsciously, they are watching for it), you gain a little more credibility because they can see that you aren't a fly-by agent. Every mailing and postcard they get from you (when done consistently) validates your presence in the real estate market. You are a permanent fixture in that neighborhood. You can be trusted. 
The one-time, or inconsistent mailings, end up being a waste of money because they are NOT validating you as a presence in the neighborhood, so you are better off not doing them.  
TIP: This article by Entrepreneur outlines some of the "10 Direct Mail Marketing Mistakes to Avoid." 
How Consistent Should I Be?
The Direct Mail Association has done studies on how people receive direct mail. They say that it takes about three touches before homeowners can connect your name to your face and at least seven before you are solidified in their minds as someone worth calling when they decide to list. It takes a whopping 27 touches before you become a brand name in people's minds.   
When you only send out mailings once in a while, people will struggle to remember who you are. With this being said, you can send out 10,000 postcards to 10,000 people, but it won't do you any good. You are better off sending 10 postcards to 100 people.   
Making Use of the Power Program Print Portal
In order to be successful with your branding efforts, it's important to be consistent with your marketing across all channels. Direct mail can be a powerful tool when used correctly, and it can help you build a relationship with your customers that will keep them coming back for more. Ready to get started? Power Agents®, check out our print portal today and see how we can help you create beautiful, effective direct mail campaigns that drive results. 
What's Next?
Are you ready to start taking things to the Next Level®? If you don't already know what you need to do to get to your next level, we can help!  
Power Agents®, for more strategies for targeting your chosen niche, check out the amazing content in the Farming, Self-Promotion, and Mailings tab in the Classroom.  Whether you need a boost of confidence or empowering dialogues, Darryl will help you get the skills you need to be the go-to agent for the buyers and sellers in your farm area. 
---

Get the latest real estate training tips delivered to your inbox!
Not yet a Power Agent®? Did you know that for LESS than value menu meal, you can have access to hundreds of marketing, prospecting, and objection handling tools – live weekly coaching, podcasts, webinars, and more?  
Start your Power Agent®  trial and have total access to every tool we have including letters, dialogues, training tips, webinars on-demand, eGuides, and marketing tools for just $5. 
Contact our team today to sign up or get the answers you need: (800) 395-3905! 
About Darryl Davis, CSP, Speaker, Coach, Author 
Darryl has been spoken to, trained, and coached more than 100,000 real estate professionals around the globe. He is a bestselling author for McGraw-Hill Publishing, and his book, How to Become a Power Agent in Real Estate tops Amazon's charts for the most sold book to real estate agents. His real estate training system The Power Program® has proven to help agents double their production over their previous year. Darryl is currently hosting weekly free webinars to help agents navigate the new real estate reality. Learn more at www.DarrylSpeaks.com/Online-Training.