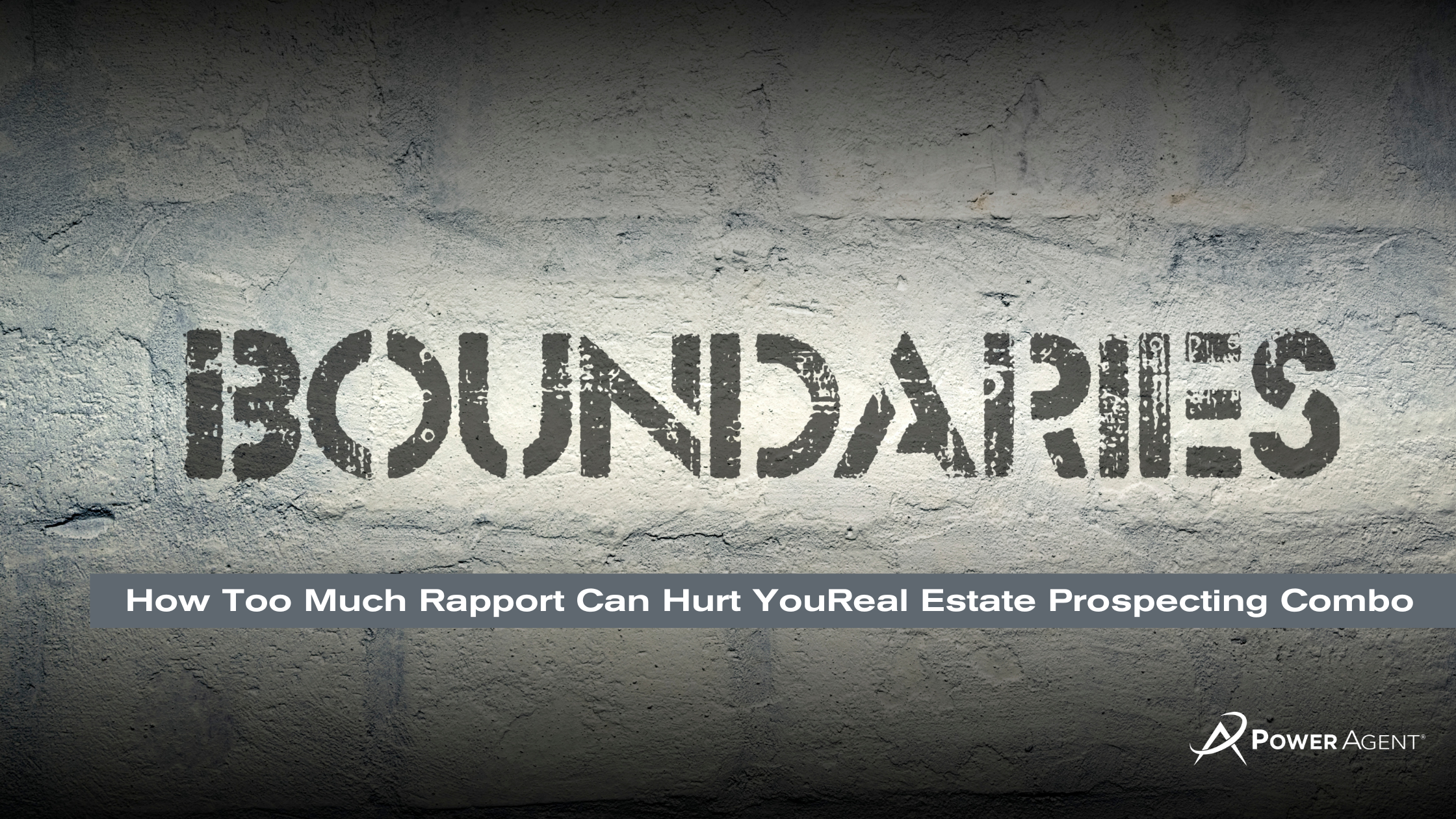 May 14, 2023
Establishing Boundaries: How Too Much Rapport Can Hurt You
Build rapport, then build MORE rapport, but not too much! There is a fine line in building client relationships where it goes from helpful to hurtful. 
Have you ever spent time building rapport with a potential client, finally becoming friends with them, only to have them hire another real estate agent? Ouch! That sense of betrayal can really sting, so what went wrong? 
Should you have gotten a pre-listing agreement signed? Probably, but that isn't really where the biggest problem is. 
You Are Not Forever Friends
When you meet a potential client, you need to build rapport in order to develop trust in you and your skills. You need to get that friendship going, but this is where agents err. Once that friendship and rapport are built, you must create emotional boundaries and shift that relationship back towards business and focus. 
Some agents become friends with their leads or other potential customers, and they think, "Because we are friends, they are going to list with me." Not only is this mistaken thinking, but it's also actually reverse thinking. If your potential clients become too familiar with you, they will no longer see you as a capable real estate professional and more as a nice person who happens to do real estate. 
Yes, you need to build up your friendship with potential buyers and sellers until you have established the relationship, but then it's time to start shifting the focus back to real estate so they don't forget that you are a professional and an amazing resource for them. 
Related reading: MyRealPage – How REALTORS® Can Set Boundaries With Real Estate Clients 
Tips for Finding Your Groove with Potential Clients 
So, now that you have developed a healthy relationship, how can you find your groove and settle into a friendly but professional relationship? Here are some tips to help you navigate this process: 
 

Set boundaries

. For both your sake and the sake of your clients, it's crucial to establish clear personal boundaries between your personal and professional relationships. Make it clear what topics are appropriate for conversations and what should be kept off-limits.

 

Keep communication skills alive

: Keep the lines of communication open and make a conscious effort to

touch base regularly

, provide updates and feedback, and respond to questions in a timely manner.

 

Maintain professionalism:

Avoid engaging in gossip or bringing up potentially sensitive topics, sharing confidential information, or compromising your ethical standards.

 

Avoid conflicts of interest:

Be aware of potential conflicts of interest and avoid any situations that could compromise your business relationship or your friendship.

 
I have had this question come up frequently throughout my coaching career: Why do I keep losing my friends' business to other agents? It's because you stopped making your relationship about business and made it about being friends. 
Why Maintaining Boundaries Is Important 
Maintaining professional boundaries is critical for real estate agents for several reasons. Objectivity is a vital part of offering sound advice and making informed decisions. If real estate agents become overly familiar with clients, maintaining objectivity can be hard, leading to bad decisions. Also, your clients might take an unfortunate turn of events personally, or they might not choose what they really want to do because they don't want to offend you. 
Real estate agents also have ethical responsibilities to safeguard clients' interests, such as upholding confidentiality and avoiding conflicts of interest. By maintaining professional boundaries, real estate agents can ensure compliance with ethical standards and avoid jeopardizing clients' interests.  
Real estate agents can be held liable for mistakes or errors that occur during a transaction. By maintaining professional boundaries, real estate agents can avoid the possibility of confusion or misunderstandings arising from blurring personal and professional relationships, reducing the risk of legal issues.  
Maintaining your integrity is crucial for a real estate agent's reputation. Real estate agents are professionals, and their reputation is vital to their success. By maintaining professional boundaries, real estate agents can establish themselves as trustworthy advisors and avoid damaging their reputations by overstepping those boundaries or engaging in unprofessional conduct. 
Related reading: Integrity is About Conforming Your Reality Around Your Words 
Learn more about the POWER AGENT® PROGRAM
Join Darryl's Inner Circle Facebook Group. 

We are always posting fresh ideas, training tools, strategies, and templates, along with hosting important, timely discussions with real estate professionals across the globe who are committed to their Next Level® of success and life. 

 

Subscribe to our newsletter.

 Click the button below to fill out a simple form and tap into new resources, free downloads, premium content, and exciting promotions.

 

Reach out and talk to us.

 Not sure if this coaching program and community are right for you? Click that blue chat button on the bottom right of the screen, or call us at the number in the header. We are here to help! 
---

Get the latest real estate training tips delivered to your inbox!
POWER AGENTS® you'll find LOTS of just-the-right-amount-of-rapport-building tools in your classroom, such as SMILE Stops for every season!
Not yet a POWER AGENT®? Did you know that for LESS than the cost of a Starbucks coffee, you can have access to hundreds of marketing, prospecting, and objection-handling tools – live weekly coaching, podcasts, webinars, and more?   
Start your POWER AGENT®  trial and have total access to every tool we have , including letters, dialogues, training tips, webinars on demand, e-Guides, and marketing tools, for just $5.     
Contact our team today to sign up or get the answers you need: 631-929-5555!