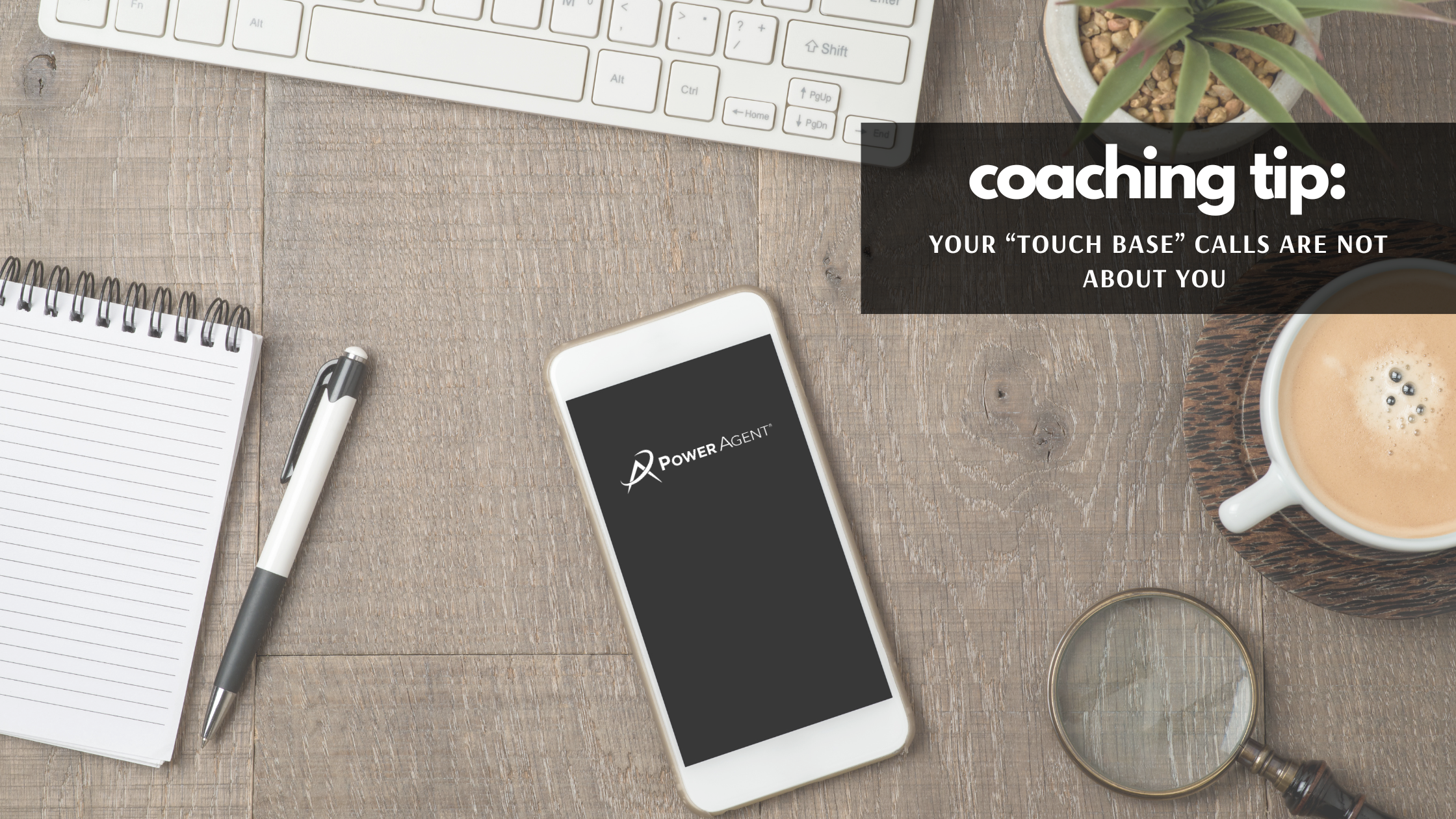 June 12, 2023
Real Estate Coaching Tip: Your "Touch Base" Calls Are Not About You 
An essential tool for prospecting is calling past clients to reconnect, but the attitude you go into the call with can make or break your success.
Many real estate agents ask themselves if real estate coaching is worth it, and I say yes (even if I'm a little biased!). The benefits of having someone with experience looking at the issues that you are having can provide clarity, just as one of our Power Agents® experienced recently when he came to me with a problem. He had been doing many of the things I had suggested, but still wasn't having a lot of success, so to his credit, he asked, "What am I doing wrong?"
Breaking Down the Issue
This Power Agent® told me that he was struggling most with calling, so we decided to break it down to see where the problem was. His frustration during these calls is that his past clients would constantly tell him they were too busy, or just to mail the thing that he had for them — nobody seemed to want him to stop by. Talk about frustrating!  
One thing that I love doing as a real estate trainer is roleplaying with agents to see exactly what they are saying and how they are saying it, so this Power Agent®, and I did just that.  
Identifying the Problem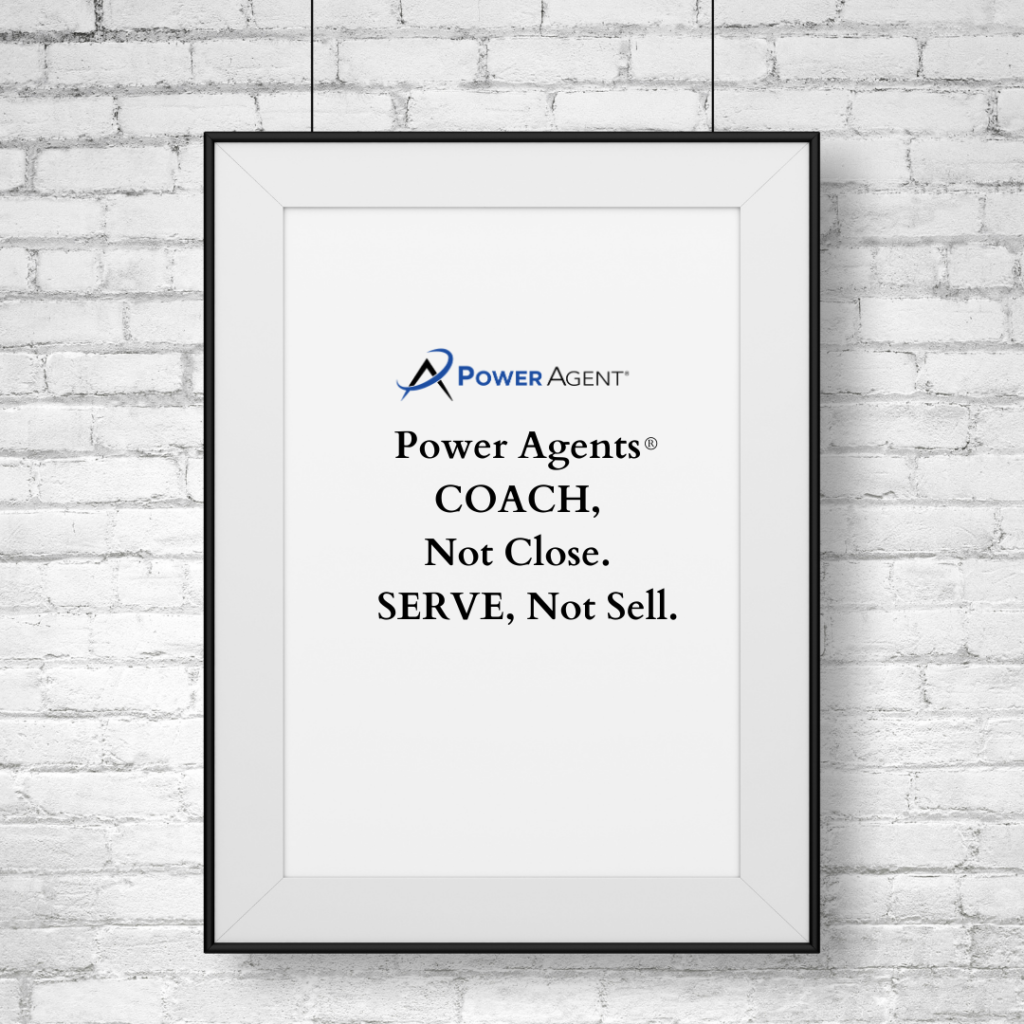 As we went through his spiel that he would give on the phone, one thing became clear: the tone and wording gave me the distinct feeling that he wasn't actually looking to give me something, despite what his words were saying, but get something from the homeowner. Let's look at the dialogue: 
"I was just checking up on you, I wanted to see how everything was going I was going through my database and your name came up and just decided to give you a call to see how your week is how your day is going today. How are the kids? Any new renovations or additions in the house? I wanted to drop you a visit, since I have something for you. When would be the best time for me to stop by? I have something new that I'm offering my past clients and basically it's just a little Comparable Market Analysis about your home, telling you what the market value is right now, and what's going on in your neighborhood." 
Analyzing the Dialogue
The words sound alright, but when we look at it more closely, we see that he is inadvertently making this call about himself, not the homeowner — He wanted them to give him an appointment. He was saying, "I want to give you something." And they would say, "No thanks, I don't want it", or "Just put it in the mail", but he would push back, saying, "Yes, but it's this Comparative Market Analysis," and trying to talk them into letting him come over. That tends to strike the wrong chord with the person on the other side of the phone. 
The Iceberg Analogy
Most of us know that the iceberg that we see above the water's surface is only the tip of the iceberg, making up about 10% of the iceberg's whole mass, 90% of it being underwater and out of our sight. Communication is like that iceberg – 10% being the words we use, and the other 90% being the intentionality beneath your words.  
When we pick up the phone with the intention of getting rather than giving, we will not get the response we are hoping for, because these homeowners can instinctively sense when you aren't looking to give, but want to get something from them.  
Being Intentional
When calling past clients, your intention should just be to say hi, and check-in with them and how their lives are going. It's just about reconnecting. When you are calling FSBOs or Expireds, your intention is to build trust and create a relationship to see how you can help them. 
When you are mailing out a value piece, your intention is to inform, educate, and share the wonderful things of real estate and what's happening in the market. 
So, always ask yourself, "What is my real intention here?" It should never be about selling, it should be about serving.  
How Do We Shift Our Thinking? 
When you are calling someone, let's say a friend of yours, what does that look like? Are you thinking about them as just the next number on the list, or are you thinking about them as their own, unique person? You are thinking about them as the human being that is your friend, right? What are the relationships like with your past clients? Have you built up a rapport? Have you created a friendly relationship?  
Let's say we are talking about Mary and John, and they have a little two-year-old boy. How long have they been in that house? When you think about how that child has spent the majority of his life in that house, do you wonder what memories he will have about his first house one day? Thinking about these sorts of things humanizes them rather than looking at their number on the list, so when you call, you can use dialogue like this one: 
"Hi John, it's Darryl Davis, how are you doing? Great! I was just going through my client records and your name popped out, and I was just wondering how little Johnny Junior was doing? One of the things I love most about real estate is how these kids get to have a home, and now he's a couple years older, and I thought about him making memories in his first house."  
You can continue the conversation from there, always making the conversation about the homeowner, asking questions, and building rapport. If you do get an opening to discuss real estate (and you probably will because most people have a sense of reciprocation and will eventually ask you how things are going in real estate) and then you can go into a discussion about what you have for them.  
If you don't get ahold of them on the phone, you don't need to ask permission to drop in; you can stop by and knock on their door for a SMILE Stop™, and give their gift or item of value.  
"Hey, John, next time I'm coming through your area, I may stop by because I have something to give you." No asking permission, no setting a date and time, because the homeowner will start to pick up on your intentionality and think, "This is starting to sound like an appointment because they want to sell me something, and I'm not interested." 
Now, when you are talking to John or Mary, and you get the feeling that he thinks it's a little weird that you remembered his child's name because you don't really know them at all, and he isn't very receptive to you, then don't even offer to go over to drop something off, just end the call.  
This is called "Human Being" not "Human Doing", so when you are doing your calls, you have to embody commitment and serving in order to build relationships. This was a big Ah-Ha moment for our Power Agent®, who realized that he had been going into every conversation automatically thinking, "What can I do to get an appointment, lead, or referral out of this person?" His clients were subconsciously picking up on that, and that's why he was being ineffective.  
Be Kind To Yourself
One of the biggest pieces of advice I give as a real estate mentor is this: be kind to yourself. I have to commend the above Power Agent® who recognized that they weren't doing something right, and took the time to ask for help.  They didn't blame the homeowners, they didn't blame the dialogues, they didn't just throw up their hands and say "I can't figure it out" or "I'm just not good at this," I, as a real estate coach, appreciate and acknowledge this Power Agent® for having the courage to ask, and be willing to make the necessary adjustments in order to have success in their business.  
What's Next?
Are you ready to start taking things to the Next Level®? If you don't already know what you need to do to get to your next level, we can help!  
Power Agents®, for all the tools, resources, and strategies for ensuring you are prepared from contract to closing, head to the Prospecting tab in the Classroom.  Whether you need a boost of confidence, or empowering dialogues, we are here to help you get the skills you need to be the go-to agent for the buyers and sellers in your farm area. 
---

Get the latest real estate training tips delivered to your inbox!
Not yet a Power Agent®? We invite you to try us on for size. This program is a one-stop shop for real estate agent success! You'll get competitive, cost-effective real estate coaching, training, and customizable marketing tools that have proven to help thousands of agents dramatically increase listing inventory, build a stronger business foundation, create customers for life, feel more authentic and confident, have less stress, and design careers and lives worth smiling about. 
As a bonus, get our FREE copy of our incredibly valuable: "The 12 Best Strategies to Generate Listing Leads in the Next 30 Days!"    
Start your Power Agent®  membership and gain total access to every tool we have , including letters, dialogues, training tips, webinars on demand, eGuides, and marketing tools!
Contact our team today to sign up or get the answers you need:(631)929-5555!