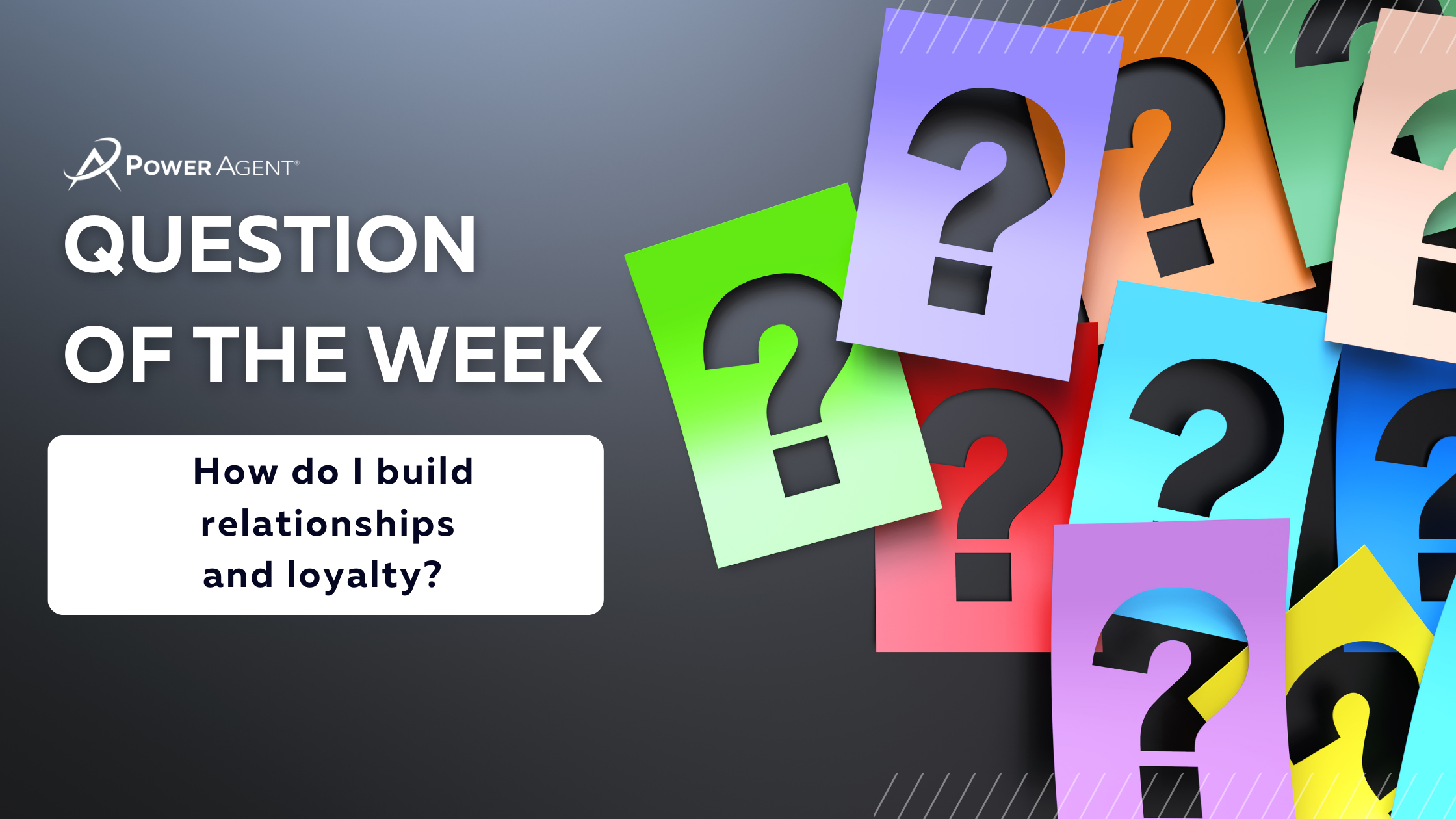 April 19, 2023
How do I build relationships and loyalty?  
In today's world, particularly in our human connection-centric industry, agents need to build trust, cultivate loyalty, and stay top of mind to stay ahead.
We get asked a lot from agents on our coaching calls how they can stand out from their competition and create stronger referral-generating relationships.
Here are a few thoughts for leaders:
Suggest a new focus.
As leaders, we all need to be telling agents to spend less time behind "screens" and more time getting belly-to-belly and face-to-face with human beings.  That whole "secret agent" thing is not going to work in today's market, nor is waiting passively for business to come to them. 
What's working?
Door knocking, community events, previewing homes, open houses of all kinds, garage sales, parking lot parties, school functions, board events, calling their sphere to check in – even wearing their name badges and branding wherever they go. Quick stops by past client's homes with a small gift and a note of gratitude (we call them SMILE Stops™) also work wonders to help agents stand out from their competition in memorable ways.  
How do agents create loyalty and generate new referral leads? Make it a daily to-do item to get away from their desks and out among people. 
By the Numbers
Here are some stats to back up why connectivity is so important: 
According to the National Association of Realtors (NAR),

88% of buyers would use their agent again or recommend their agent

to others.

 
The same NAR report also found that

42% of buyers found their agent through a referral

from a friend, family member, or neighbor.

 
NAR's 2020 Profile of Home Buyers and Sellers showed that

74% of buyers and 69% of sellers only interviewed one agent

before hiring them.

 
A study by Contactually found that agents who consistently followed up with their leads

generated 4x more business

than those who didn't.

 
A survey by ReferralExchange showed that the

average real estate agent received 17% of their business from past clients and 14% from referrals from past clients.

 
These stats show that building and maintaining relationships with past clients and spheres of influence is essential for long-term and even short-term success in real estate. By doing so, agents can generate more business through referrals, increase client loyalty, and stand out in a crowded market.  
Got a burning question you'd like to see answered? Click here and ask away! 
Interested in a referral relationship workshop for your organization? No problem! Book Darryl to motivate your team, move them to take the kind of actions they need to build powerful referral-worthy relationships, and motivate them to make prospecting a serious focus! Email us at GaleC@DarrylSpeaks.com to learn more.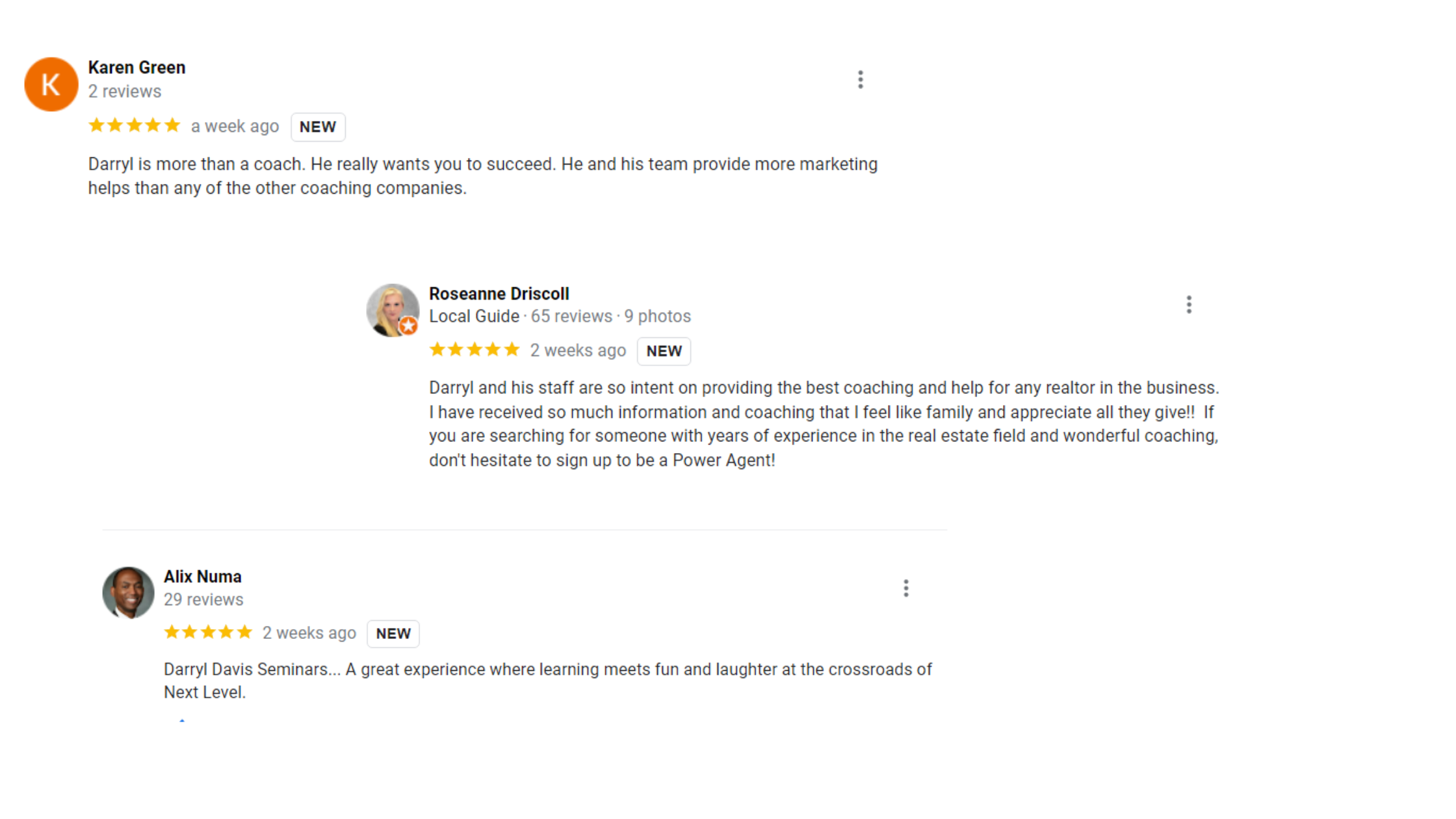 Darryl Davis is an award-winning international speaker, real estate and business coach, and best-selling author of three books, all published by McGraw Hill Publishers.
For more than 35 years, Darryl has spoken to and trained more than 100,000 sales professionals around the globe to more than double their production year after year. His book, How to Become a Power Agent in Real Estate, tops Amazon's charts for one of the most sold books to real estate agents.
He was awarded the Certified Speaking Professional (CSP) designation by the National Speaker's Association which is given to less than 2% of all speakers worldwide.
Whether from a stage or Zooming into a virtual room, Darryl's extraordinary humor, relatability, and natural gift for teaching real-world, results-producing skills and mindsets to audiences have made him a client favorite throughout his career.
Audiences will laugh, learn, and ultimately walk away better prepared for a changing world, with the tools, skills, and training they need to build their businesses with more ease and less stress and to design lives and careers worth smiling about.