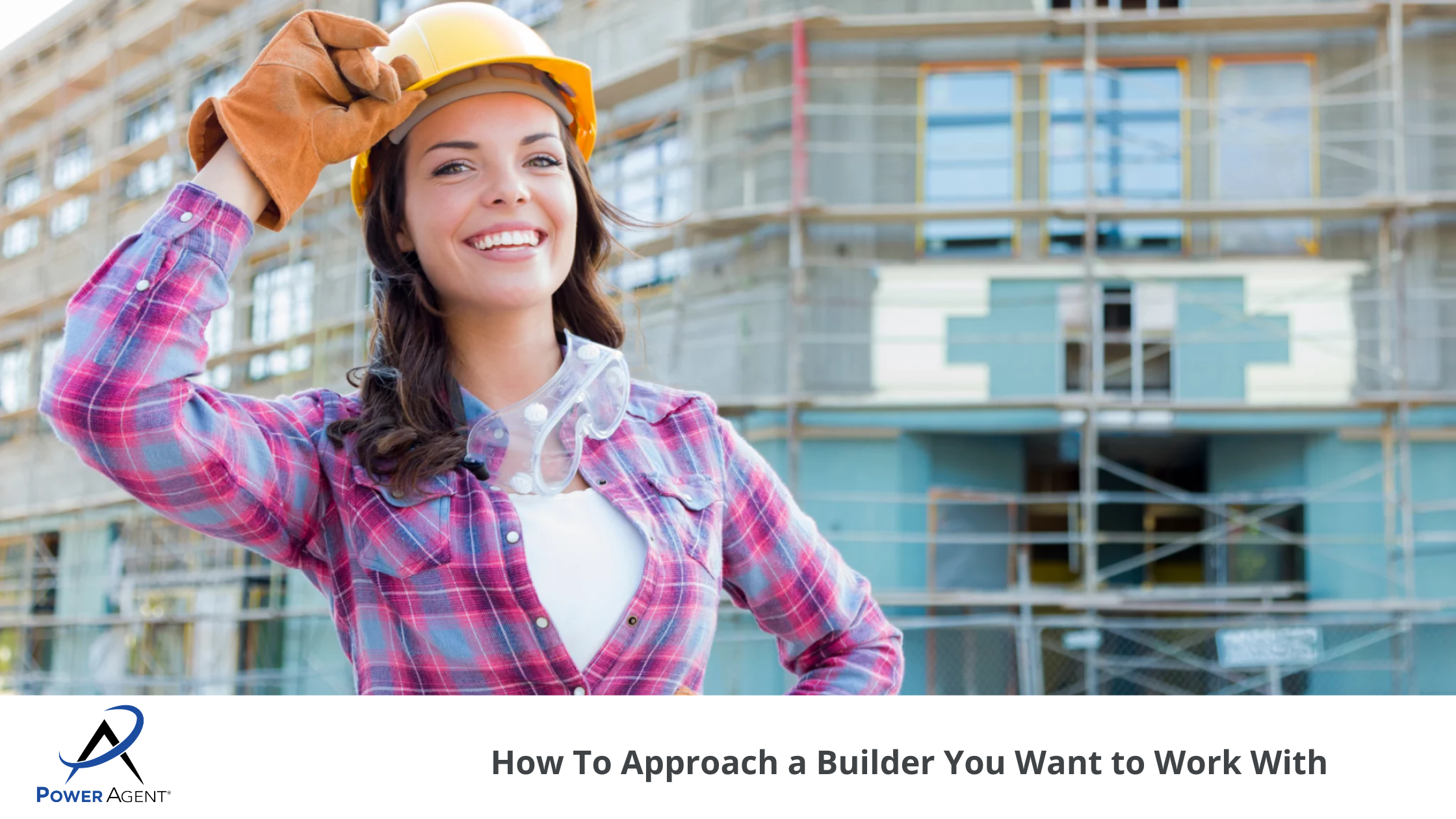 June 26, 2021
How To Approach a Builder You Want to Work With
Little conversations can lead to BIG opportunities.
By Real Estate Coach and Speaker, Darryl Davis, CSP 
Everyone you talk to is a potential client, and one of my Power Agents® recently discovered through casual conversation just how true that statement is! She had struck up a conversation with another tenant that lived in her building, and much to her surprise, he was a builder just getting started on a condo construction project.  
She jumped at the unexpected opportunity and asked if they had chosen a real estate agent to work with, and he told her that they were going to sell the units on their own because that's what some other builders had done, but if she had buyers, she was welcome to bring them. She wanted advice in how to move forward to become the exclusive agent for these builders.  
The Artist Analogy
Any artist, whether they are a painter, singer, dancer etc., needs to work at their craft. It takes time to get to the level of master where you are considered truly great. You look at the greatest painters in the world, and you know that their very first painting wasn't very good. But, they learned. They learned about colors and how to mix them, and brush stroke technique, and then they started learning all the little nuances that you can't learn from a book, or a painting class like how to create different effects with different styles of brushes or wrist movements.  
Real Estate is an art form — you can learn a lot with classes and training and reading, but you learn the MOST with the actual doing. Not just doing it once, but over and over again.  
TIP: Read "Why Practice Makes Perfect" by Center for Motivation and Change for additional information on why we need to do a new task over and over. 
The Dialogue
As this Power Agent® and I continued talking, she mentioned that she had also tried using the metaphors and analogies, and wanted to find more because they went over well, though it wasn't quite enough. I told her that first, keep great analogies at the front of your mind all the time, and second, that he already was comfortable with the idea of working with agents who bring buyers, but she could respond with this conversation: 
YOU: "Let me ask you something, John. For these properties that are being built, do you have someone who will be managing those for you?"  

JOHN: "Yes, I have a general contractor." 

YOU: "Ah, alright. Now, correct me if I'm wrong here, John, but what is the general contractor? Isn't that the person who represents all the other vendors, like the electrician, the plumber, the concrete guy? He's the go-to person that manages all those people?" 

JOHN: "Yes, that's a general contractor." 

YOU: "Ah! Well, you need a general contractor for selling your condos, meaning, that will all those agents that would show your properties, they will be like the plumber, the electrician, etc. but you need one that has your best interests in mind, because the plumber and the electrician…they have their own best interests in mind, and that's to get the job done as quickly as possible to increase their profit margin. You need an agent who is going to be there representing YOUR best interests, not representing the buyer's." 
Analogies Are Your Friend
One of the best ways to use analogies is to take something from the other person's life, such as their career, or what they do for a living, or a hobby, etc. In this blog called The Magic of Metaphors and Analogies, I go into more details on how to craft these.  
Things To Keep In Mind When Working With A Builder
The best time to try and team up with a builder is very early in the process and get in the door before all the other agents in the area have a chance. In this related blog article, we dive into "Finding a Real Estate Niche: Marketing Yourself To Builders" 
Know the Difference
A builder isn't like a FSBO. For a builder, it's about the money, not the emotional attachments. With a builder, it's perfectly acceptable to call him up and say: 
"Hey, John. I was thinking after we spoke the other day, and I did some research and I put some things together and came up with a plan. I think I can actually do better for you in selling your property than the way you were thinking about approaching it. Can we set up a time so I can go over my presentation with you? I think you will be impressed."  
You will want to have this presentation ready to go before you call, so that you can be ready to meet immediately.  
TIP: Here's an article on creating effective partnerships with builders by Real Estate Express 
There Is No Failure Here
Even if things don't go the way you hope, don't see it as a failure. Just as artists have to keep painting to hone their craft, so do real estate agents. You are pursuing those conversations, and you are working on using analogies and working to show these potential clients how you can help them. You are painting real estate a little more every day and trying new things to get better at what you do, and THAT is a success — it's YOUR masterpiece!  
It's All About Communication
Real estate is 80% learning how to use language to communicate. We use words to plant seeds, to negotiate offers, to do the listing appointment, to prospect, to talk on the phone to a vendor. Our words are our paintbrush, and the more we use it, the better we become. 
What's Next?
Are you ready to start taking things to the Next Level®? If you don't already know what you need to do to get to your next level, we can help! 
Power Agents®, for more incredible strategies and empowering tips for preparing for a builder presentation, check out the Listing Appointment tab in the Classroom. Whether you need a boost of confidence or empowering strategies, Darryl will help you get the skills you need to be the go-to agent for the builders in your farm area. 
Not yet a Power Agent®? Did you know that for LESS than the cost of a Starbucks coffee, you can have access to hundreds of marketing, prospecting, and objection handling tools – live weekly coaching, podcasts, webinars, and more?  Read "8 Great Tools for Creating Real Estate Success Stories"  to learn more about how coaching can help you become more successful. 
Start your Power Agent®  trial and have total access to every tool we have including letters, dialogues, training tips, webinars on demand, eGuides, and marketing tools for just $5. 
Contact our team today to sign up or get the answers you need: (800) 395-3905!