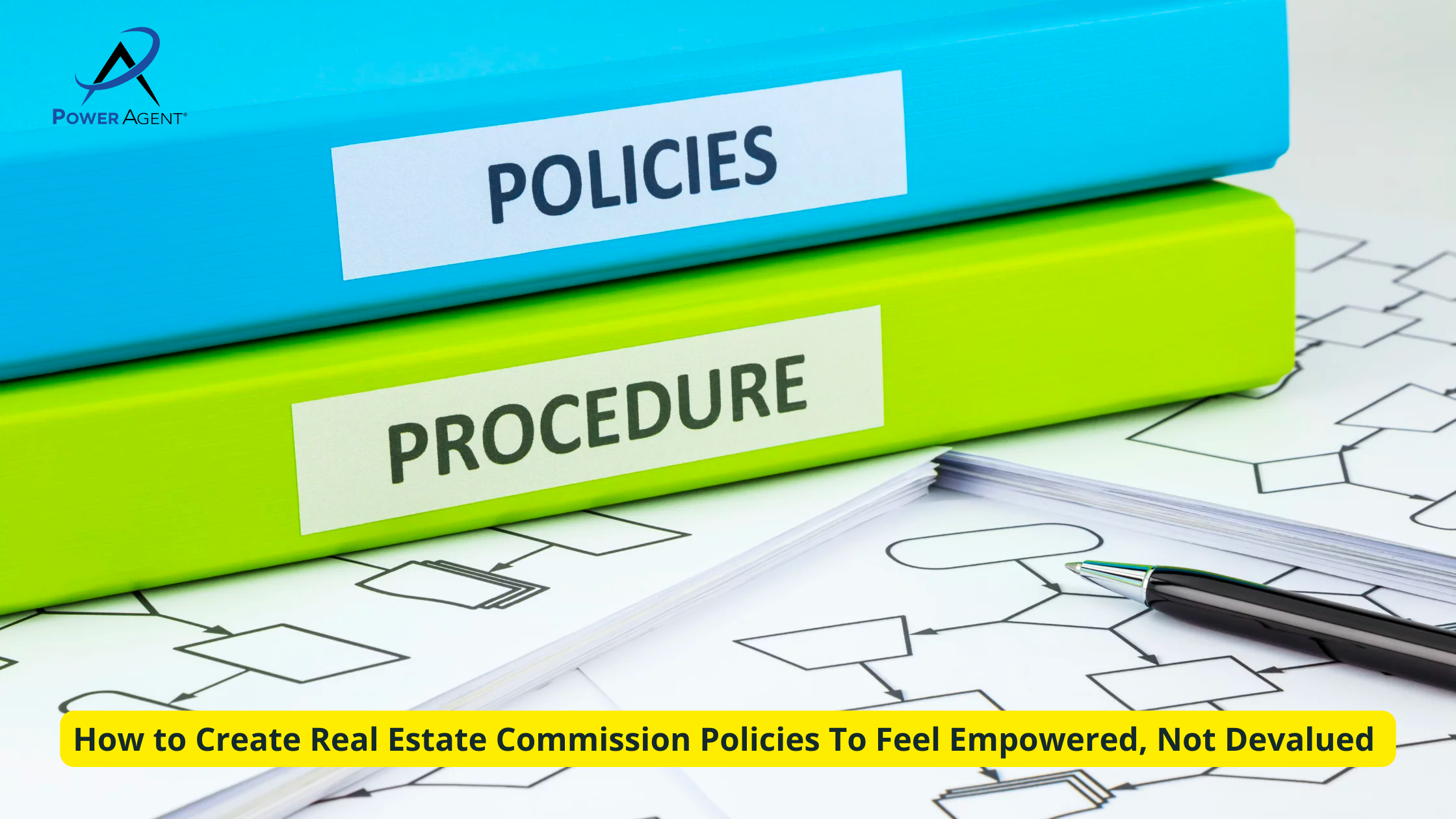 January 20, 2023
How to Create Real Estate Commission Policies To Feel Empowered, Not Devalued 
As real estate markets continue to shift, your policies and practices need to shift to ensure you feel valued and can communicate that value.

Let me set the scene for you: the markets are shifting, and some places are experiencing a much greater shift than others. The high-interest rates on mortgages and the rising costs of inflation are affecting a lot of homeowners in a lot of ways, and they are looking for ways to cut costs wherever they can, and that includes your commission, which can leave you feeling unappreciated and undervalued.  
The Strain that Homeowners Are Feeling
The truth is homeowners are worried, and most are growing increasingly hesitant to buy or sell. There have been a lot of buyers having second thoughts and trying to pull out of their contracts, lawsuits against the real estate industry. We could even go so far as to say that in many places throughout the U.S.A., homeowners are experiencing the 5 stages of grief — denial, anger, bargaining, depression, and acceptance.  
Showing Empathy
We are going to see a large amount of two different types of mindsets of buyers and sellers in the next year or so — resentment and denial. Now, that's not to say that every seller will experience one (or both) of these, but as human beings who care about your clients, understanding what your sellers may be experiencing is the best way to help them move past it. 
Buyers may feel resentful that they missed out on the historically low-interest rate, and sellers are going to feel resentment at how they could have sold their home for more if they had chosen to sell last year. Resentment, fear, and negativity are on the rise, and buyers that paid at the top of the market are upset with the shift because they feel they overpaid when they look at home prices last year to what their home is worth this year. Sellers are also trying to recoup lost money when their home didn't sell for what they think it should have. 
Then there are homeowners who are in denial, who still believe their home is worth the same as it was last year, though it isn't. Some may insist during your listing appointments (despite your recommendation) that they list high. You may have already spoken with some sellers who don't want to lower their price, despite the lack of showings or feedback from other agents. They still believe the market is a hot seller's market and they can get top dollar, despite what your experience and expertise say.  
Related reading: Mindset Makeovers: 3 Things to Focus on In a Shifting Real Estate Market 
How to Reduce Uncertainty and Increase Normalcy
It's an emotional time for consumers right now but be reassured because once the normalcy of this market shift sets in, it will become easier to offer our expertise and coach homeowners through the buying and selling process. 
Related reading: Solstice – 5 Steps to Showing Empathy to Clients 
As real estate professionals intent on serving and coaching our sellers, we must be sensitive to buyers and sellers experiencing this roller coaster of emotions. One way that you can help alleviate their worries is to prepare them for the year ahead so you can answer their questions, address their objections, and make a plan together. The biggest speedbump for homeowners is the feeling of uncertainty, so when you can coach them through that to create a better sense of what they can expect, their worries cease. 
Related POWER Program® eGuide: Darryl Davis's 2023 Predictable Predictions 
The housing market is always changing, and even though there is always a period of adjustment, homeowners and real estate agents always acclimate. It becomes the new normal. Once that happens, homeowners return to the usual process of deciding when to sell and how much they want to sell for, and buyers can return to the excitement of purchasing their new dream home.  
How to Incentivise Homeowners During the Acclimation Process
We have recently had a few of our POWER AGENTS® mention how many homeowners have asked them to discount their commission. It might be easy to say, "I'm going to discount my commissions to create an incentive for people to buy and sell." This can become problematic because how do you end this incentive? How do you handle a client's referral who wants the same rate as the one who referred them, but you already brought the incentive to an end? More importantly, how do you avoid feeling devalued by people who don't see their money's worth in hiring you?
Create Policies on How To Handle Your Commission Structure
When you sit down ahead of time and decide how you want to handle your commission discounts, it becomes much easier to address it when different (and potentially awkward) situations arise. You can decide ahead of time what kind of discounts you would give your past clients or referrals, family and friends, military families, etc.. You can then avoid becoming flustered when someone asks you out of the blue, and you can feel good about your answer because you are being consistent in your messaging and being fair.  
With the market shift and the high-interest rates, maybe you create a policy that you will hold only for the next six months. Regardless of what kind of policies you create, the start of the year is always a great time to create or evaluate the policies that you have.  
Calling All Real Estate Agents!
Are you ready to start taking things to the Next Level®? We have the tips, training, and tools you need to find Real Estate Agent success, no matter where you are in your business!  
 POWER AGENTS®, you can check out the Time and Money Management tab in the Classroom for tips, tricks, and tools to help you with managing the four pillars of your business and the mindset to make it happen! Whether you need inspiration, motivation, or validation, we have it!   
---

Get the latest real estate training tips delivered to your inbox!
Not yet a POWER AGENT®? Did you know that for LESS than the cost of a Starbucks coffee, you can access hundreds of marketing, prospecting, and objection-handling tools – live weekly coaching, podcasts, webinars, and more?      
Start your POWER AGENT®  trial and have total access to every tool we have , including letters, dialogues, training tips, webinars on demand, e-Guides, and marketing tools, for just $5.     
Contact our team today to sign up or get the answers you need: 631-929-5555!