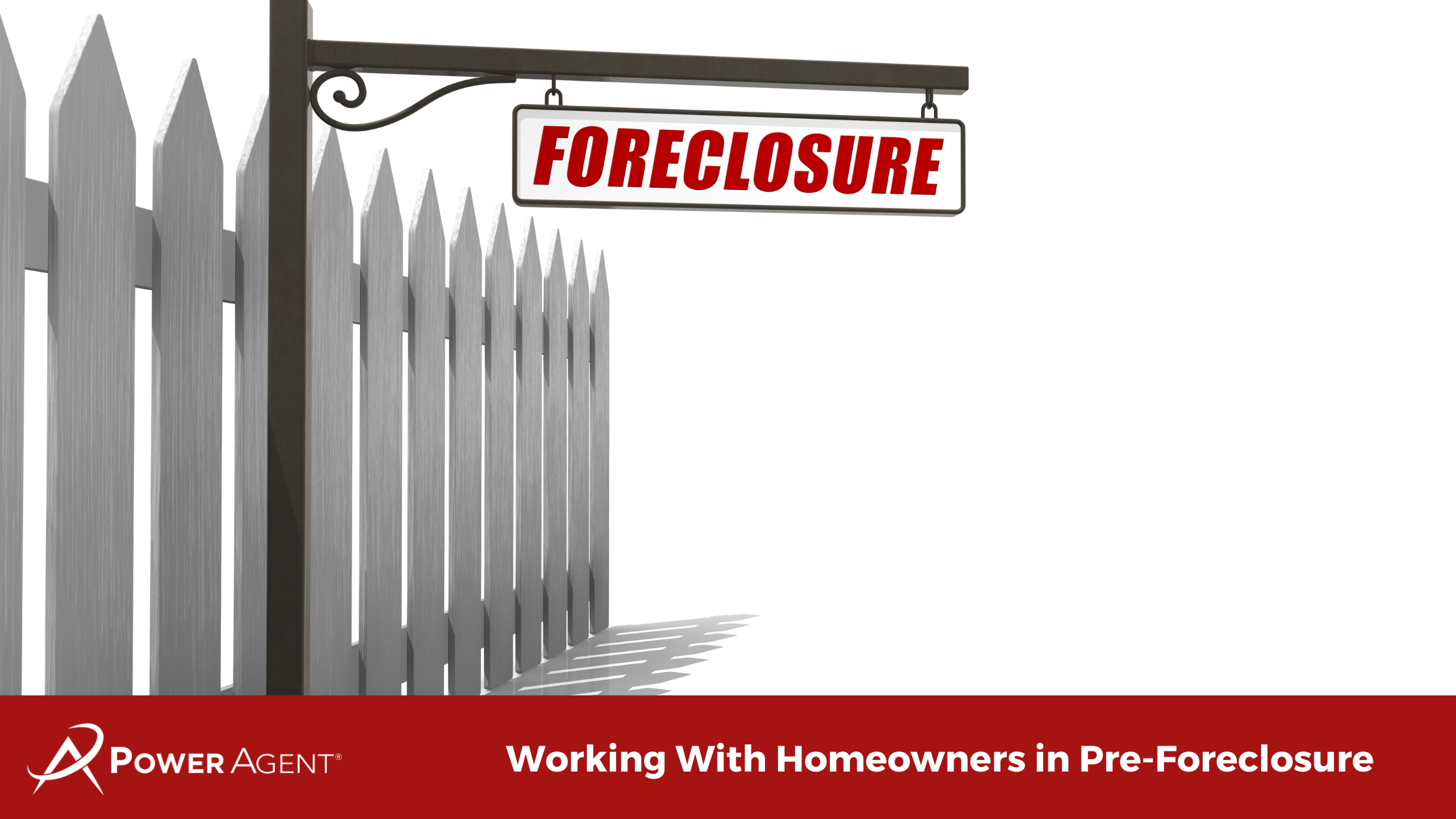 August 31, 2021
Working With Homeowners in Pre-Foreclosure 
Homeowners who find themselves defaulting on their mortgage payments need your help. This article explains how you can help turn these pre-foreclosures into listings.
During a recent conversation with one of my Power Agents®, I was reminded of a little-known tip that I wanted to share. This agent had mentioned the noticeable increase in mortgage defaults in the last while, and I thought I should explain to agents who might not know that you can work with Title companies and get a list of "Notice of Defaults" from them — a list of people who have fallen behind on their mortgage payments. This is often the first step in a foreclosure action, and a way for you as real estate agents to get a jump on helping these people. 
TIP: For more information about the Foreclosure process, check out this article by Realtor.com 
Working With Homeowners Close to Foreclosure
The first step to targeting these homeowners is to find a Title Company to work with and have them send you their list of homeowners who are getting Notices of Default. "Sure Darryl, that seems simple, but how do we turn these into listings?" I'm so glad you asked! 
If you want to start working with Notice of Default homeowners, there are two things that I suggest you do. 
First, you mail a postcard or a letter to them. We have several of these letters and postcards geared specifically for Foreclosure scenarios already written, designed, and available for Power Agents® in our Classroom. 
Second, do a follow up call.
We have a dialogue for Power Agents® in the Classroom as well, and I'm not going to go through the whole thing right now, but I will go over one section. 
"The reason I'm calling, Mr. Hunna Hunna, is because one of the things I specialize in is working closely with homeowners who have found themselves in mortgage distress, especially during these difficult times and their economic challenges and the global health crisis. Financial struggles for families are at an all-time high right now and coping with banks and creditors can be very stressful. Helping people though this overwhelming time is one of the things I'm really good at." 
What This Dialogue Accomplishes
The most important thing about this dialogue is that we are being sensitive to this person's troubles: they are struggling financially and have fallen behind on their mortgage. The biggest hurdle in calling these homeowners is this: they are very defensive. Failing to pay your mortgage carries certain stigmas, like they are a deadbeat, or they can't manage their finances, or they are a complete failure. It's a very personal thing and drawing attention to it is rarely something they want to discuss. 
TIP: Read this related article, "How Our Difficult Times Help Us Empathize with Others." 
When you call them, you want to make it sound right out of the gate that this isn't just them, it's an "everyone" thing: 
"You know, everybody is going through a hard time. We're still in the middle of a pandemic, health issues are a growing concern, people are struggling with being out of work, or their job isn't what it used to be, and there are so many concerns across the board in including mental health and stress, and I understand." 
Showing understanding to people who are struggling and stressed will put them at ease. It's about creating a safe place for them first, then you can show them how you can help once they are receptive to hearing what you have to offer.  
TIP: Read ABC News article: "Foreclosures Take An Emotional Toll on Homeowners" 
What's Next?
Are you ready to start taking things to the Next Level®? If you don't already know what you need to do to get to your next level, we can help!  
Power Agents®, for dialogues and tools designed for conversations with Foreclosures, check out the Prospecting tab in the Classroom.  Whether you need a boost of confidence or empowering dialogues, we are here to help you get the skills you need to be the go-to agent for the buyers and sellers in your farm area. 
---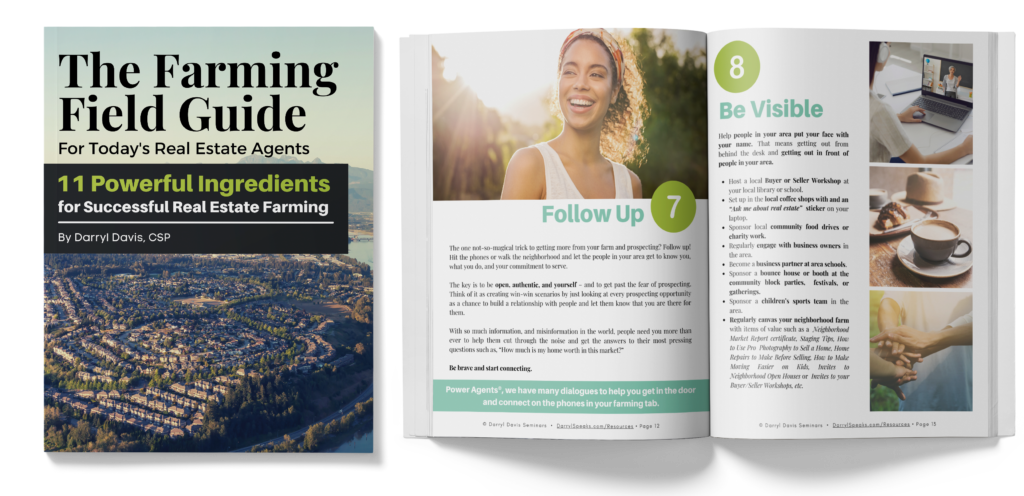 Get the Darryl Davis Newsletter!
Not yet a Power Agent®? Did you know that for LESS than the cost of a Starbucks coffee, you can have access to hundreds of marketing, prospecting, and objection handling tools – live weekly coaching, podcasts, webinars, and more? And as a bonus, get our FREE copy of our incredibly valuable: The Farming Field Guide: Plant the Seeds To Generate New Listings and Referrals." 
Start your Power Agent®  trial and have total access to every tool we have including letters, dialogues, training tips, webinars on demand, eGuides, and marketing tools for just $5. 
Contact our team today to sign up or get the answers you need: (800) 395-3905!