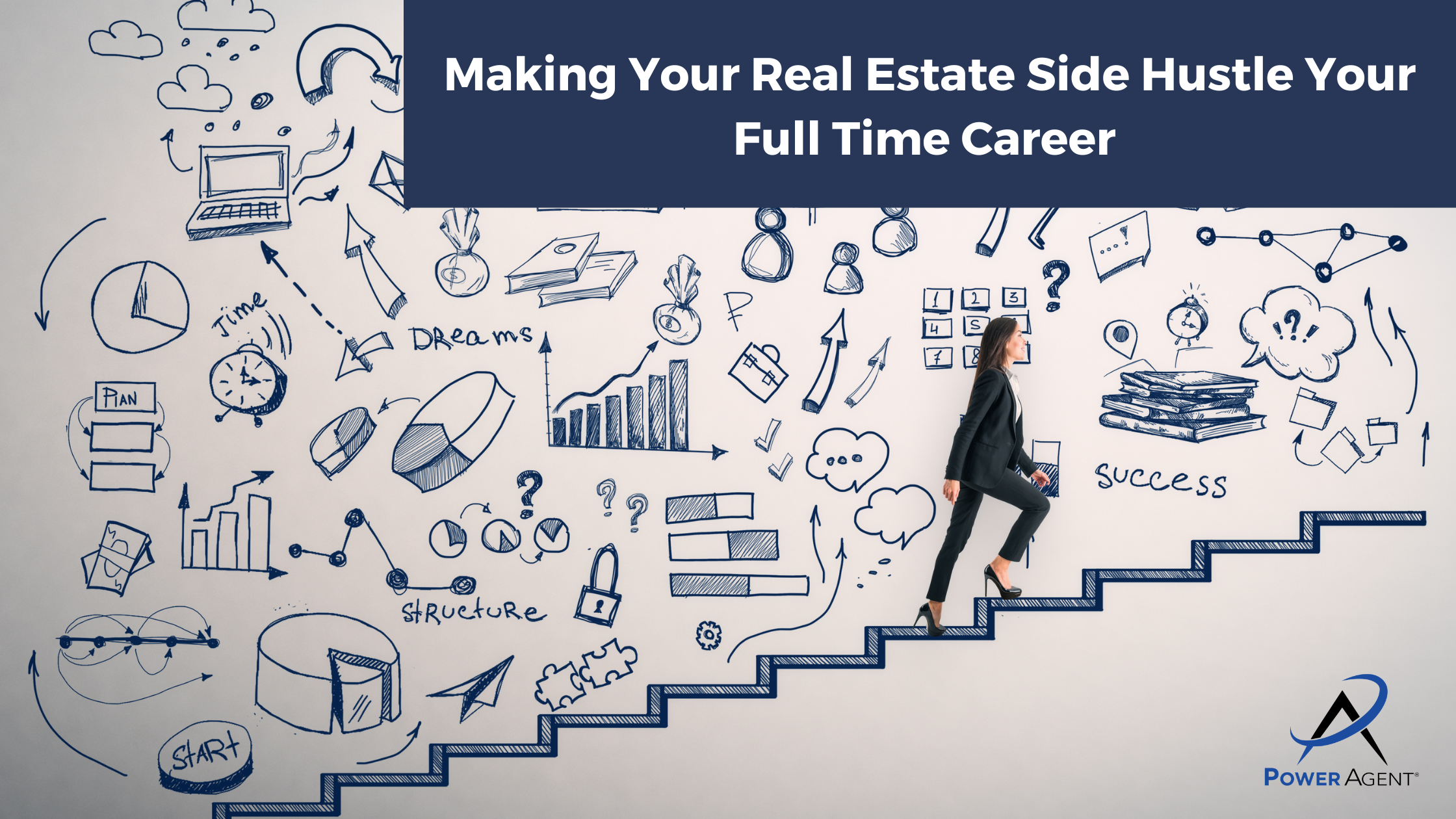 January 23, 2022
Making Your Real Estate Side Hustle Your Full Time Career 
Smoothing the transition between being a part-time and full-time agent with less stress, more ease, and more confidence can be easier than you think.

A lot of real estate agents start their real estate career as a job on the side, commonly referred to as a "Side-hustle", and then transition into the industry full time once they feel they can afford to do so emotionally and financially. I had a new Power Agent® ask me recently how she could best transition from her current job into full time real estate. As much as she tried to do both jobs, her first job was interfering with her ability to go to showings with her buyers. Her struggle to balance both jobs led her to the decision to pursue real estate full time.  
TIP: Read this related article, "8 Self Management Strategies for Life and Business" 
What Part-Timers Should Focus On
You can break real estate up into two categories: Buyers and Sellers. The problem with being a part-timer in real estate and working with buyers, is your availability and time to show homes and schedule appointments.  Becoming a listing agents is a smarter strategy in terms of both time and efficiency (and  career longevity). Why? Because you can control your listing appointments for the hours you are off your "real job".
As you work on transitioning into a full-time real estate career, focus on getting listings, door knocking, calling FSBOs and Expireds, and asking your broker for any past clients that are no longer represented by an agent in your office. Take the time to get to know your community and focus heavily on the listings side of real estate. 
Prospecting
If you have been working primarily with buyers, you should know that focusing on prospecting and listings is a different skillset. Many agents are afraid of prospecting, or don't like it, which is why they stick to buyers. It's easier, and because it usually  feels more emotionally fulfilling and fun. 
Buyers typically come to you, saying "help me, please", where sellers often think they can do it themselves. It makes it a harder conversation to have, but the advantage to focusing on listings and growing your skills there is that you get good at talking to people and helping them see the value in working with a real estate professional, and once you master that conversation, working with buyers is a piece of cake! 
Using the Power Agent® Directory and Facebook Group
I often tell our Power Agents® to make sure they have filled out their information in the Directory and joined the Facebook group because we see several things happening with those — several referrals a month are being made through the directory, and experienced agents are stepping up to help new agents with advice, or opportunities to roleplay conversations for the sake of practicing. This is a caring and generous community, and new agents can know that they aren't alone in this business.  
TIP: This article by Real Estate Express shares some ideas of what to focus on while you are part time. 
What's Next?
Are you ready to start taking things to the Next Level®? We have everything you need to develop new skills and master the ones you already have!  
Power Agents®, for some great ideas on how to spread some love and build your brand, check out the fantastic content in the Farming, Self Promotion, and Mailings tab in the Classroom. If you haven't yet, peek into the Time and Money Management tab as well for some tips and tricks to work on the business side of real estate.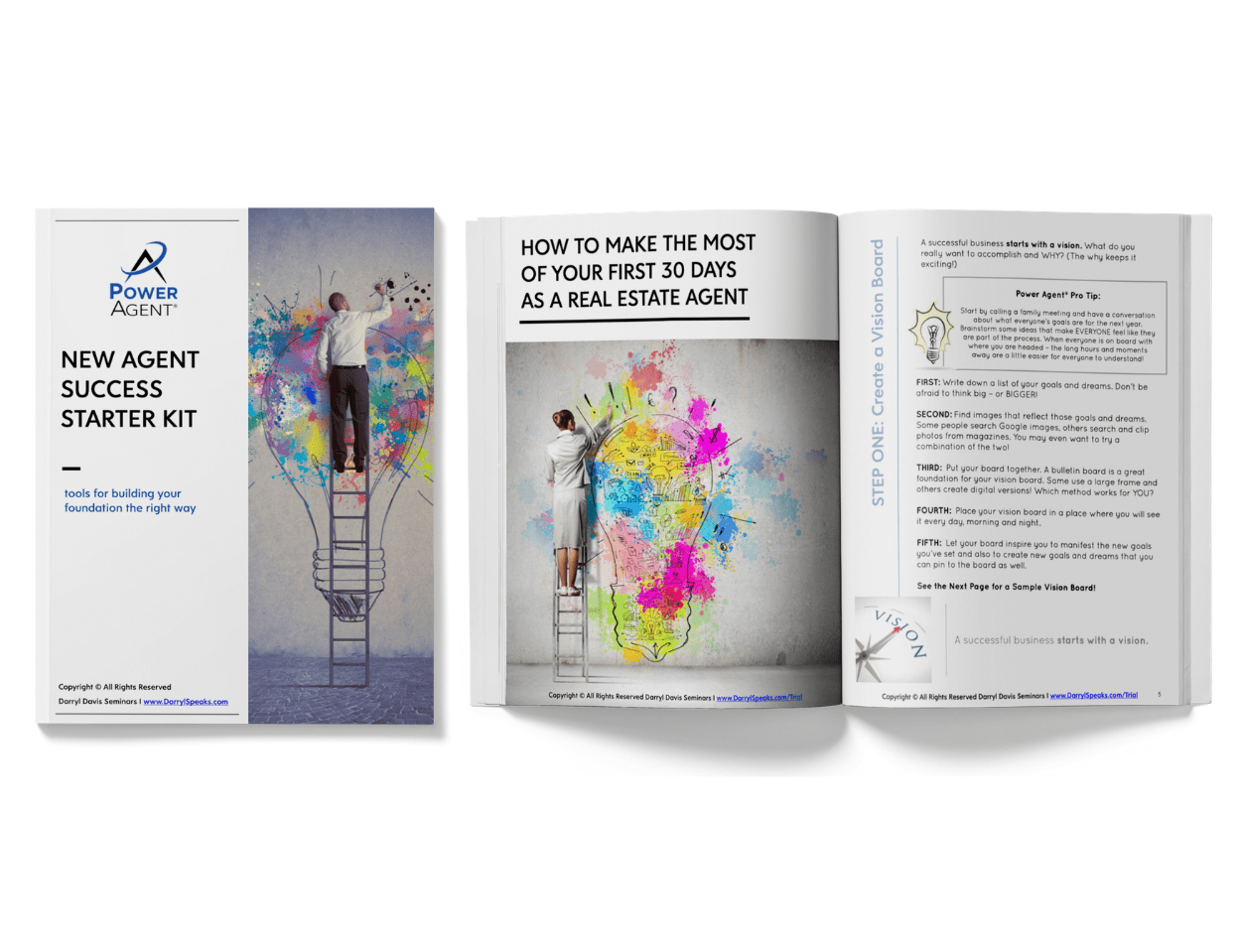 ---
Get the latest real estate training tips delivered to your inbox!
Not yet a Power Agent®? Did you know that for LESS than the cost of a Starbucks coffee, you can have access to hundreds of marketing, prospecting, and objection handling tools – live weekly coaching, podcasts, webinars, and more?  
Start your Power Agent®  trial and have total access to every tool we have including letters, dialogues, training tips, webinars on demand, eGuides, and marketing tools for just $5. 
Contact our team today to sign up or get the answers you need: (800) 395-3905!