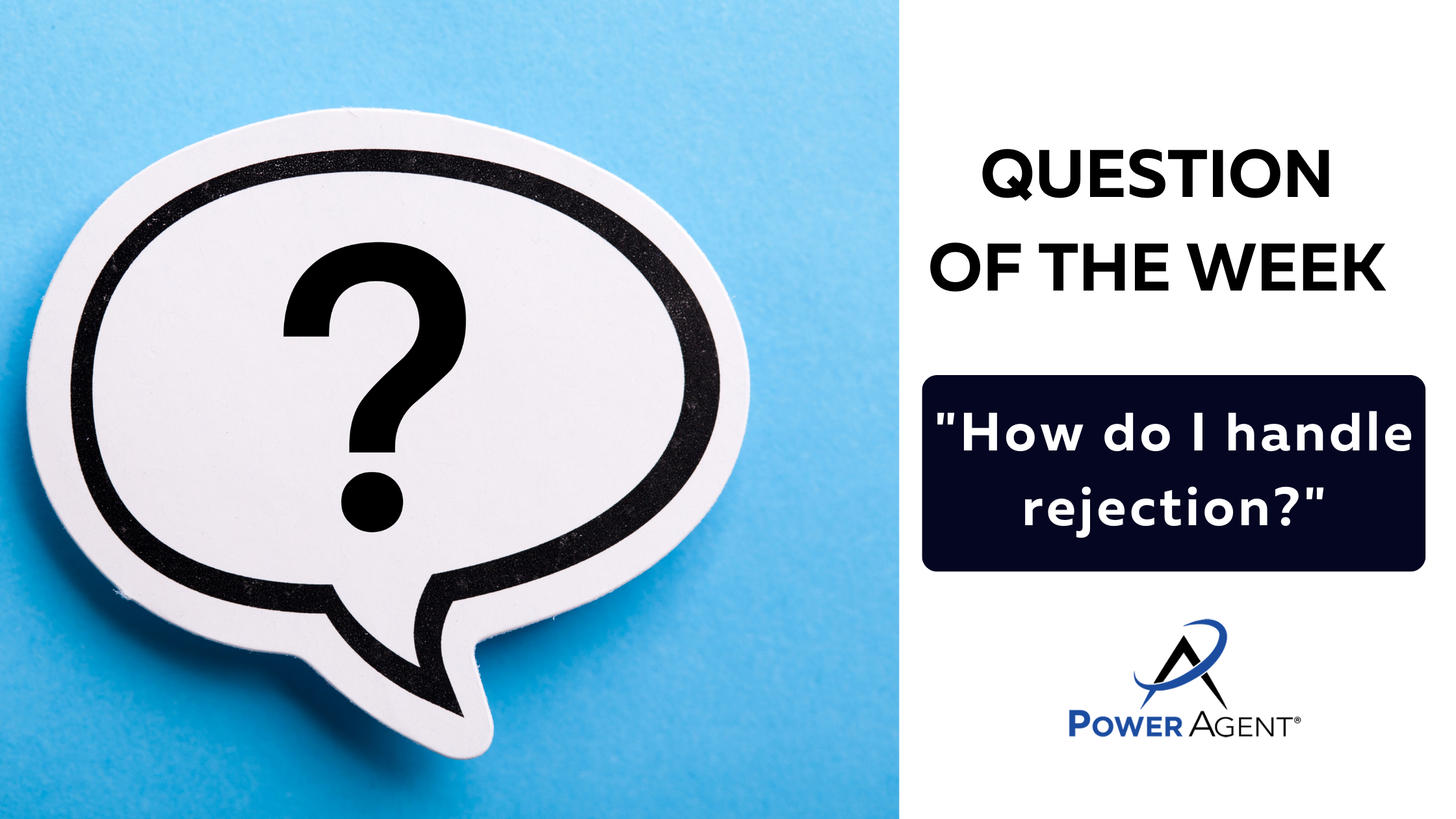 May 12, 2023
Question of the week: How do I handle rejection? 
One of the top reasons agents don't succeed is fear of rejection. That idea of getting a "no" on the phone stops them from even dialing the first number.
You've seen it, we've seen it, and agents feel it.  
Here are three strategies to help handle rejection:  
Come from a place of service, not sales.

When you're calling to "get an appointment" – that's what's coming through. The goal shouldn't be taking or getting anything (a win-lose scenario). It should be building a relationship with another human being (a win-win scenario). When you do the appointment will take care of itself.

 

Fail faster.

One of the best ways to get past the fear of rejection is just to dive in and make the calls without putting pressure on the outcome. Tough to do, we get it, but the more calls an agent makes the more acclimated they become, the easier it is to make the next dial. We even talked about using a dialer system so that agents can burn through that learning curve faster.

 

Have a track to stay focused.

We don't believe in canned scripts, and neither should you. The last thing as industry professionals is another reason to be labeled "salesy". A track, however, or dialogue, helps agents stay focused on the phone. Introduce, Identify, Ask a Question, Build Rapport, etc.

 
As leaders, giving agents the tools and training they need to move past fear and into confidence is vital. As tight as the market is, we are hearing agent wins week after week by simply putting smart strategies and practices in place. Call us if we can help you do the same for your organization. 
Related reading: Have No Fear: Tips for Prospecting 
Related reading: Owning Your Fears So They Don't Own You 
Learn more about the POWER AGENT® PROGRAM
Join Darryl's Inner Circle Facebook Group. 
We are always posting fresh ideas, training tools, strategies, and templates, along with hosting important, timely discussions with real estate professionals across the globe who are committed to their Next Level® of success and life. 
Subscribe to our newsletter.
 Click the button below to fill out a simple form and tap into new resources, free downloads, premium content, and exciting promotions.
Reach out and talk to us.
 Not sure if this coaching program and community are right for you? Click that blue chat button on the bottom right of the screen, or call us at the number in the header. We are here to help! 
---

Get the latest real estate training tips delivered to your inbox!
POWER AGENTS® you'll find more than 30 Dialogues in your classroom! From FSBOs to Sphere to Follow-Up and Voicemails! You don't ever have to feel off track with these on-track dialogues!  
Not yet a POWER AGENT®? Did you know that for LESS than the cost of a Starbucks coffee, you can have access to hundreds of marketing, prospecting, and objection-handling tools – live weekly coaching, podcasts, webinars, and more?   
Start your POWER AGENT®  trial and have total access to every tool we have , including letters, dialogues, training tips, webinars on demand, e-Guides, and marketing tools, for just $5.     
Contact our team today to sign up or get the answers you need: 631-929-5555!