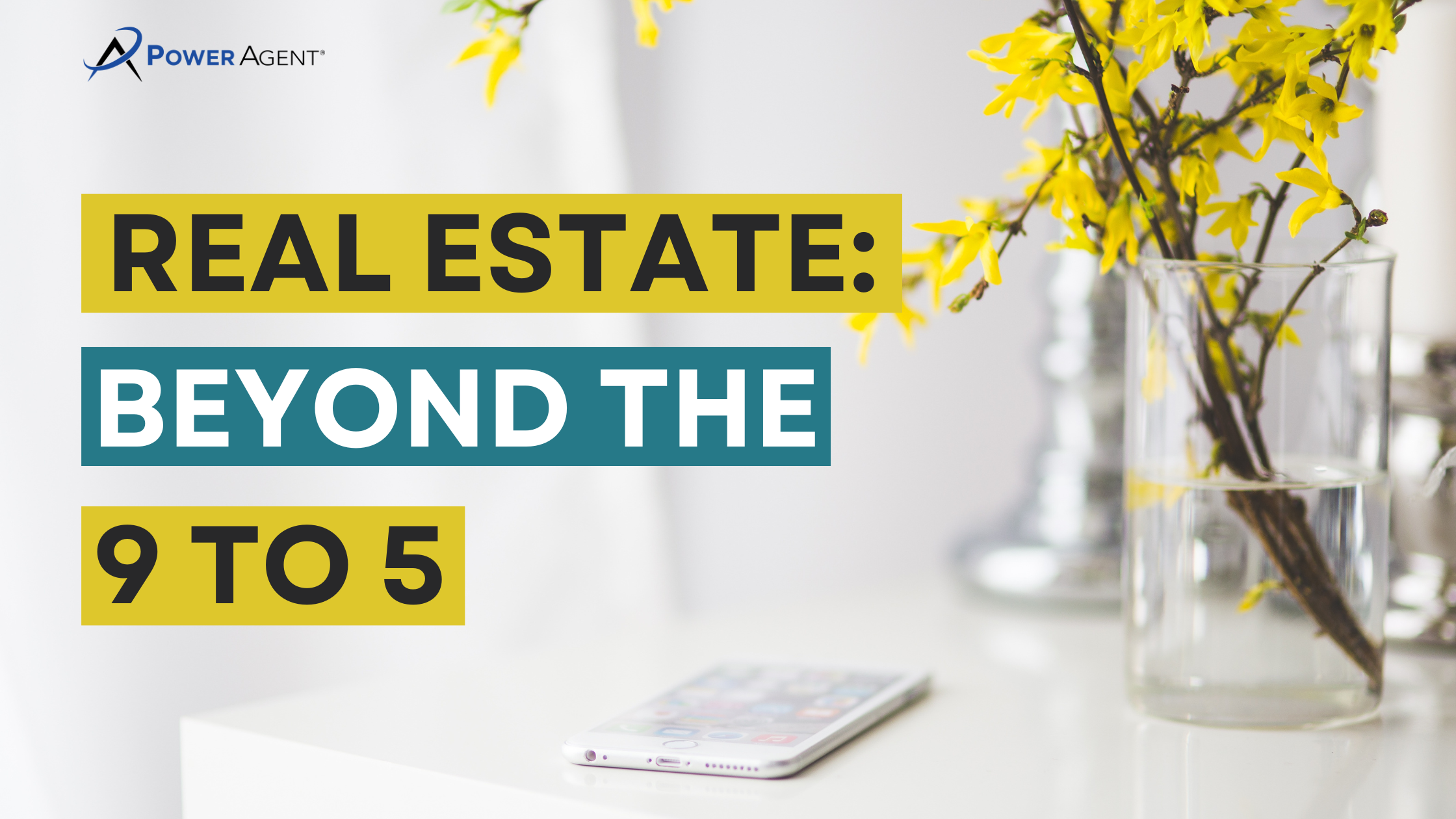 June 29, 2023
Real Estate: Beyond the 9 to 5 – Embracing the Agent Life
Real estate isn't your typical job, which is why understanding how it fits within your life really matters – it's a lifestyle choice and career, not a 9-5!
I was recently standing in line at the butcher shop, waiting for my order, and I struck up a conversation with the guy behind me, and I asked him what he was ordering. He told me the list of things he was planning to get, and then I continued to ask many of the rapport-building questions that I suggest to our POWER AGENTS®, out of habit. In fact, we built up enough rapport while we waited that I nearly asked him if he had been in the neighborhood long, and if he had been thinking about moving and even asked if he'd like a free Neighborhood Market Report! I haven't been a practicing real estate agent in a long time, but it still comes so naturally.  
Real Estate Agents Are Like Doctors
My mentor, Mac Levitt, once said that being a real estate professional is like being a doctor. Doctors don't punch a time clock for a 9 to 5 job. They are always "doctoring". Just like in the movies when someone at a restaurant starts choking, and someone yells, "Is anyone here a doctor?" and they come sweeping in. Or, when they are driving and they come across an accident, they can respond to that emergency. They don't "DO" doctoring; they ARE a doctor all the time.   
Just like a doctor, you are always a real estate professional. Every single person you come into contact with is a potential buyer or seller that you can serve. In order for that to happen, though, you need to generate that conversation, the concept, and the commitment, and the best part is that it doesn't cost any money. You don't have to spend advertising dollars to have a conversation; just be present. 
Above and Beyond
Being a real estate agent goes beyond the confines of a typical 9-to-5 job; it becomes a way of life that demands dedication, flexibility, and a constant pursuit of opportunities. Many companies talk about establishing a healthy work-life balance, but real estate doesn't fit into that mold because it's more like work and life converge and blend together. 
You understand that your work doesn't end when the office doors close; you are often working evenings, weekends, and even holidays to accommodate your client's needs and ensure transactions run smoothly. You are out there, generating conversations and building rapport while at your kid's soccer games or band concerts. You talk to the cashier at the grocery store when she comments on your name tag. The need for constant networking and relationship-building is the hallmark requirement of real estate.   
Related reading: The Close – Time Management for Realtors: Why Smart Agents Don't Work 80-hour Weeks 
But Wait! There's More!
It's more than just networking and building relationships, though. You must continually educate yourself about zoning laws, financing options, market conditions, and neighborhood developments. Staying informed allows you to provide accurate advice to clients, negotiate effectively, and identify potential opportunities. This commitment to knowledge and expertise extends far beyond initial licensing requirements, and you do it because real estate is a lifestyle. 
Related reading: Not a Buyer's Market. Not a Seller's Market. It's a W.O.R.K. Market! 
Tips To Balance Your Lifestyle
That being said, real estate agents aren't superheroes with mystical powers. You can't do it all, so I have some suggestions for how to balance your needs: 
Create Your Village

: Surround yourself with a support network that understands the demands of your profession. Connect with fellow real estate agents or join professional associations where you can share experiences, exchange advice, and seek support. Have a list of friends and family that can help with kids and managing the household while you are off closing deals and meeting clients. 

 

Delegate and outsource

: Delegate tasks to capable team members or consider outsourcing certain responsibilities, such as administrative work or marketing efforts. By offloading some of the workload, you can create more time for your personal life and commitments.

 

Prioritize self-care

: Take care of yourself physically and mentally. Make time for activities that recharge and rejuvenate you, such as exercise, hobbies, spending time with loved ones, or simply having some quiet time alone. Self-care is crucial for maintaining overall well-being and preventing burnout.

 

Utilize tech tools and automation

: Technology can be incredible, particularly when using automation to streamline your work processes. Utilize calendar apps, project management tools, and customer relationship management (CRM) software to stay organized, manage tasks efficiently, and save time. Automate repetitive tasks, such as email responses or social media scheduling, to free up more time for personal interests.

 
Related reading: Question of the Week: How do I manage my time better in this crazy market? 
Finding the best ways to blend your work and personal life is an ongoing process that requires conscious effort and adjustment. Striving for a healthier integration of work and personal life as a real estate agent is possible, especially once you understand the lifestyle and how it shapes your day. 
Related reading: Greatist – Blending in: What Work-Life Integration Really Means for Your Everyday 
POWER AGENTS® – you have an incredible support system right here with our Smile Squad and your extensive online network.  
Learn more about the POWER AGENT® PROGRAM. 
Join Darryl's Inner Circle Facebook Group. We are always posting fresh ideas, training tools, strategies, and templates, and hosting important, timely discussions with real estate professionals across the globe who are committed to their Next Level of success and life.  
Subscribe to our newsletter. Click the button below to fill out a simple form and tap into new resources, free downloads, premium content, and exciting promotions. 
Reach out and talk to us. Not sure if this coaching program and community is right for you? Click that blue chat button on the bottom right of the screen, or call us at the number in the header. We are here to help!

Not part of the POWER AGENT® Program? Take us for a spin! Our comprehensive program provides bang-for-your-buck coaching, training, and customizable marketing tools for real estate agents. With a proven track record, our program has already helped thousands of agents pump up their listing inventory, stabilize their business, nurture long-term customers, bolster their authenticity and confidence, decrease stress, and create prosperous careers and lives. 
Contact our team today to sign up or get the answers you need: (631)929-5555
#AgentLife #PowerAgents #RealEstateCoaching #RealEstateTimeManagement