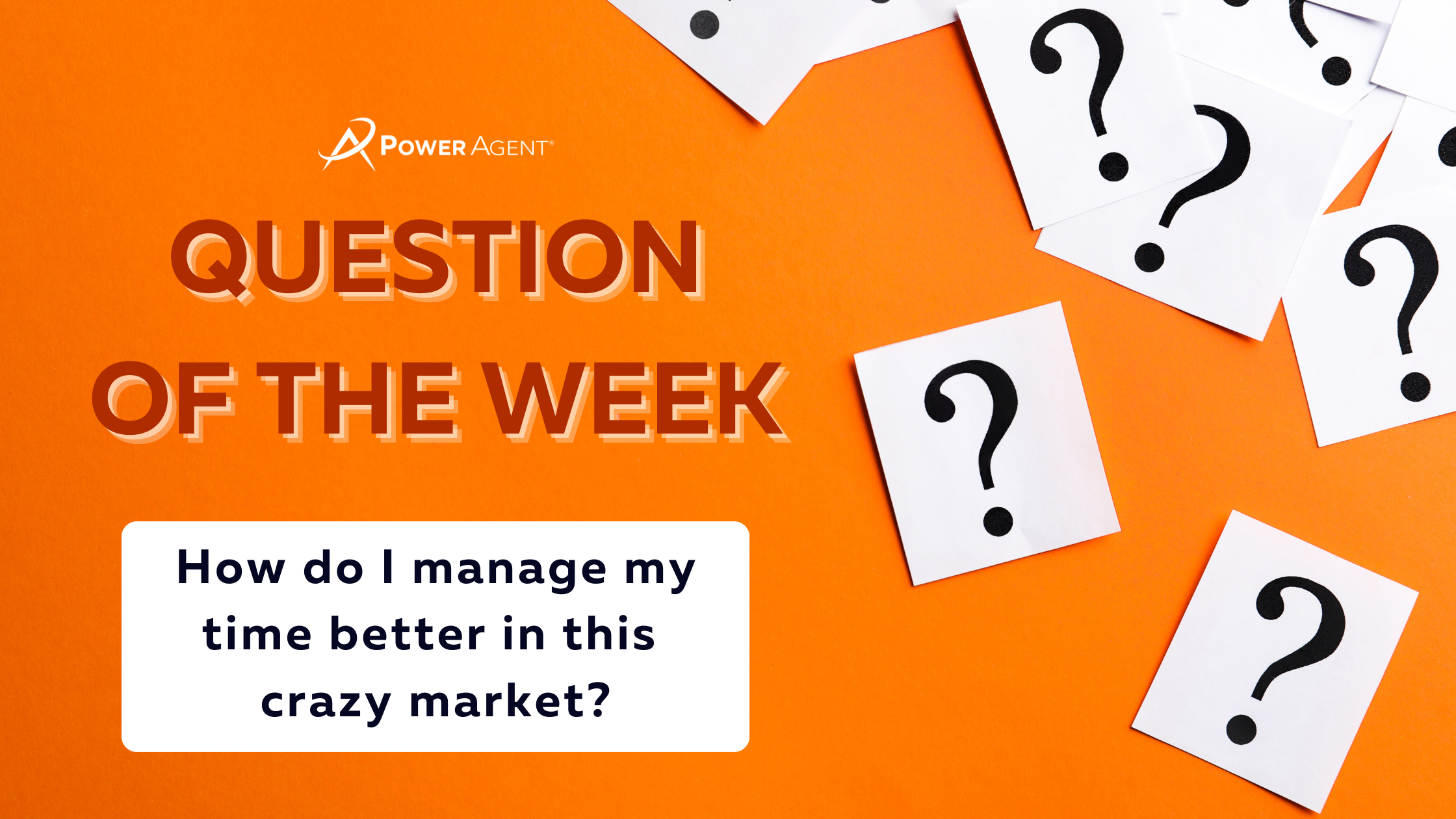 September 7, 2023
Question of the Week: How do I manage my time better in this crazy market?
In today's competitive, crazy real estate market, TIME is a commodity that feels in short supply for agents.

 
Managing time effectively and staying organized is crucial for success, especially in a difficult market. There's no doubt our industry can be demanding, and it's easy to burn out if you don't prioritize balance. But how do you do that when you feel like every day is a "hair on fire" kind of hectic?  
Let's dive in…  
Set goals and priorities: Goals may look different right now. Short-term sprint goals are probably a better focus than long-term annual ones because that allows you to be more focused and agile in a changing market. Every day, prioritize the activities that are closest to your revenue line and put them at the top of your to-do list. Make sure prospecting is number one.  
Plan your schedule: Time blocking isn't for everyone, but it's hard to be a great agent without a daily plan. For those who prefer to block time, put those high-priority activities that you most struggle with at the top. We liken it to the "eat the frog first" technique. If you do the thing that you most don't want to do first, it guarantees it gets done, and it doesn't sit like a weight on you the rest of the day. For most agents, that's prospecting calls. The key to those is to approach them from a place of service. Don't call to "get" or "take" a listing. Call to see how you can help people get to the next level in their life. We can help you make that easier with proven dialogues; just reach out to us to learn how.   
Use technology to your advantage: Many digital tools can help you stay organized and manage your time effectively. Consider using a project management tool, like Trello or Asana, to keep track of your tasks and projects. Use a scheduling tool, like Calendly, to manage your appointments and meetings. Use prospecting tools like REDX Storm Dialer and SlyBroadcast's voicemail system to make quick work of your calls.  
Learn to say no: It's important to set boundaries and learn to say no when necessary. Focus on the most important tasks for your business, and don't take on more than you can handle. Saying no to people, projects, and problems that aren't a good fit can help you avoid burnout and stay focused on your priorities. 
Take breaks and prioritize self-care: Don't forget to take breaks and prioritize self-care. Schedule time for exercise, hobbies, and relaxation to help you recharge and avoid burnout. Remember, taking care of yourself is essential for long-term success in the real estate industry. A strategy called the Pomodoro Technique involves breaking your workday into 25-minute intervals called "Pomodoros." After each Pomodoro, take a five-minute break, then start another Pomodoro. See if that works for you!  
Lastly, remember how important it can be to have a support system and structure. I know our community of agents truly relies on each other to get through both tough days and triumphs! This is NOT the market to try to do everything while flying solo. Know that we are here to help!  
Related reading:  Eight Self-Management Strategies for Real Estate Agents
Learn more about the POWER AGENT® PROGRAM
Join Darryl's Inner Circle Facebook Group. 

We are always posting fresh ideas, training tools, strategies, and templates, along with hosting important, timely discussions with real estate professionals across the globe who are committed to their Next Level® of success and life. 

 

Subscribe to our newsletter.

 Click the button below to fill out a simple form and tap into new resources, free downloads, premium content, and exciting promotions.

 

Reach out and talk to us.

 Not sure if this coaching program and community are right for you? Click that blue chat button on the bottom right of the screen, or call us at the number in the header. We are here to help! 
---

Get the latest real estate training tips delivered to your inbox!
POWER AGENTS® using a chart or graph like the Activity Tracker that is in your Classroom is another great way to stay on track and motivated. 
Not a POWER AGENT® yet? Give us a go! This comprehensive program provides affordable coaching, training, and customizable marketing tools for real estate agents. It's proven to help thousands of agents significantly boost their listing inventory, solidify their business, cultivate lifelong customers, enhance authenticity and confidence, reduce stress, and craft fulfilling careers and lives.
Start your POWER AGENT®  trial and have total access to every tool we have , including letters, dialogues, training tips, webinars on demand, e-Guides, and marketing tools.    
Contact our team today to sign up or get the answers you need: 631-929-5555!