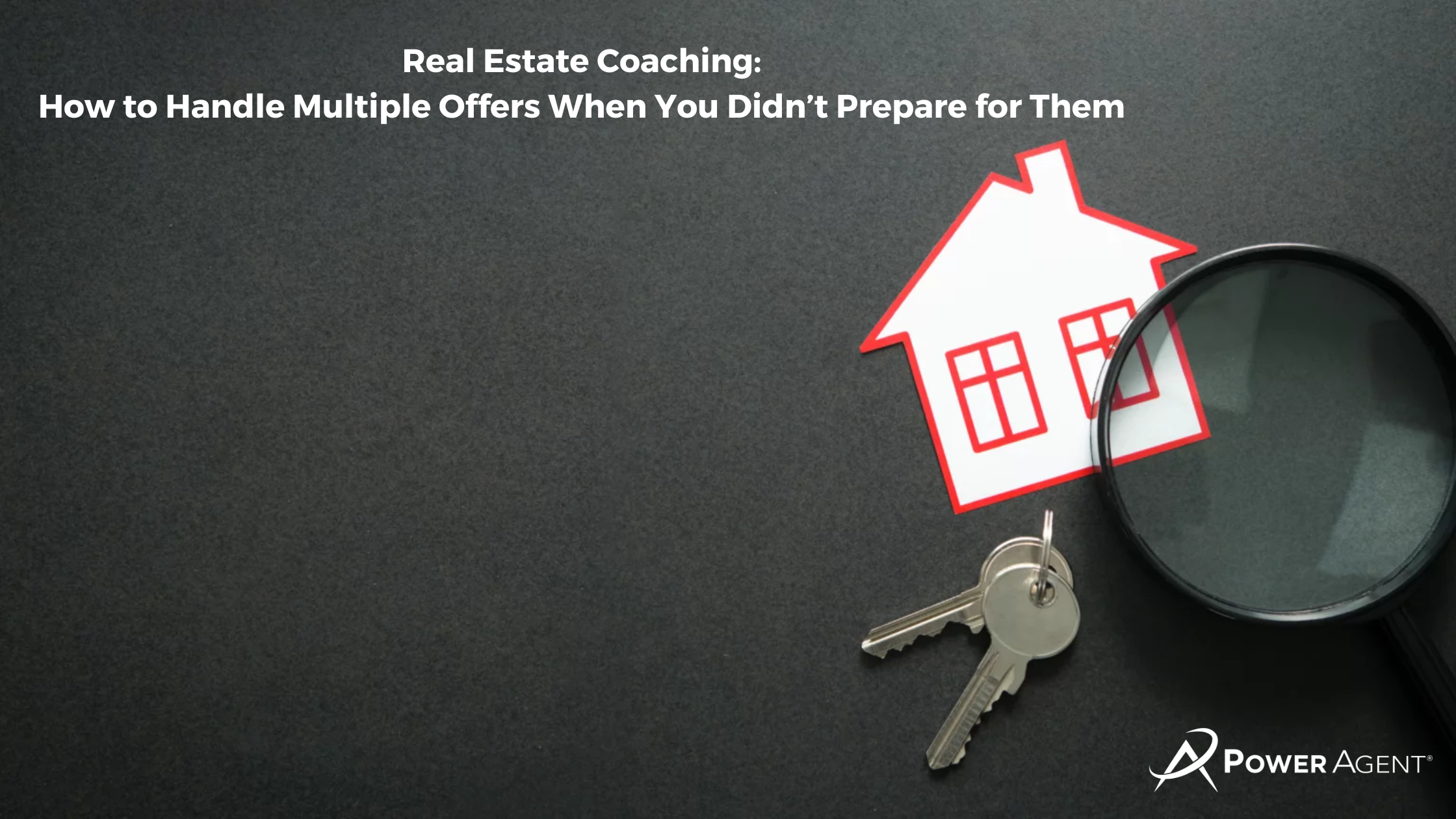 February 11, 2022
Real Estate Coaching: How to Handle Multiple Offers When You Didn't Prepare for Them 
Handling multiple offer scenarios without proper preparation can lead to confusion, irritation, and the potential to lose good buyers. 
There is no doubt that real estate is an industry that keeps you on your toes — expecting the unexpected is just part of the industry. Multiple offers on a house scenarios happen frequently in this market, but what do you do if you have sellers ready to accept an offer, but you know of a couple of other families who are driving some distance to come to see that specific house? What if you are fairly certain they are going to make an offer? Do you stall the homeowners to give these other people a fair chance to make an offer?  
TIP: For some other multiple offer scenario best practices, check out this article by Florida REALTORS. 
Being Clear with Multiple Offer Ground Rules
We learned from playing childhood playground games that we always need to start off vocalizing the rules so everybody knows how the game is played, and the same goes for handling multiple offer scenarios. Being transparent and being clear with the rules upfront will save you (and everyone else) a lot of headaches. 
Why You Can't Change The Rules Mid-Game
If you do not have in the listing that offers will be heard after a specific date and  someone comes to see the house, loves it and puts an offer on it, but then your response is, "Well, hold on a minute now, we have some other buyers coming in the next day or two and we want to give them a chance to see the house, so we're going to hold your offer until Sunday," that's going to offend the buyer making the offer, and it makes our industry look bad. Why? Because we aren't being clear with the clients about our own rules, and now the buyers are going to think you are just playing games with them.  
If you are promoting this listing, saying, "Come buy this home" and the buyers have come to you saying, "I want to buy this house. Here's my offer" and then you do an about-face to say "No, you have to wait." You could very easily lose a great buyer because you are holding up that sale by waiting for something that may never happen. If you didn't put the ground rules of holding all offers until a certain date in the listing so everyone knows what to expect, then you should present offers as they come in.  
Buyers that come in from out of town under the impression the house is still available will be in for a big surprise without the understanding that there is the risk the house may be under contract by the time they see it. The last thing you want to do is insult the buyers who are there, making the offer. 
How To Negotiate Through This
Now, either the homeowner will accept the offer as is, or counter the offer with something called a "bump-out" clause. This could potentially leave a place for this other out-of-town homeowner to submit an offer for consideration and which price the first buyer would have to match. This gives this first buyers the first right of refusal to either match the second price or to refuse and bow out. 
The bump-out clause should have a time limit, however, such as a mortgage contingency, or an inspection. Once a mortgage commitment is generated, that bump out clause should be gone and the buyer should have every right to now close on that property. Keeping them in suspense right up until closing isn't fair to the buyers.  
TIP: Check out this related article: "The Negotiation Dance: Why Partnering With the Other Agent is in Everyone's Best Interests."  
When you are the listing agent, you have a fiduciary responsibility to represent your seller in the best possible light. But don't forget that as a real estate professional, you need to be fair to everyone.  That doesn't mean you risk your client's needs to avoid disrespecting or hurting or giving a black eye to our industry to the rest of the parties involved.  
There is a balance to maintain, and yes, you represent your client, but you still need to do the right thing for everyone because you are representing the industry. With every client and through every transaction, you represent the real estate industry. How this specific deal does plants another seed for how the general public looks at us. 
The real estate industry hasn't always had the easiest time being taken seriously as a group of professionals, so every interaction helps to raise the perception of our industry. 
TIP: Check out this article by Conejo Valley Guy about the biggest mistakes that sellers make during a multiple offer scenario. 
What's Next?
Are you ready to start taking things to the Next Level®? If you don't already know what you need to do to get to your next level, we can help!  
Power Agents®, for more strategies and tools for building your business, check out the amazing content in the Classroom. With 600+ amazing pieces, you can use and customize, building your business has never been easier, or more fun!   
---

Get the latest real estate training tips delivered to your inbox!
Not yet a Power Agent®? Start your Power Agent®  trial and have total access to every tool we have including letters, dialogues, training tips, webinars on-demand, eGuides, and marketing tools for just $5. 
  Contact our team today to sign up or get the answers you need: (800) 395-3905!