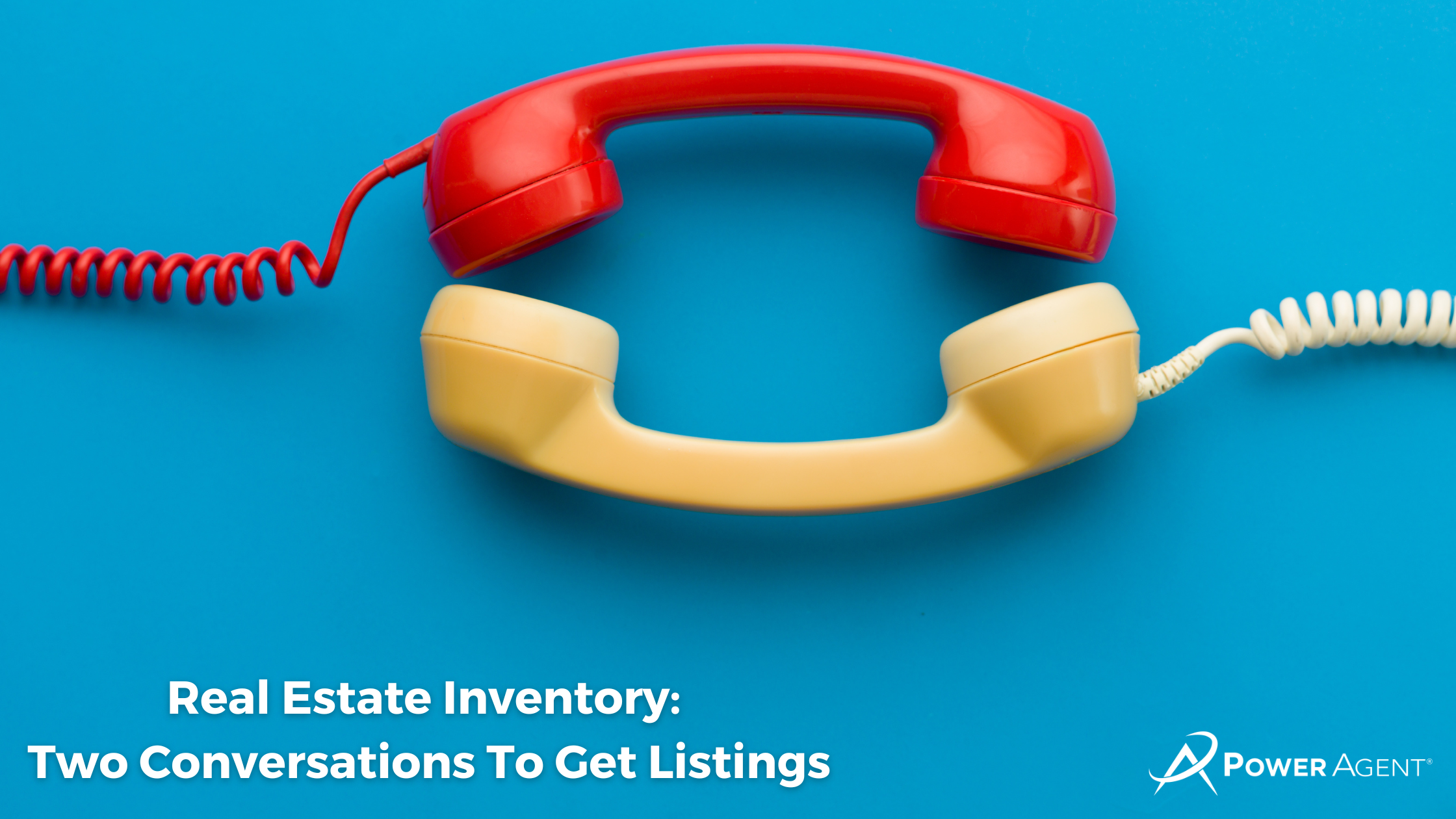 March 17, 2022
Real Estate Inventory: Two Conversations To Get Listings
As 2022 is predicted to have increased levels of housing on the real estate market, can two simple conversations really win you more listings? Yes!
 I was recently in Las Vegas at a live seminar, and one evening as I was out for dinner with an old friend and colleague, Matthew Ferrara, he said something that was a big "ah-ha" moment for me. Everyone in the real estate industry is talking about how low the housing inventory is, but after the discussion with Matthew, and then doing a little research, I have come to believe that it isn't as dismally low as most agents believe.  
Home Sales in Past Years
Let's go back to 2018, which was before the pandemic even started.  Home sales were $5.96 million dollars. In 2019 (still mostly pre-pandemic), sales were $6 million dollars, in 2020 (Pandemic Year 1), home sales were $6.5 million. Last year, in 2021 (Pandemic Year 2), sales were $7.1 million. Notice the trend, despite the pandemic? Home sales have been going steadily up. You cannot have sales going up while the number of listings is going down — that conceptually cannot happen. 
So, what does this mean? There is no shortage of listings, they are just selling so fast it is creating the perception there are no homes on the market. We may have an individual shortage of listings, but across the country, there are still plenty of people listing and selling. The big question here is: Are you the one getting those listings?  
 Tip: Check out this video interview on RISMedia on "Strategies for Navigating Today's Market" 
Looking Ahead To Real Estate Sales
The housing market is preparing to see even more homes come on the market in 2022, which means that you need to start prospecting and having real estate conversations now. Someone will be getting all those listings, and it should be YOU! 
For the next 30 days, I want you to really focus on having two conversations about real estate every single day — one with a potential buyer, and one with a potential seller. That's 60 conversations about real estate! That will have a big impact on your business over the next month.  
TIP: Read our article on Inman for more advice on what to focus on in 2022. 
One of our Power Agents® told me not long ago that she challenged herself to do this, and she ended her 30 days with 3 listings, just from committing to two conversations a day. Is it hard to do? Not really, since most of us have several conversations in a day on a variety of topics. It might not come naturally at first, and that's OK because it's the breakdown to the breakthrough, and once these conversations become a habit, your business is going to grow.  
TIP: Check out this related article: "What Savvy Agents do When Listing Inventory is Low." 
What's Next?
Are you ready to start taking things to the Next Level®? If you don't already know what you need to do to get to your next level, we can help!  
Power Agents®, for more strategies and tools for having these conversations with buyers and sellers, check out the Prospecting tab in the Classroom. Whether you need a boost of confidence or empowering dialogues, we are here to help you get the skills you need to be the go-to agent for the buyers and sellers in your farm area. 
---
Get the latest real estate training tips delivered to your inbox!
Not yet a Power Agent®? Did you know that for LESS than the cost of a Starbucks coffee, you can have access to hundreds of marketing, prospecting, and objection handling tools – live weekly coaching, podcasts, webinars, and more?  
Start your Power Agent®  trial and have total access to every tool we have including letters, dialogues, training tips, webinars on-demand, eGuides, and marketing tools for just $5. 
Contact our team today to sign up or get the answers you need: (800) 395-3905!