June 24, 2019
Summer Real Estate Prospecting Tips
Powerfact: When prospecting for listing is a priority – you get to take more vacations!
I'm often asked how to work prospecting into summer plans. My recommendation? Get some Vitamin D! In other words, head out to your neighborhood farm for some good, old-fashioned door knocking and have some fun with it. Old school? Maybe, but I'd like to share a story about our good friend and Power Agent George Rosario who called in to our coaching call  from his neighborhood canvassing day. He had only been out for an hour at the time and he had already gotten three listing appointments!
The tip? Be personable, friendly, and have something of value to offer. I recommend the Neighborhood Market Report which gives homeowners an update on what their home is worth. You can let folks know they should have this done once a year so that they are always up to date on the value of their home — especially in shifting markets.
Watch this:
Power Agents, you can download a trifecta of handy tools in your Farming and Self Promotion tab to help make this easier!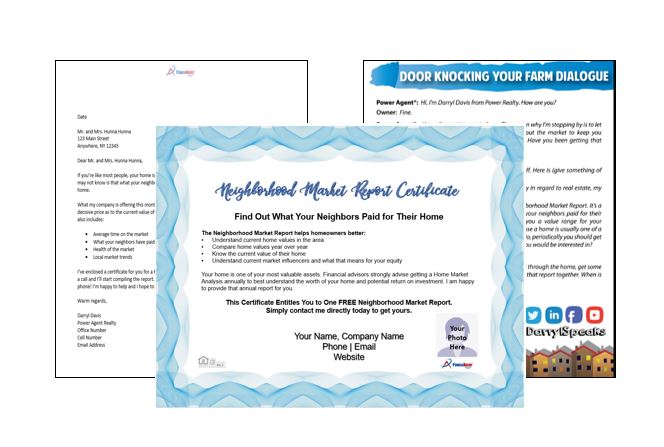 Neighborhood Market Report Letter. This is a great letter to send in advance of your door-knocking day  The letter currently says that you'll include the certificates with the letter. You can add into the letter the dates you'll be in the neighborhood and let them know you can collect them at that time and will have extras with you when you visit.
Neighborhood Market Report Certificate. This certificate downloads and opens into PowerPoint so that you can customize with your contact information and even the recipient's name. These are also great tools to send to your sphere of influence!
Door Knocking Dialogue.  This is a great ice-breaking dialogue to get you started and give you confidence to get out there and make things happen!
If  you haven't yet chosen a farm neighborhood. Let me give you a few tips. First, don't just choose the farm based on the proximity to your home or office. Instead consider these three factors closely  before deciding:
Competition: Choose a farm that does NOT already have another agent with more than a 15-20% market share. (That's like swimming upstream!)
Average Home Price:  It's just as much work to farm a neighborhood that has $60,000 properties as it is one that has $260,000 properties. Consider your return on investment! We actually have a calculator (and a video to explain the math) in the Farming and Self Promotion tab. Check it out.
Turnover.  You'll want to find a neighborhood with a turnover rate around 7 to 8 percent. Love this tip from Inman News: To calculate the rate for the neighborhood you're looking at, add up all of the properties sold within the past 12 months and divide that by the total number of homes in the area.
Lastly, have some fun with it. While it might feel outside your comfort zone at first, the bottom line is that we are in the business of building relationships with people. If you're out in your neighborhood farm with the mindset that you are there to serve the people of that neighborhood, help them know the value of their homes, educate them on the market, recent listings and sales and what that all means to them — then you are serving – not selling. Coaching, not closing. That, my friends makes all the difference. Not just in how you feel about prospecting, but the results you will get because people will be able to feel your authenticity and integrity in that approach to them. Good luck and happy door knocking!
Not yet a Power Agent®? Did you know that for less than a dollar a day, you can have access to hundreds of marketing, prospecting, and objection handling tools – live weekly coaching, podcasts, webinars, and more?  In fact – we'll give you the first 30 days for just $5! Start your Power Agent® trial and have total access to every tool we have including letters, dialogues, training tips, webinars on demand, eBooks, and marketing tools.
If you're ready to have everything you need to handle whatever the market tosses your way — get started today!