June 4, 2018
The Magic of Monthly Goals
POWERFACT: What you do right now will impact how you'll end your year. The way to hit your goals over and over — is to reset every 30 days.
Here's what we know:  When you set ANNUAL goals, you don't even start to think about them until like month eleven!
As we head into the second half of the year, I want to give everyone a nudge to think about your goals monthly instead. When you do, you create urgency, opportunity, and your goals are broken down into more attainable bites. That's smart business.
As the old saying goes, "inch by inch and life's a cinch — yard by yard, life is hard."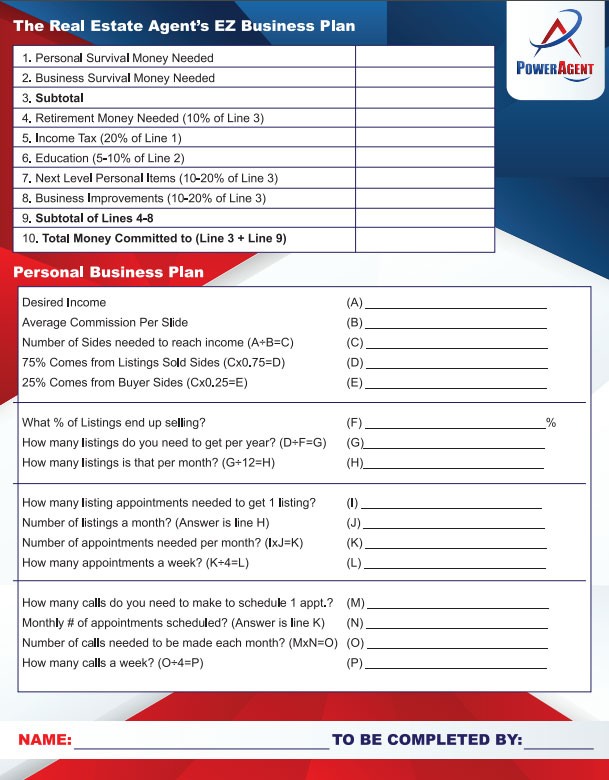 My best advice is to choose five life or career changing goals every thirty days. Maybe it's for more listings, or to master a skill set, or to improve relationships or all of the above! Whatever those goals are, make them so focused, so in tune with who you are and where you want to be that they make you pop out of bed in the morning ready to make them happen!
Remember too — that your goals are YOUR goals. They have to be exciting to you. A lot of times sales pros will be "told" their goals by a manager or a partner or a spouse. That's all well and good – but if it's not something that YOU feel motivated about, guess what? It's not going to get you fired up to accomplish it.

Spend some time this week thinking about what will get you pumped up to take on the next thirty days with a passion, then block your time accordingly so that you can make it happen.
If you feel like you're off track, it might be a good time to revisit the EZ Business Plan – it's a one-page plan that will help you create the focus you need to thrive. Find it and other motivational tools in the Time Management tab in your Classroom!
Look for our webinar this month on June 21st, The Seven Best Strategies to Double Your Income in the next Six Months. In it, I'll teach:
When hiring a real estate pro, choose an agent with clear and focused goals. That clarity will help you accomplish YOUR goals as well. #REALTORLife #HireAnAgent
Click To Tweet
How to break down your goals into easy and manageable tasks
How to find your WHY — and reignite your excitement for your career
The #1 secret to staying focused each and every month
How to unlock the best listing lead sources in the 3rd & 4th quarter
How to find real life-balance between work and family
How to successfully save for retirement
Register for this Webinar here! 
If you're not CURRENTLY a Power Agent, now's the time to try us for free for the next 30 days. You'll have all the tools, training, and coaching you need to handle objections and list like a pro. Your free trial gives you total access to every tool we have including letters, dialogues, training tips, webinars on demand, eBooks, and marketing tools.
Need help? Contact our team today at (800) 395-3905!