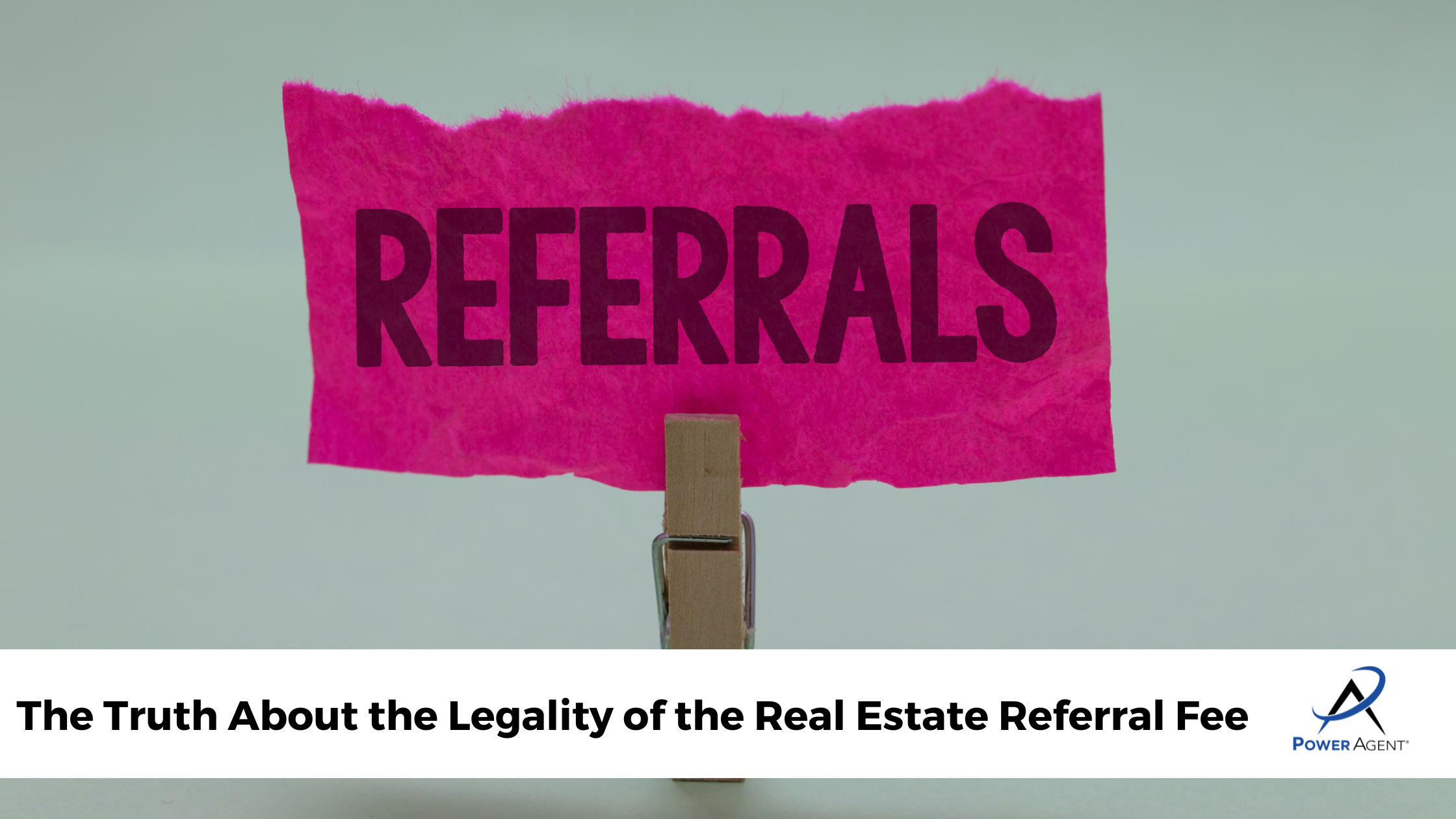 April 10, 2022
The Truth About the Legality of the Real Estate Referral Fee 
The "Finders Fee" is a hotly debated topic in the real estate industry – what's legal and what isn't. We took it to a TEAM of lawyers to get to the heart of the matter.
There are a lot of misconceptions out there about paying non-real estate agents money for referrals. At the end of the day, much of it depends on how involved the receiver of this fee is in the transaction. 
The Legal Stuff
Yes, it's against the law for a loan officer or title companies (as examples) to get kickbacks on a deal when they refer someone to you and you do not disclose where you received the referral from or that you paid for this referral. This is often where agents find themselves in hot water…they didn't disclose the origins of this lead and that person is now benefitting with business in a "tit-for-tat" arrangement. Yes, we can all agree that's illegal, but somewhere along the way, this law has become distorted to mean something completely different.  
The associations that manage the various licenses in the real estate industry have a lot of rules and regulations about how licensed professionals can do business together, including full disclosure on how you received a referral and what you paid. The purpose is to avoid a conflict of interest.  
Now, this is where the confusion comes in, because these rules and regulations have, over the years, been interpreted as "Only licensed professionals can be given a referral fee." Yes, there are strict agent-to-agent referral laws, but saying ONLY licensed pros can get a referral is simply not true. We need to note that "civilians" and any other unlicensed people can legally receive an incentive because they have nothing to do with the transaction, and it's viewed as a thank you gift.  
If you have a kid that rides around your neighborhood on his bike, and you have an agreement that any time he sees a For Sale By Owner sign on a lawn and he brings you the number, you give him a finders fee of $50 — this is 100% legal. Maybe it's a local landscaper, dog walker, or painter – whoever — if they are delivering leads to your door, you are legally able to pay these unlicensed persons anything to help your business. The reason this is legal is that these people are not involved in the real estate transaction. 
TIP: Check out these FAQ's by Clever in "5 FAQs About Kickbacks in Real Estate: What You Need to Know" 
The Gift That Keeps on Giving
A finder's fee is considered a gift, or an incentive, and it doesn't even have to be money. It could be a gift card, a fancy cheese platter for the foodies on your client list, or a bottle of wine…whatever you choose to offer, it's a gift. You can even offer a percentage of your commission from the sale of that home if you like. My point is this: the choice of gift is yours! 
Even with many states regulating things differently, I do feel the need to point out that the legality of paying this sort of finder's fee for every lead is true in every state (and even in Canada). Period, end of story, put a big bow on it! 
TIP: Read this article on another legal issue, the Do Not Call list, that is often misunderstood as a "no-go."  
Be Careful Whose Advice You Listen To
There are a lot of well-meaning coaches, teachers, and real estate agents who enjoy the legal aspects of real estate, and might even dream of being an attorney because they are passionate about law. They will have their opinions on the finder's fee, but keep in mind that many of these coaches and instructors might not be particularly active in the real estate transaction anymore.  
We certainly appreciate the efforts and contributions of trainers and coaches, but my point here is this: Be wary of the source of your information. If you really want to learn what the law has to say about an issue, don't listen to me, don't listen to your fellow agents, don't listen to your gossipy neighbor, call the Department of State Licensing that manages your license, and ask that person your question, like "Am I breaking any laws if I pay my landscaper $50 if he gives me a lead's phone number?" If they say no, phew! If they say yes, then you ask for the page number and statute number. You can write it down and look it up for yourself, and then you can be the voice of truth when someone says, "that's illegal!" 
The real estate industry is one of constant growth and adaptation. If there is anything you are uncertain about, asking a knowledgeable source you trust or doing the homework yourself will make you better at what you do, and that will always result in the growth of your business! 
What's Next?
Are you ready to start taking things to the Next Level®? If you don't already know what you need to do to get to your next level, we can help!  
Tap Into Your Power Agent Directory
Power Agents®, as long as we are talking about referrals – don't forget about your Referral Directory that is built right into the program!  Just this month an agent told us that she received a $1.2 million dollar referral from a fellow member! 
I have been a Power Agent® for almost a year now and it is the best investment I have ever made for my real estate business. – Linda Johnson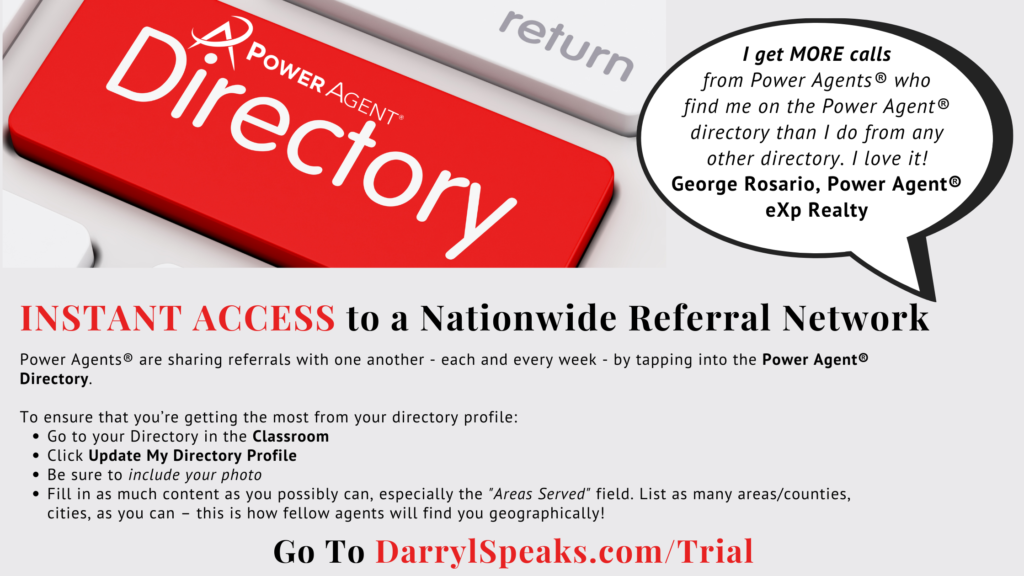 Not yet a Power Agent®? Did you know that for LESS than the cost of a cup of take-out coffee, you can have access to hundreds of marketing, prospecting, and objection handling tools – live weekly coaching, podcasts, webinars, AND TAP INTO A REFERRAL NETWORK from all over North America?
Start your Power Agent®  trial and have total access to every tool we have including letters, dialogues, training tips, webinars on demand, eGuides, and marketing tools for just $5. 
Contact our team today to sign up or get the answers you need: (800) 395-3905!