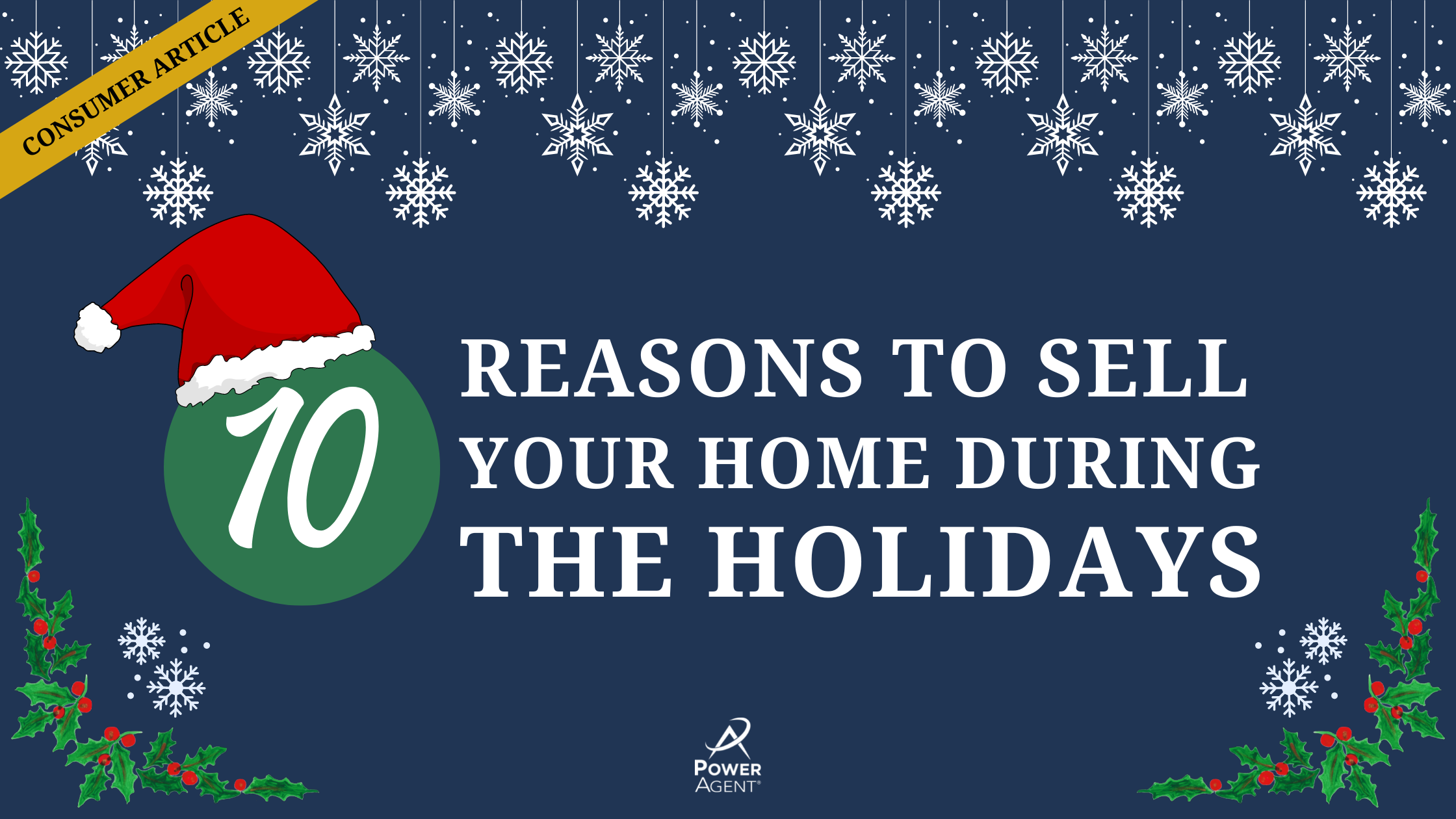 November 9, 2022
Top 10 Reasons to Sell Your House During the Holidays
If you're a homeowner who's on the fence about whether or not to sell your house during the holidays, here are

10

reasons why NOW is a great time!
When most people think about the holidays, they think about spending time with family, exchanging gifts, and enjoying a delicious feast. What many people don't think about is using the holiday season as an opportunity to sell their house. Despite what you may have heard, there are many great reasons to sell during the holidays.  
The "With Interest Rates Climbing, Nobody Wants to Buy" Falsehood 
Yes, the interest rates have tripled over the last year, but the truth is, there will always be someone that needs to buy and someone that needs to sell. What we do know today is that at the top of the market, you will get the most value for your house. Based on what's been happening the last few years and the trends we are seeing right now, we can't start stressing about what may or may not happen, we can only make a decision based on today. Every indicator tells us that selling during the holidays will net you more on your home than you would if you wait until spring. 
What Makes the Holidays Such a Good Time To Sell? 
Buyers are more serious. Buyers who are out searching for a home during the holiday season are more serious. They are willing to fight holiday traffic, tight schedules, and even icy conditions in some areas – they mean business.
Less competition. There are fewer homes for sale during the holidays, which means that there is less competition, a greater chance of selling quickly, and even getting multiple offers. Waiting to list in January or the spring (along with everyone else) will mean a lot of competition, which normally translates into less money for your home, and it may sit on the market a lot longer. The best situation for a seller is "Low supply, high demand."

 

Holiday decor! Houses show beautifully when decorated for the holidays. Holiday decorations

(when staged well)

can bring a lot to the table regarding how well your home shows. Buyers coming through will instantly start imagining themselves spending the holidays in your home and the memories they would make with their family there.

 

Tug at the heartstrings. Buyers are emotional by nature and are even more connected to their emotions during the holidays. Envisioning their own holiday celebrations in their new home creates a lot of sentimentality and nostalgia, which makes buyers more likely to pay the asking price (or more) because the heartwarming emotions around homeownership and celebrating holidays are much higher.

 

Free time=less stress. Buyers tend to have more free time during the holidays, which means they can look during the work week rather than be limited to the weekends. When people have more free time, they are less stressed, and when they are less stressed, they are willing to spend more.

 

Tax time. There are

tax benefits to buying and selling a home

before the end of the year. From various mortgage deductions, you can also take advantage of State and Local tax (SALT) deductions, tax-free profits on the sale of your home, and even home office deductions for those who work remotely.

Be mindful of relocation windows. January is the most common time of the year for people to start new jobs after being transferred, and typically get notice of this transfer in November or December. Remember what we said about buyers being serious about buying? These buyers have no time to waste, they have a short time frame.
YOU are still in control of your time. Even when you have your home listed for sale, you totally have the ability to control showing times to work around your holiday events and life. This is the only time of year when buyers

expect

to work around schedule restrictions. 

 

 

Make your moving dates part of your terms. Even if you get an offer, you can have a delayed closing or extended occupancy to accommodate into the new year. Just because you list and sell your home during the holidays doesn't mean you have to pack up and move quickly; you can negotiate extra time before closing the transaction.

 

Give yourself your best chance at non-contingency. Selling your home now allows you to be a non-contingent buyer in the Spring when most people choose to list their homes, which means you will have a lot of homes to choose from. This gives you your best chance to sell high, and buy low!

 
So, if you're looking to sell your home in the near future, don't wait until the new year. Start planning and strategizing now so that you can hit the ground running when the holidays come around. If you need any help getting started, be sure to contact your nearest real estate agent — they will have all the tools and expertise necessary to get your home sold quickly and for top dollar.   
Related reading: Why Hire a Licensed Real Estate Agent 
About Your Author Darryl Davis, CSP, Speaker, Coach, Author  
Darryl has been spoken to, trained, and coached more than 100,000 real estate professionals around the globe. He is a bestselling author for McGraw-Hill Publishing, and his book, How to Become a Power Agent in Real Estate, tops Amazon's charts for the most sold book to real estate agents. His real estate training system The Power Program®, has proven to help agents double their production over their previous year. Darryl is currently hosting weekly free webinars to help agents navigate the new real estate reality. Learn more at www.DarrylSpeaks.com/Online-Training.